Boston Local Food Fest Showcases People Who Care About Food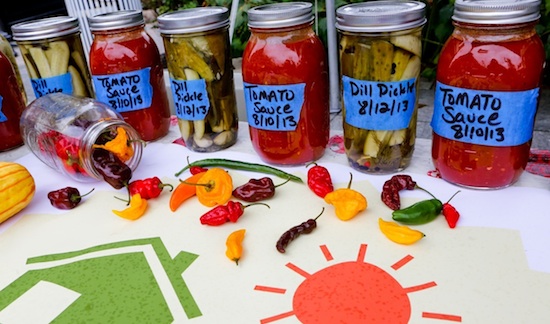 Photo: Melissa Blackall
Despite the wet weather on Boston's Rose Kennedy Greenway last Sunday, October 6, Spirit of Change put 600 magazines into the hands of over 10,000 festival goers at the 4th annual Boston Local Food Fest, a celebration of local farmers, restaurants, food suppliers, and the growing community cultivating the sustainable local food movement in New England.
Open free to the public, 100 vendors provided free samples and reasonably priced meals ($6 or less) of locally-sourced, delicious food and drinks to enthusiastic crowds, who also enjoyed cooking demos, live music, entertainment and even a little education with all that fun and food. Did you know there are 27 regular seasonal and winter markets in the Boston Farmer's Market program working through the Boston Collaborative for Food and Fitness to make healthy, local food accessible and affordable to all communities?
The annual, volunteer-run BLFF showcases the people who know and care most about food — our local providers — and the extended benefits of buying your food local, from veggies to meat to seafood. Local food is healthiest for the eater as well as the most sustainable choice for the local economy and environment.
The Seafood Throwdown featured chef teams from Boston Medical Center and Boston Children's Hospital, challenged to work with an "underloved" local fish (pollack and flounder), and buying only local ingredients available at the fest. Hospitals are one of the largest consumers of fish and both BMC and Boston Children's are working with Northwest Atlantic Marine Alliance (NAMA) to commit to purchase only local fish.
BLFF's definition of sustainable extends beyond local food to include a healthy and clean environment as well. As a zero-waste event, vendors complied with strict recycling and serving guidelines that would reduce trash at its source and allow 90% of the waste generated to be recycled, composted or reused. Boston city trash cans on the Greenway were sealed that morning with potted mums and pumpkins to prevent them from being used. Instead, a team of dedicated and inspiring volunteers tirelessly manned at least 15 recycling stations (even in the rain!) around the event to educate the public and meticulously separate all trash to ensure the festival's recycling goals were met.
The event is presented by the Sustainable Business Network of Massachusetts, which engages business and community leaders in building economies that are local, green and fair. SBN has made strengthening the Massachusetts and New England food system a priority by organizing events and programs that bring together individuals and local food organizations. Judging from the success even a soggy, outdoor event can generate, SBN brainchild and executive director Laury Hammel, president of Longfellow Health Clubs in Massachusetts, envisions that the sustainable, local food network of committed New Englanders will continue for generations to come.