Cooking with Kids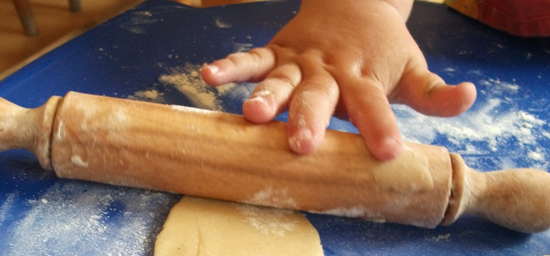 The celebration of community elders is a way of life practiced by many traditional cultures around the world. They are recognized for their experience and wisdom and younger generations regularly seek their guidance.
The elders are considered members of everyone's extended family and offer guidance and encouragement to younger members of the community. They are involved in the growth and development of all individuals within the community. When elders become very old, the community honors them by caring for them and helping them maintain health and quality of life. It's about mutual respect, love and caring.
Today's chaotic pace and the everyday demands on time and energy make it easy to lose that connection to older generations. When that happens, family life can decline. The elders we share our lifetime with can add richness and balance to our lives. It's our job to ensure that the connection between generations is strong and healthy.
Food was that connection in my family. My fondest memories are of the times spent in the kitchen with my grandmother preparing family meals. I'm not sure what I enjoyed more — the food or the conversation that revolved around the food. I learned about her life, my life, our culture and the importance of understanding how my actions may impact others.
I continued that connection with the birth of my son. From infancy, he was part of the food preparation process. We built our relationship during those times. We experimented with unfamiliar foods, discussed what was going on in our lives and learned about ourselves. And, my grandmother was there with us. She was a frequent visitor to our home and we both continued to learn from her.
Today my son and I still share that passion for food and its connection to family life. We recently spent days constructing an adobe oven out of clay to experiment with traditional methods of food preparation. Our first attempts to cook in it have been a huge success and we're coming up with ideas for our next project. We've just completed our first cookbook and filled it with recipes we've experimented with over the years. And, according to the natural cycle of life, he and his wife are about to transition me from the role of mother to that of a grandmother. I'm already thinking of what magic my grandchild and I will dream up in the kitchen!
Grab an elder in your life, toss a child or two into the mix and head to the kitchen. Take the time to talk about food, feelings and connect to generations ahead of you and behind you. Everyone's lives will be richer. Here are some recipes from my cookbook to get you started.
RECIPES
Umbrian Baked Beans
The traditional version of this Italian dish calls for soaking dry beans overnight, then cooking them several hours. This updated recipe makes it easy and convenient by using canned beans. Serve this with steamed vegetables and fresh bread or brown rice.
Ingredients
1/4 cup extra virgin olive oil
2 tablespoons fresh basil leaves
1 tablespoon chopped fresh rosemary leaves
3 tablespoons capers, drained
1/2 tablespoon Dijon mustard
1 teaspoon sea salt
Two 15 ounce cans navy beans
Directions
Preheat oven to 350 degrees.
Combine oil, basil, rosemary, capers, mustard and salt in a food processor or blender and process until smooth.
In a small baking dish, mix the beans with the sauce. Cover with foil and bake 30 minutes.
Spicy Chickpea Stew
Don't be intimidated by the ingredients in this recipe. It's easy to make and tastes great. We came up with this after my son's return from school in Africa.
Ingredients
3 tablespoons extra-virgin olive oil
1 medium green bell pepper, seeded and diced
1/2 head cauliflower, cut into small chunks
1 medium zucchini, cut into small chunks
2 medium carrots, cut into thin rounds
1 cup corn kernels
1 tablespoon cumin seeds
1 teaspoon ground coriander
1 teaspoon black mustard seeds
1 small jalapeno pepper, seeded and diced
1 tablespoon grated fresh ginger
1 28 ounce can pureed tomatoes (about 3 cups)
1 cup tomato or vegetable juice
1 teaspoon brown rice syrup
1 teaspoon turmeric powder
2 tablespoons chopped fresh cilantro
1 tablespoon chopped fresh oregano
1 1/2 teaspoons garam masala
1 teaspoon sea salt
15 ounce can chickpeas
Directions
Preheat oven to 200 degrees.
Combine 1 tablespoon olive oil with the bell pepper and cauliflower in a large skillet. Sauté over a medium flame 6–7 minutes, stirring frequently, until the peppers are just tender. Transfer to a baking dish and place in the over to keep warm.
Combine 1 tablespoon olive oil, zucchini, carrots and corn in the same skillet. Cook 4–5 minutes or until zucchini softens slightly. Add to the pepper and cauliflower mixture in the baking dish. Return to oven.
Combine the remaining oil, cumin, coriander and mustard seeds in the same skillet. Cook 1 minute over medium flame. Add the jalapeno pepper and ginger and cook another minute. Add the tomatoes, tomato juice, brown rice syrup and turmeric and bring to a simmer over a medium flame. Reduce the heat to low and add the cilantro, oregano, garam masala and salt. Simmer 20 minutes, stirring frequently. During last 5 minutes, add the chickpeas.
Pour the tomato-chickpea sauce over the pepper and cauliflower mixture. Return to oven for 5 minutes to allow flavors to combine.
No Bake Apple Pie
It's hard to imagine an apple pie can be this easy and still taste so good. Keep dried apples on hand and you'll always have the necessary ingredients for a great dessert. You can vary the recipe by reducing the amount of dried apples by one third and adding the same amount of chopped, fresh apples during the final 5-10 minutes of simmering (depending on how chunky you want your apples).
Make this with a traditional pie crust (natural food stores carry some wonderful frozen versions if you don't want to make one from scratch), try a simple gingersnap crust (finely chop 3 handfuls of gingersnaps and mix with 6 tablespoons melted soy margarine, press into a pie plate and bake at 350 degrees for 10 minutes), or just put filling into individual serving dishes and top with crumbled gingersnap cookies.
Ingredients
1 9-inch basic pie crust, pre-baked
1/2 pound dried apple slices
Water to cover
1 teaspoon cinnamon
3 tablespoons brown rice syrup or maple syrup
1/2 tablespoon kuzu
Directions
Place the apples in a medium saucepan and add enough water to cover by about one half inch. Let stand 15 minutes.
Add cinnamon and brown rice syrup to the apples and simmer about 15 minutes or until liquid turns syrupy and the apples are tender. Add another 1/2 cup water if needed.
In a glass, mix the kuzu with 1/4 cup cold water. Stir the kuzu mixture into the apple mixture. Continue simmering until the mixture thickens — about 4 minutes. Pour the apple mixture into the pie crust and refrigerate about 2 hours.
Baked Breaded Eggplant With Sweet Tomato Sauce
Breaded eggplant is delicious. But usually it's coated with egg, fried and then slathered with melted cheese. This version removes the animal products and is a healthier choice when that craving for eggplant hits.
Ingredients
One 12 ounce package soft, silken tofu
6 tablespoons extra virgin olive oil
3 cups dry, seasoned breadcrumbs
1 large eggplant, sliced into one half inch rounds
1 medium yellow onion, diced
2 pounds tomatoes, coarsely chopped, with juices
1 tablespoon hot pepper sauce
1/3 cup maple syrup
1 teaspoon sea salt
1 teaspoon freshly ground black pepper
1/2 teaspoon celery seed
Directions
Preheat oven to 400 degrees.
Combine the tofu and 2 tablespoons olive oil in a blender or food processor and puree until smooth. Transfer the mixture to a wide, shallow bowl. Pour the breadcrumbs into a similar bowl.
Use another 2 tablespoons of oil to coat a baking sheet. Dredge the eggplant slices in the tofu mixture so that both sides are lightly coated. One at a time, set each slice in the bowl of breadcrumbs, first on one side, then on the other, to cover the slice completely. Shake off excess crumbs. Place the eggplant slices on the baking sheet.
Bake 45 minutes or until crispy and just beginning to brown.
Meanwhile, make the sauce by combining the remaining oil and the diced onion in a deep skillet. Sauté over a medium high flame for 6 minutes or until onion becomes translucent. Add remaining ingredients and simmer 15 minutes.
To serve, place two or three slices of eggplant on a plate and top generously with sauce.
Michelle Hirsch lives in southern NH and teaches whole foods cooking throughout New England. She is a graduate of the world renowned Kushi Institute where she also worked developing curriculum. She can be contacted at mphirsch@yahoo.com. Visit Michelle on Saturday March 26 at Whole Foods Market in Bellingham, MA where she will be offering a cooking class and book signing for her new book Venturesome Vegetarian Cooking! To register, call Whole Foods at 508-966-3331.