Divorce: A Conscious Perspective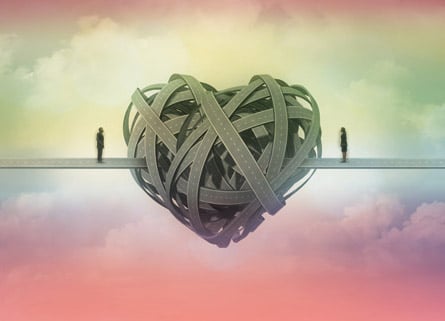 Going through a traditional divorce is highly emotional, extremely stressful and ridiculously expensive. It is a major life transition for the entire family. And like any transformative event, it isn't easy. During these times of transition, humans are emotionally fragile. People of divorce don't need to be injected into an adversarial battlefield. They need support and guidance.
Our traditional family law system is by definition adversarial. It is invasive, expensive and filled with pitfalls. There is a much healthier way to approach a divorce and it begins with the way we understand it. Divorce is not a battle, but rather, a family in crisis and transition. We need understanding that during this transition, individuals and families are emotionally vulnerable. We are susceptible to friends, family, television and attorneys advising us to fight for our rights!
While this advice may seem to have merit, it only encourages a mindset of victim looking for vengeance or sympathy. Being upset and angry is natural but they are not there to justify the fight. Those emotions can help us recognize where we need to let go of misunderstandings and resolve issues from a heart-centered approach.
Divorce is not about who is wrong. There is no right and wrong, just different perspectives. Two spouses see things differently; that's why they are getting a divorce. If you are considering a divorce good advice will go like this:
Seek peaceful alternatives to your disagreements, solutions that are aligned with both perspectives. Release attachments to your limited ideas of blame and punishment. Keep your ego in check. Practice listening. The answers you seek already exist and will present themselves once you let go of your old way of thinking and open yourself to higher possibilities.
Visualize and focus on positive outcomes and solutions. Let go of your ideas of morality and justice. This is about you, your family and your future, not proving a point. Trust your inner knowing and be committed to peaceful resolutions. Be generous. The more you give, the more you will receive. Be kind to yourself and others. Practice every day to let go of conflict and the peace you achieve will be reflected around you.
Focus on the redefinition of your family and the division of major responsibilities like raising your children. Remove your idea of sole custody and understand that the best interest of a child includes all family members. A legal battle over custody is very expensive and exposes you, and more importantly, your children, to the microscope of the court. The quantity of time with your children is far less important than the quality of the time you spend with them.
Having gone through a divorce myself, I recognize the desire for more time with your children, but understand that accepting the situation, letting go of the fight and making the most out of the limited time to create memories and simply love your children is the healthiest solution. Let the time away from your children be a time to heal and re-create yourself. Taking care of yourself is one of the best ways to care for your children.
When you battle over your children, you place their future in the hands of the court. You and your spouse know what is best for them; not complete strangers. Find respect for your spouse as a parent of your children, even if he or she thinks differently than you. Set an example of integrity by not bad-mouthing your spouse. If you can't say anything nice, then don't say anything at all. Or challenge yourself by replacing negative thoughts or statements with positive ones. Like it or not your spouse will always be your children's parent. It is in your and your children's best interest to learn to communicate.
Teach empathy and compassion to your children by example. See beyond the lines of the imaginary battlefield between you and the in-laws. Be the peacemaker. Support healthy relationships between your children and their uncles, aunts and grandparents. The greater the supportive family network, the better.
If you are concerned about negative family influence on your children, bring them to a good therapist and educate yourself on the best way to neutralize that influence. Using the court system to try and remove the influence will more than likely cause more harm, not succeed and cost significant money. Redirect the money you save by not going to court towards therapy for you and your children to help you through your transition, begin healing and creating your new life.
As an attorney who has been through, and practiced in, the traditional family law system for decades, I can honestly say that placing your divorce in the hands of our legal system will not serve your best interests, unless abuse or violence is involved. In such circumstances the system can be efficient and appropriate, and immediate relief should be sought through law enforcement and a restraining order to ensure the ongoing safety of all parties involved.
Outside such circumstances, private, emotional family issues are not meant to be decided by a public adversarial system. Attorneys are trained to be adversarial and to be counselors of law, not counselors at law. If you cannot solve your issues without help, seek support from a therapist with a family law mediator as a guide. His or her legal experience can generally predict what the outcome of your case would be in court and can outline your best options.
Divorce doesn't have to be a nasty word or process. It is a challenging time of major change in your life, but also an opportunity for rebirth into a life defined by a healthy new you. Ultimately, the choice is yours. Peaceful resolution is the result most advantageous to you.
Loren Costantini is an attorney, artist, entrepreneur and father who maintains a mindful law practice in Milford, CT. www.LorenCostantini.com.
See also:
Speak The Truth, But Not To Punish
The Great Transformation: A World Awakening