Hope, Medicine and Kundalini Yoga
An interview with Hari Kirin Kaur Khalsa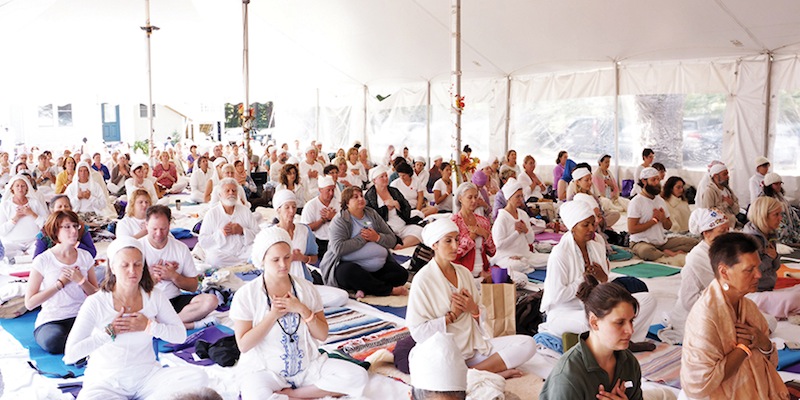 Reprinted from Spirit of Change Summer 2015.
Like the color white that demurely conceals an entire rainbow of color within, Hari Kirin Kaur Khalsa, MD, formerly known as Diane Pingeton, has worn white as a power color for most of her professional life. First as a nurse, then a white-jacketed obstetrician delivering babies, Hari Kirin finally found her true calling as a Sikh teacher of Kundalini yoga and meditation, and now wears white from head to toe.
Practicing Kundalini yoga and meditation for 11 years, Hari Kirin has been teaching since 2007. Retired from her OB/GYN medical practice since 2012, she maintains her connection with the medical community as a volunteer faculty member at UMass Memorial offering a weekly chair yoga class in the outpatient psychiatry department. Hari Kirin recently came onboard as yoga center director at Yoga at the Ashram, located at Guru Ram Das Ashram in Millis, MA, offering a vibrant and diverse selection of events, classes, and trainings to awaken individual healing and nourish community. She also contributes as a curriculum team member for Guru Ram Das Center for Medicine and Humanology in New Mexico in their Kundalini yoga therapist training program.
What force could possibly divert a successful obstetrician from a hard earned, rewarding career as an MD onto an unfamiliar and very distinctive spiritual path to wellbeing? With a unique perspective gained through years of medical training and practice, a compassionate heart and the spiritual insight gleaned through over a decade of Kundalini yoga and meditation, Hari Kirin shares the distinctive beauty of Sikh tradition and her optimism for the future of medicine in this interview. Everything you did not know about Sikhism will surprise you!
Carol Bedrosian: How did you start your healing career?
Hari Kirin Kaur Khalsa: Basically, in high school I started in health care working as a nurse's aide. I went to Saint Peter Marian High School in Worcester and worked at the Sisters of Mercy Infirmary with the retired and sickly nuns. I was a little bit torn about whether to go to art school or go into a helping profession. Once I decided I really wanted to be in a helping profession, I went to nursing school and got my RN degree at Fitchburg State College, then started working as a nurse. I worked at Beth Israel in Boston for many years, mostly in labor and delivery.
At a certain point in my career I thought about expanding my practice and becoming a midwife, but then I also liked the operating room and I thought, "Maybe I should just bite the bullet and go to medical school." So I took my pre-med classes at night while I was working during the day and got accepted to and graduated from UMass. I worked locally in Worcester as an OB/GYN for fourteen years; it was a very rewarding profession.
While it was a great profession to be in, it was also exhausting to work those shifts because babies come when they want to. I knew that I needed more skills for stress reduction then I had, so I started searching for something that would work for me. I had tried to practice mindfulness on several occasions, both in medical school, and now at this point in my life, but I found that my mind was so jumpy — they call it "monkey mind" — that I couldn't overcome the challenges to meditation at that point.
Then a friend taught a Kundalini yoga class at a Unitarian retreat. One class and I was really hooked. I knew this was what I needed, that this was the right way for me to conquer my mind and to learn how to meditate. So I started practicing Kundalini yoga.
Carol Bedrosian: What is Kundalini yoga?
Hari Kirin Kaur Khalsa: Kundalini yoga, according to Yogi Bhajan, the spiritual master who brought Kundalini yoga to the West back in the 1960s, is the yoga of awareness. All forms of yoga are good and all are related to each other. They all have the same basic principles that if we can overcome the thoughts of our mind and develop life practices that help us come from our higher self, then we can be better human beings. Kundalini yoga is a fast technology for this, developed for people who have busy lives and who have families. We think of ancient yogis as people wearing a loincloth in a cave, and that's certainly one tradition of yoga, but Kundalini yoga is designed for people who don't have all day to perfect a meditation. They need something that they can practice in the morning before they go to work or begin their day to help them through their "full catastrophe living," as Jon Kabat Zinn says.
Carol Bedrosian: Does Kundalini yoga involve the body, stretching, and poses, or is it strictly a form of meditation?
Hari Kirin Kaur Khalsa: It does involve the body. The basic format of every Kundalini class is the same though the actual content varies. There'll be warm ups, there'll be some breathwork called pranayama, and then there'll be a physical yoga set, or kriya, and that just means "completed action." Each kriya is different; it has a specific purpose. In Kundalini yoga you're not necessarily perfecting the same postures again and again in the same sequence. You're challenging yourself with what you know to be needed right now that is coming up for healing and change.
So there's a physical yoga set, and there are all different levels of challenge to those sets, but they can be adapted to anyone, even people sitting in a chair. After the yoga set there's a deep relaxation, or shavasana yoga nap, which all traditions of yoga tend to include. And then there's meditation. So the whole purpose of the yoga set is to prepare the mind for meditation. It's really about bringing the whole mind-body awareness together in a way that elevates the individual.
Carol Bedrosian: Did your Kundalini yoga practice help you in your OB/GYN work and bringing your mind back into focus?
Hari Kirin Kaur Khalsa: It definitely helped me with stress reduction because I wanted to keep doing what I was doing at work, but I knew I needed to feel more balanced and more relaxed approaching each day. Kundalini yoga gave me tools and skills to help me with all the challenges in my life.
I loved the practice so much that I wanted to share it, so I decided to go to teacher training, which I did here at Yoga at the Ashram in Millis in 2006 and 2007. It's a commitment of roughly one full Saturday-Sunday weekend per month. I was still working full time as an OB/GYN, so I said to my family, "It's going to be tough. I'm either going to be at the ashram or the hospital on the weekends a lot over the next eight months, but I really feel strongly that this is something I need to do." Yoga teacher training is like boot camp; it's very transformative. It really opens up your mind and your capacity in a new direction. I was very grateful for the opportunity to be able to start teaching yoga. It became the highlight of each week.
Eventually, I started to scale back my practice and let the yoga blossom forth more. On a personal level I had other reasons why I wanted to reduce work hours — being more present for elderly parents and opening up more time to match my husband's retirement schedule. It was a good time for all of these things to converge. So I started to move away from obstetrics, and then gradually worked part time just in the office, and then completely retired from my practice in 2012.
Carol Bedrosian: I know that many, though not all, practitioners of Kundalini yoga are Sikhs, and I recognize by your white clothing and turban that you are a Sikh. When did you make this transformation?
Hari Kirin Kaur Khalsa: I think we all have a path in life that's meaningful to us. Some people call that dharma. A dharmic path is a set of guidelines, the truest part of ourselves that says, "Yes, this is for me. This helps me be a better human being. This is how I want to practice." For some us that might be a religious way, for some of us that might be mindfulness practices, for some of us that might be regular walks in nature. We all have different paths that unlock that greatest compassion of the heart.
From the time I was a little child I had a very loving devotion to the Creator, to God — whatever you wish to call that infinite energy that we're a part of. I was raised Catholic and I dreamed about being a priest when I grew up, but then hit up against gender issues as I came of age in that tradition. So I joined the Unitarian Church and raised my children in it from my twenties on. Unitarian Universalism is a beautiful path of openness and acceptance of the worth and dignity of all human beings and the interconnected web of all existence. These are principals that I very much still adhere to. I remain both Unitarian Universalist and a Sikh, two traditions that honor all religions.
Sikh Dharma is simply a roadmap for truthful living. Whether or not one ascribes to the Sikh religion, one can be on the path of Sikh Dharma. People who consistently practice Kundalini yoga and meditation, or teach it, choose where in this dharmic path they're comfortable. So I started off really feeling, "Oh I love Kundalini yoga and meditation, but I'll never cross over into that Sikh thing. That's too heavy [laughs]." But as I spent more time in it I realized that Sikh Dharma has a vibration that's purely devotional and completely aligned with what's infinite within us and all around us. I felt this resonating with what was always true within me, and so I did become a Sikh, and I'm happy to say that this is the practice that enriches my life and powers me up each day.
Carol Bedrosian: Wearing the outward signs of being a Sikh with the white clothing and turban must both open up discussion and erect barriers with people. How did this affect your OB/GYN practice?
Hari Kirin Kaur Khalsa: Just to clarify, anyone who teaches Kundalini yoga wears white when teaching, to increase radiance and better serve as a teacher. They may choose to wear white all the time, or any color at other times. Many Sikhs who do not teach yoga wear a variety of colors. But, yes, once you start wearing the outward signs — the outward signs are called bana — it becomes interesting. The way Sikhs dress is not intended to be a separation. It's not intended to be a proclamation of "I am this" or not this. It's really just to reflect the beauty of the soul to the person in front of you, that this is the beauty of your own soul. But it is true that people see what they want to see and the mind will fill in gaps for us. Some people would ask me if I had cancer or people would ask me different questions out of concern and curiosity to see what it was all about.
The bottom line with bana is if you're comfortable wearing it then the people around you are comfortable, too. Yes, it is also like wearing an "ask me" button. Sikhs are committed to being defenders of the defenseless and to being a resource in the community. It's all about being humbly ready to serve.
Carol: What is the purpose of wearing a turban?
Hari Kirin Kaur Khalsa: All of these practices are meditative tools. It's an aspiration of Sikhs to come from a meditative mind as opposed to a more animalistic mind throughout the day. So it's like the insulation on your roof. If you spent a lot of energy heating up your house, you don't want all that heat to just escape through the roof. By putting a turban on you're making a commitment to yourself that "I would like come from my meditative mind today and not be trapped in my emotions and not act out of the lower aspects of my human nature."
Carol: I notice all Sikhs have the name Khalsa. What is the significance your Sikh name?
Hari Kirin Kaur Khalsa: In Kundalini yoga, if one wishes to request a spiritual name, you can go to the 3HO website and click on Request a Spiritual Name, and Yogi Bhajan's secretary will do some calculations based on the date of birth and numerology, meditate on it, and send you a spiritual name. The spiritual name is a tool to help remind and guide you on the journey of your soul's purpose. Anyone who feels committed to this tradition can request a spiritual name; you don't have to be a Sikh.
When I requested my spiritual name I was very tearful and overjoyed to receive it from the central office. Hari is one of the names of the creative aspect of universal consciousness and Kirin is a ray of God's light. So, to me, my first name, Hari Kirin, means "to create hope." Kaur is the middle name given to all women on this path, and it means "lioness princess." When the tenth Sikh master had to turn people who were victims into victors, and turn peasants into people who could defend themselves from annihilation because they were being attacked due to their religion, he gave all the men the middle name Singh, which means "lion," and all the women the name Kaur, so that we would be in touch with our inner power and inner strength. Khalsa is the last name used in Sikh tradition. Khalsa means "a person who is trying to live a truthful life." Really, we're all Khalsa, we're all trying to live truthful lives; it's just whether you want to go to court and change your name to that or not. Khalsa is the last name that you can take on if you wish.
Carol Bedrosian: The Sikh Guru Ram Das Ashram is located in Millis, Massachusetts. Can you tell me about the ashram?
Hari Kirin Kaur Khalsa: The ashram is a community of people whose founders came together in Dorchester in the 1970s. When Yogi Bhajan brought the teachings of Kundalini yoga to the West back in the 1960s, it spread like wildfire through the younger generation that were looking for a spiritual awakening. So many people throughout the country started practicing Kundalini yoga and wanted to live together in community. Many of them became Sikhs.
The Millis community started in Dorchester and as they married and had children, they decided that they wanted a more suburban place to raise families. So they found the property here in Millis and created a beautiful Gurdwara, which is a Sikh temple and residences for people to live in. Now the ashram has a great mature vibe from almost 50 years of meditation. It's a lovely site on 18 acres with the buildings scrupulously cared for and maintained. The space has been lovingly held by its long term members and continues to grow with new members, both residential and in communities near and far.
Carol Bedrosian: Do all Sikhs live together in community or is that optional?
Hari Kirin Kaur Khalsa: It's completely optional and there are many people who don't live right on site at the ashram but live within a few miles, which is still within the aura of the ashram. There are many people who have done teacher training here, who feel a strong connection, and they come home to the ashram for special events, such as White Tantric Yoga and Fall Festival, and to volunteer in the kitchen and on the grounds.
The ashram is committed to the teachings of Yogi Bhajan, and you do not have to practice Sikh religion to practice Kundalini yoga. The yoga center was created to serve all through daily classes, workshops, and teacher trainings. Other traditions such as hatha, Vinyasa, and qigong are offered too. Diversity is strength. There are many concentric circles to ashram life through the yoga center, the Gurdwara, and both. There is a beautiful East-West mix of people who have come to Sikhism through 3HO and people who were born into that tradition.
Carol Bedrosian: What does 3HO refer to?
Hari Kirin Kaur Khalsa: 3HO stands for Happy, Healthy, and Holy, a worldwide community that was begun through the teachings of Yogi Bhajan.
Carol Bedrosian: Is Yoga Bhajan the founder of Sikhism?
Hari Kirin Kaur Khalsa: Yogi Bhajan came to the West to teach yoga and create yoga teachers. He was both a Sikh and a yogi. His students were learning yoga, but saw that he was a Sikh with a white turban. They asked him to teach them about Sikhism and how to wear a turban.
Sikhism is really only about 500 years old. It was started by a man named Nanak, who was born in the 1400s in India at a time when there was a lot of war over religion and the countryside was greatly troubled. He grew up with this great devotion to God and would hang out with many different spiritual people, no matter what their caste or religious beliefs or practices. At that time there were yogis living in the forest, so he would go into the forest and learn from them, too. He didn't really set out to start a religion, so much as he set out to start a movement of equality, honest living, and devotion. Upon his enlightenment, the first thing he said is that there's really no difference in religion among us; we're all resonating with the same energy and devotion. There's no difference between men and women; all are equal. There's no difference between castes, which was a huge thing to be saying in the 14-1500s in India.
Nanak spread this word by singing simple songs of love and devotion and people would flock to sing with him because his message was so pure and heart-centered, without religious hypocrisy that he openly criticized. He became so beloved by all the different religions of the time that when he died both the Hindus and the Muslims claimed him for their own, and the Buddhists claimed him as a Lama, also.
So Sikhism began with Guru Nanak, and then his consciousness was passed into the human form of nine other masters, or Gurus, until the tenth Sikh master, Guru Gobind Singh, declared that there would not be any more human Guru, but the Guru would be in the teachings and the writings of the Gurus and other enlightened people who contributed to the sacred book of writings called the Guru Granth Sahib. Sikhs honor this book as a living Guru, as a living teacher. Having the Guru in its place, there for guidance, is what makes the Gurdwara what it is.
Sikhs turn to the Guru for all their energy and advice and orient themselves to the teachings of the Guru, which basically say live a truthful life, be the hope of the hopeless, be a light in the world, spread joy. Many holy people have been murdered for their own religions, but in Sikh history the ninth master was martyred for the right of others to practice their religion. He stepped forward at a time of impossible odds to protect people who were being terrorized and allowed himself to be martyred to protect them. In Sikh history there are many stories of people trying to protect a path of truthfulness and equality for all people.
Carol Bedrosian: So the Guru is not a person, it's the teachings in the book. It's not just one person with knowledge, it's everyone.
Hari Kirin Kaur Khalsa: Exactly. You bring up the concept of equality and community with your question. This was the tradition started by Nanak. Whether you were a king or a beggar, if you came to Nanak's court, you would all sit together on the floor at the same level and be served great food. No one is higher or lower. This tradition of eating after Sikh service continues to this day. Also, many people can be ministers of Sikh Dharma; it's not just one person in the community. Sikhs consider it a great blessing to be in the company of all who cherish this path.
Carol Bedrosian: Since becoming a Sikh and taking on these practices, have you found the meditative mind you seek?
Hari Kirin Kaur Khalsa: All of this journey in the human life is never a done deal, right? There's always room for more growth in this journey of the human soul. But for me, yes, the practice of being a Sikh absolutely fills each day with great spirit and joy and optimism and radiance.
Carol Bedrosian: You have a foot in both worlds with training in a very spiritual type of wellbeing and the medical training of being a doctor. Having MD initials after your name opens up all types of doors that are not open to spiritual or alternative wellness caregivers. What has been your experience in having that foot in both worlds?
Hari Kirin Kaur Khalsa: Both worlds and both languages exist within me so I don't feel any separation. It makes perfect sense to me that we can learn scientifically about how yoga and meditation work for our well-beling. For example, a particular 11-minute Kundalini meditation called Kirtan Kriya has been shown to improve our chromosomal telomere length, which when shortened is a marker of aging and stress in the body. People just know instinctively from their experience that meditation and yoga are healing, but it's exciting to me when you can actually document it scientifically.
Yoga therapy research is beginning to take off. There is an International Association of Yoga Therapists — IAYT — which supports yoga as a therapeutic tool, and is a licensing body for all traditions of yoga therapy. Kundalini yoga therapy is just getting rolled out this year in 2015, in one site on the East Coast which, I'm proud to say, is Yoga at the Ashram in Millis, and also on the West Coast in Los Angeles through the Guru Das Center for Medicine and Humanology. The director, Shanti Shanti Kaur Khalsa, continues to work with people with all different health conditions, for over 30 years bringing yoga and meditation into diverse health settings in greatly successful ways.
Once the graduates from yoga therapy are out in the world, things can really shift because the magical part of Kundalini yoga is you can sit in a chair, you can be on oxygen, you can have your leg in a cast, and you can have a Kundalini yoga experience. You can do an 11-minute meditation and you can change the way your neurons are firing in your brain. So no matter what the physical situation, and no matter what the time constraints, you can have a meaningful effect in a way that's definitely a huge step toward wellness. As yoga therapy in all traditions continues to unfold, I think it will help to transform how people can feel well and what's available to them.
Carol Bedrosian: Are you frustrated with the slow pace of alternative therapies coming into mainstream medicine and how MDs and insurance companies seem to have all the power deciding what gets funded, what gets promoted, what people hear about?
Hari Kirin Kaur Khalsa: I don't feel any angst about that. I think that things have a tendency to unfold as they go. We're currently in what they call the Aquarian Age, which means that it's a time of awareness, it's a time of wisdom. We used to really worship knowledge and would spend years and years acquiring knowledge. Now knowledge is available to us at our fingertips through the tools of the Information Age. We don't have to do all that memorization; we can instantly access everything we need to know. That's not to say we don't need skills and experience and understanding, but the shift is really going towards wisdom, and wisdom can only be gained by experience.
Things are changing so rapidly in the current times that when healthcare and alternative medicine are ready to shift, they will without resistance. I am truly inspired by what I learn from IAYT conferences and publications. For example, the Cleveland Clinic in the Midwest appointed a Chief Wellness Officer, which was a powerful statement. Most hospitals have Chief Financial Officers, Chief Operational Officers, Medical Officers, but to raise the status of the Wellness Officer to be on the same level as all the head honchos is a big statement. They actually have a yoga therapy program going not only for their employees, but also for their inpatients and outpatients. That took years to develop, but that's the type of example that is showing up in Western medicine.
There's also the folks down at the University of Texas MD Anderson Cancer Center. Their Integrative Medicine Program is directed by Dr. Lorenzo Cohen, whose grandmother was a great yogi. So he's making sure that there's yoga programming in the oncology programs available to everybody and it's completely mainstreamed in. As more and more centers have yoga and publish research on it, critical mass is reached and you stand out if you don't offer these programs. The shift is definitely happening and I really don't feel any resistance or angst over it or that it should be happening faster or differently than it is. I'm just happy to be at the vantage point where I can understand how both worlds want to be and I'm happy to create any bridges that I can in my small point of the world.
I would say that we need all the gifts that science and Western medicine have to offer, but we also need the healing tools that will help get a person through their chemotherapy and surgery. There's so much that we have yet to discover about the mind-body connection; there's so many people who outlive their prognoses, and for different reasons, whether they use these practices or not. Maybe it's just because they have that gene for resilience and they have incredible optimism and a supportive family, even without any practices. There's so many things that aren't measureable. I think it's important that we acknowledge the value of all that a person has available to them so they have many choices and tools for how to get better. Fortunately we're in a time where people have become partners in their healthcare with their providers — whether they're seeing an alternative provider or mainstream Western medicine provider or both — they're partners in that care.
For more information on Kundalini yoga visit www.yogaattheashram.org or email info@yogaattheashram.org or call 508-376-4528 to reach Dr. Khalsa. Interviewer Carol Bedrosian is the publisher of Spirit of Change Magazine. Visit www.spiritofchange.org.
See also:
What Kind of World Do You Want to Live In?
The Teaching Stories of Swami Kripalu