Just One Daily Dose Of Walnuts Does All Of This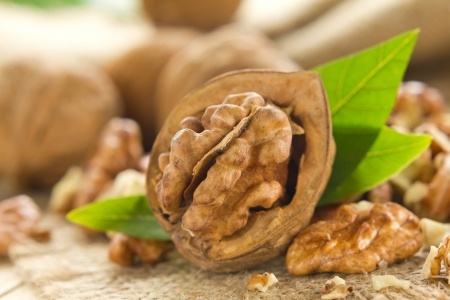 In addition to a valuable source of nutrients including omega-3 fats, copper, manganese and many others, walnuts have incredible health benefits including prevention of cardiovascular disease, metabolic syndrome and even diabetes.
Researchers are convinced–more than ever before–about the nutritional benefits of walnuts when consumed in whole form, including the skin. We now know that approximately 90% of the phenols in walnuts are found in the skin, including key phenolic acids, tannins, and flavonoids. Some websites will encourage you to remove the walnut skin – that whitish, sometimes waxy, sometimes flaky, outermost part of shelled walnuts. There can be slight bitterness to this skin, and that's often the reason that websites give for removing it.
Having a handful of walnut every day reduces blood pressure when you are under stress… and even during those all-too-rare, happy moments of calm.
Studies have found that increasing polyunsaturated fatty acids (PUFAs), increase sperm quality in men consuming a Western-style diet.
Walnuts also improve cognition and brain function and new studies show that may assist those who suffer from certain brain ailments.
The form of vitamin E found in walnuts is somewhat unusual, and particularly beneficial. Instead of having most of its vitamin E present in the alpha-tocopherol form, walnuts provide an unusually high level of vitamin E in the form of gamma-tocopherol. Particularly in studies on the cardiovascular health of men, this gamma-tocopherol form of vitamin E has been found to provide significant protection from heart problems.
After taking into account factors such as participants' age, exercise levels, and calorie and fatty acid intakes, other researchers found that when participants were eating the walnuts, their blood-vessel function improved, and so did the overall quality of their diet, regardless of the type of dietary counseling they had received. The study was published in the journal BMJ Open Diabetes Research & Care.
"While that's primarily comprised of 'good fat,' versus the various saturated fat sources, it is recommended that 20-35 percent of total calories per day come from fats," stated Anita Mirchandani of the New York State Academy of Nutrition. For people on an 1,800-calorie daily diet, that means eating 40 to 70 grams of fat. "So you have to be cognizant of other dietary-fat sources in your diet as well."
Anti-Cancer
Given the wide variety antioxidant and anti-inflammatory nutrients found in walnuts, it's not surprising to see research on this tree nut showing measurable anti-cancer benefits. The antioxidant properties of walnuts help lower risk of chronic oxidative stress, and the anti-inflammatory properties help lower risk of chronic inflammation, and it is precisely these two types of risk, that, when combined, pose the greatest threat for cancer development. Prostate cancer and breast cancer are the best-studied types of cancer with respect to walnut intake, and their risk has been found to be reduced by fairly large amounts of walnut consumption. (Large in this case means approximately 3 ounces per day.) For prostate cancer, the evidence is somewhat stronger, and more studies have involved human subjects. For breast cancer, most of the evidence has been based on studies of rats and mice.
Bone Health
The anti-inflammatory nutrients in walnuts may play a special role in support of bone health. A recent study has shown that large amounts of walnuts decrease blood levels of N-telopeptides of type 1 collagen (NTx). These collagen components provide a good indicator of bone turnover, and their decreased blood level in response to walnut intake is an indication of better bone stability and less mineral loss from the bone. "Large amounts" of walnuts (in this study, actually raw walnuts plus walnut oil) translated into 50% of total dietary fat. In an everyday diet that provided 2,000 calories and 30% of those calories from fat, this 50% standard for walnuts would mean about 67 grams of fat from walnuts or 4 ounces of this tree nut on a daily basis. While this amount is more than would most people would ordinarily consume, we expect the health benefits of walnuts for bone health to be demonstrated in future studies at substantially lower levels of intake.
See also:
Carson's Crackers: The ExSEEDingly Good Snack Your Family Will Love
Healthy Eating: Roasties and Sea Salt