Northeastern States Pursue Regional GMO Labeling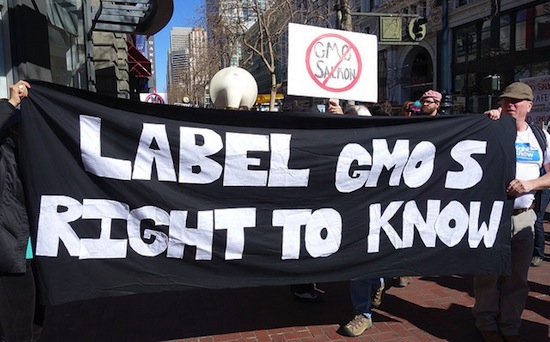 While big GMO labeling initiatives were defeated recently in both California and Washington states, over 30 states currently have GMO labeling laws winding their way through the legislative process. Unfortunately, the deep pockets of GMO food companies are never far from trying to defeat such efforts, having spent over 70 million dollars to capture the vote on just these first two state battles alone.
The Organic Consumers Association has obtained the Grocery Manufacturers Association's (GMA) "One-Pager" of talking points about GMOs and labeling laws. This document is intended for use by food industry lobbyists whose job it is to convince state lawmakers to reject GMO labeling bills in their states. The talking points include the usual misinformation about GMO safety testing and the so-called benefits of GMOs.
But they also include claims that GMO labeling laws are unconstitutional — claims that the Vermont Law School's Environmental and Natural Resources Law Clinic, and the Washington, DC constitutional law firm of Emord & Associates, say are baseless — but which are intended to strike fear in the hearts of lawmakers concerned about spending tax dollars on costly court battles.
In 2012, Monsanto lobbyists threatened to sue the state of Vermont if lawmakers there passed a GMO labeling bill, citing their First Amendment rights. Vermont's GMO labeling law stalled in 2012, in the face of these threats. Then in 2013, the Vermont House Representatives passed H.112, which "provides that food is misbranded if it is entirely or partially produced with genetic engineering and it is not labeled as genetically engineered…" and that "food shall be labeled as produced entirely or in part from genetic engineering if it is a product offered for retail sale in Vermont…"
The legislative session ended before the bill could move to Senate and now that the state legislature has reconvened, the bill has been taken up again. Vermont lawmakers could pass a clean bill — supported by 90 percent of Vermonters — being the first state in the nation to require GMO labeling on all food products for sale in their state, or they could pass labeling laws with a trigger clause similar to those passed in 2013 in Maine and Connecticut. These laws do not take effect until a combination of Northeastern states that adds up to 20 million residents pass similar legislation.
Currently Rhode Island has introduced its own GMO labeling law, and Massachusetts and New York are expected to follow soon. The New Hampshire legislature defeated a proposed GMO labeling bill in January, 2014, citing the alleged constitutional legal challenge.
Whole Foods announced last year that it plans to label GMO products in all its U.S. and Canadian stores within five years. Dozens of nations, including the members of the European Union already have GMO labeling laws. Scott Faber, executive director of the pro-GMO labeling organization Just Label It, said he believes the U.S. will follow suit, following pressure from states passing their own requirements first. — Source: Organic Consumer's Association
Comments