Summer Star Wildlife Sanctuary Grand Opening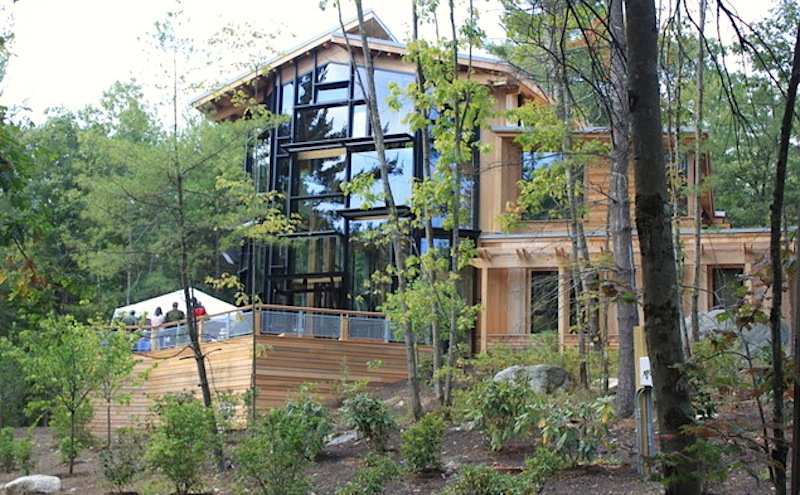 Summer Star Wildlife Sanctuary celebrates the protection of a beautiful and peaceful 45-acre tract of natural land. Recently opened, the sanctuary experience is now available to the public free of charge.
Shalin Liu, the founder and director of Summer Star Wildlife Sanctuary, expressed deep appreciation for having Mass Audubon's Broad Meadow Brook Wildlife Sanctuary, Sudbury Valley Trustees, and Cummings School of Veterinary Medicine at TUFTS University offering strong collaborative support for Summer Star's wild land protection, visitor services, and education programs.
The building itself is a work-of-art which shows how human beings can be inspired by nature. Shalin worked on the design with architecture firm DSK in Concord, MA. This exceptional green living building was constructed by Consigli, a well known construction company in Milford, MA.
Summer Star is located at 690 Linden Street in Boylston, MA. The sustainably-designed Trailhead House features an art gallery, library, and other opportunities for visitors to become excited about nature, including The Cave, which will feature nature documentaries and live video feeds from the Healing Cage at Cummings School of Veterinary Medicine at Tufts University.
The Trailhead House is now open Saturday through Tuesday, 11:00am–3:00pm. Outdoors, Summer Star offers 1.75 miles of trails which are open Saturday through Tuesday from dawn to dusk. Summer Star is closed Wednesday through Friday to allow the wildlife to remain undisturbed. Summer Star will eventually offer programs to schools and community groups, as well as an internship program for young adults interested in conservation.
This forty-five acres of natural land is home to plants, streams, glacial boulders, and wild animals large and small. It is the Sanctuary's mission to protect and care for these wildlife habitats, trails, forests, streams, and wetlands. The Sanctuary is a place of tranquility and self-reflection. It loves rocks, trees, and birds. In that loving, we find nourishment for our spirits and our souls.
The Sanctuary is open to the public free of charge. Please enjoy the beauty of nature, and in return kindly pay respect to all wildlife who have been keeping this land safe and peaceful for generations! Our goal is to bring new experiences and discoveries of the wonders of local wildlife and the joyful spirit of nurturing forestland to underprivileged children, senior citizens, and to all families in the community.
To get to the Sanctuary from Rt 495, take exit 26 to Rt 62 west. Go 1.8 miles to the center of Berlin. Bear left onto Linden Street at the flashing yellow light and follow Linden Street 2.1 miles to the entrance on the left.
For more information contact Brian Rivotto, Summer Star advisor and CEO of Rinet Company, 617-488-2716.