U.K. Neighborhood Records Its Electricity Use on the Street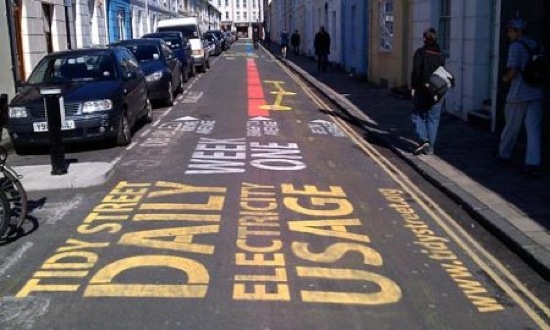 From The Daily Good
A little feedback can go a long way. In Brighton, in the United Kingdom, a group of residents living on Tidy Street are recording their daily electricity use on a giant infographic painted on the street outside their homes.
As The Tidy Street Project website explains:
Each day the participants' electricity usage over the previous 24 hours will be marked; and each week participants can choose to add another comparison line that will show how their electricity consumption compares to another region in the UK or even a different country. We hope that the residents, in collaboration with a local graffiti artist, will produce an engaging artwork that will stimulate the street and passersby to reflect on their electricity use.
The project has been running for roughly three weeks and already the participants' electricity use has dropped by 15 percent. Lots of people are aware that energy use is a creeping problem but virtually nobody is aware of how much they use.