Wellness Clinic at the MA Women Veterans' Conference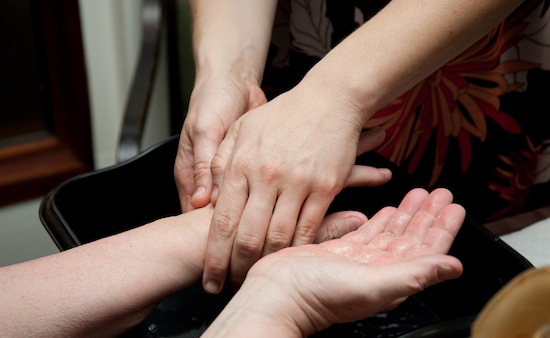 Date: June 14, 2014

Location: Nichols College, 124 Center Road, Dudley MA
Registration information: info@thereandbackagain.org
Want to give something back to women veterans in Massachusetts? Volunteer on June 14th to offer your services during a Wellness Clinic provided by There & Back Again (TABA) at the 6th Annual Women Veterans' Conference to be held at Nichols College in Dudley, MA. There & Back Again is a nonprofit that promotes a whole body approach to wellness for combat veterans.
We are seeking practitioners of Reiki, reflexology, massage, acupuncture, cranial sacral massage, and iRest to provide services to the 300 women veterans attending the conference. The Wellness Clinic will be held from 11:30 AM – 2:30 PM, with treatment sessions scheduled every 30 minutes. If you are interested in participating please contact info@thereandbackagain.org or call 1-800- 311-0187.
A recent Wellness Clinic at Ft. Belvoir, VA, elicited very positive feedback from the veterans who participated. A sampling of their responses include: "Thank you for recognizing the importance of mind-body health and balance and for providing a nurturing forum for people to become more attuned to what they're experiencing within themselves." Another veteran offered, "It's worth trying. Medications should be the last resort." The veterans report immediate relief of pain, clear headedness, an increase in energy, a sense of joy and overall relaxation.
As part of the effort, you will leave with a tremendous sense of reward, and as one veteran recently remarked, "I would like to thank There and Back Again for helping me and other soldiers heal from our wounds and scars."