When Meal Kits Go Vegan
An interview with Andy Levitt of The Purple Carrot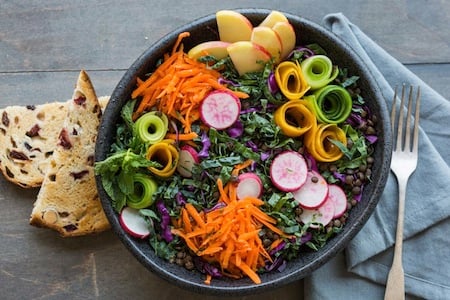 Andy Levitt is the Founder and CEO of The Purple Carrot, a vegan meal kit delivery service based in Needham, Massachusetts. Since its launch in October 2014, Purple Carrot has delivered countless plant-based meals that are good for the eater as well as the environment. With recipes like potato and rosemary flatbread with broccoli and Mongolian seitan stir fry, Purple Carrot offers subscribers the opportunity to explore new flavors and ingredients using easy recipes and healthy ingredients.
Food Tank had the opportunity to speak with Andy about his inspiration behind Purple Carrot and how the company is making plant-based eating fun and accessible to people all over the country.
Food Tank (FT): What inspired you to start Purple Carrot? Did your past experiences in the health and business field impact your approach to Purple Carrot?
Andy Levitt (AL): For 20 years, I spent my career working within the pharmaceutical and biotech industry promoting the value of Western medicine as the antidote for all types of chronic health conditions. At the encouragement of a good friend who has been an ethical vegan for 15 years, I watched the documentary Forks Over Knives with my wife in January 2014 and knew at that moment what I wanted—and needed!—to do.
It became abundantly clear to me that people were largely unaware of the impact our food choices make on our health and on our environment—and that there was important work to do be done to raise awareness of the value of incorporating a plant-based diet. I quit my day job soon thereafter and have been building Purple Carrot ever since.
FT: One notable difference between The Purple Carrot and other subscription meal delivery services is that your offerings are focused solely on plant-based meals. What was the rationale behind that decision?
AL: I believe that life is more interesting along the edges, so I wasn't interested in creating something that was normal or boring, which wouldn't be noticed. In 2014, launching a plant-based meal kit was on the edge as compared to mainstream options like Blue Apron, Plated, and HelloFresh. But what began as an entrepreneurial venture into a relatively fringe category has turned into a mission-driven company that is powered by the belief that everyone could benefit by eating a bit less meat in their diets. We remain the only meal kit company with an exclusive focus on plant-based food, and it is part of our story and the broader ethos of our company. There is a preponderance of data that supports the rationale for eating plants, and we've really just scratched the surface on how big of an impact we can make with our service.
FT: Purple Carrot makes it easy for people to create vegan meals at home. Who are you targeting as customers? People who are already eating plant-based meals regularly or die-hard carnivores?
AL: I always talk about Purple Carrot as "vegan food for non-vegans" and sure enough, 82 percent of our subscribers are not vegan. The key market for us are the flexitarians who represent about 47 percent of the people in the United States—those people who want to eat less meat each week in their diet. We love our vegan subscribers and think that Purple Carrot represents a great solution that they can pass along to their veg-curious friends who think it's too difficult to embrace a vegan lifestyle. And for the rest of our customer audience, we strive to create delicious recipes that make people feel good as they do good.
FT: What are the biggest challenges that Purple Carrot has faced in achieving its goals?
AL: The meal kit category has grown significantly over the past two years with a number of choices available to consumers each week. Our challenge is to tell our story and have it resonate with people so that they feel like they are part of something larger than themselves by becoming—and remaining—a Purple Carrot subscriber. That's part of how we can differentiate our offering and stand apart from the other great companies in the space.
FT: Purple Carrot recently celebrated its second birthday. What are you most proud of that Purple Carrot has achieved since its founding?
AL: It's been an incredibly exciting two-year journey, and I feel so fortunate to be doing what we do. There is so much that brings me joy and satisfaction, but I'm most proud of the fact that Purple Carrot has earned its place in the national conversation around meal kits. What started out as a bootstrapped project out of my kitchen and garage has grown beyond belief. We're helping people across the country embrace a healthier lifestyle, and it feels really good to know that we are making a difference.
FT: Technology has made meal delivery kit services possible and has enormously influenced the way we live. Do you envision technology and food intersecting in other ways that change the way we interact with food, and how?
AL: There is so much potential with the intersection of food and technology. For starters, technology can help us know what's in our refrigerators, what's going bad soon, and what you need to pick up at the store (or order for you online!). You can then be informed about what you could mix together to make a great meal. We could track caloric intake, get reminders of what to eat before or after you exercise (with friendly reminders to work out and keep updates of your steps taken, calories burned, etc.), and then share that data with healthcare providers. All of that data could be shared with your permission to other service providers like Purple Carrot to optimize what foods you eat, learn about where food was grown, and create greater transparency across our food systems.
Marisa is a Masters candidate of the Food Policy and Applied Nutrition program at Tufts University. In addition to her academics and work with Food Tank, she is involved with the Long Beach Health Department's healthy retail program and nutrition education efforts. Marisa is passionate about food justice, nutrition, and sustainable food policy. Find her on social media: @marzipantsai.
This article was republished from Food Tank.
See also:
Ten Questions With Gene Baur, Co-Founder And President Of Farm Sanctuary
Awakening From Materialism: Vegans As Healers