Whole Foods Healthy Cooking: Use Your Bean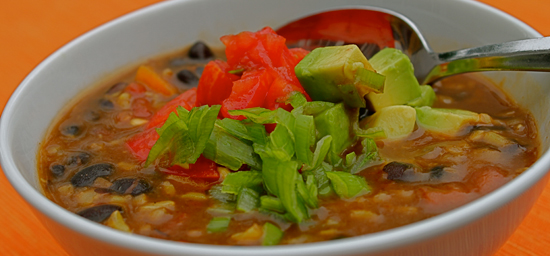 In the midst of the holiday chaos, it's important to slow down and take time to relax and focus on healthy eating. You can't enjoy the holiday festivities without the stamina and energy to keep up with all those demands on your time. A real miracle food is the answer.
The good news is that you don't have to look any further than the humble bean. I know it's not romantic or fancy, and isn't featured on many menus at this time of year, but the bean is truly a nutritional powerhouse neatly packed into a delicious, compact, easily stored, easily prepared versatile form.
Dry beans grow in pods and belong to the family of plants called legumes that are packed with nutrition. They're a great source of protein to build muscle, calcium for strong bones, flavonoids to reduce coronary artery disease and cancer, folate for blood cell production, niacin for energy, zinc for a healthy immune system and so many other health benefits! I always have a wide variety on hand, and even though I prefer to purchase them in dried form, having a few cans in the cupboard has produced luscious, last minute meals on many occasions. The most difficult part of cooking with beans is deciding which one to select!
So, if they have so much going for them, why are beans not on most people's "top 10" list of foods cooked on a regular basis? Usually it comes down to two reasons: gas and preparation time.
Let's address the gas issue. Our digestive systems can't easily break down some of the complex sugars found in beans so they end up staying intact in the large intestine. Bacteria present in the intestine ferments the sugars and the result is carbon dioxide and hydrogen. This combination results in gastrointestinal gas. We can help lessen this problem with proper preparation and food pairing. Combining beans with rice and vegetables instead of with bread and dairy helps many. Some people also use a product called Beano, a natural enzyme that helps the body break down complex carbohydrates. Once your body gets accustomed to digesting beans, it becomes more efficient at it.
That problem solved, let's get on to the more exciting part — preparation! Although cooking times may vary from bean to bean, much depends on the bean's size, age, variety and on the hardness or softness of the cooking water. Before cooking, inspect beans and remove any debris that may be present. Small stones often make their way into the package. Remove any broken beans or beans with wrinkled skin. Soak the beans to help soften them and to restore moisture and reduce cooking time. Most beans will triple in size as they re-hydrate, so be sure to start with a container large enough to accommodate the expansion.
Here are three preparation methods for beans:
1. The traditional method to prepare beans is to soak them overnight or up to 12 hours, depending on the type of bean. It's an easy, no effort way to prepare beans, but has a tendency to result in more issues with gas. Place beans in a large pot, cover well with water and let soak. Use the water/bean ratio as described in #2 below. They're now ready to cook according to recipe directions.
2. There's also the more modern, quick-soak method. This method helps dissolve some of the substances that cause gas and makes the beans easier to digest. The rule of thumb is to add 10 cups of water for every pound of beans. (After you do it once, you'll recognize how much higher the water is than the beans and you can judge without measuring.) Bring the water to a rolling boil and boil for one to two minutes. Turn the heat off, remove from stove, cover the pot, and let it sit for 1 hour. Drain the beans in a colander and return beans to the pot and cover with fresh water. Let sit a few minutes. They're now ready to cook according to your recipe's directions.
3. Pressure cookers are also a great way to prepare beans quickly and deliciously. Just follow the manufacturer's instructions.
Some of the beans I cook frequently include:
Adzuki beans (small red beans with a slightly sweet taste and they cook fairly quickly)
Black beans (a staple in Latin America and popular in burritos and refried beans)
Cannellini beans (used in Italian cooking and resemble large white kidney beans)
Garbanzo beans (also called chickpeas or ceci beans, are a tan color and used to make hummus and are great additions to salads)
Kidney beans (available in three colors: dark red, light red, white and are named for their shape, and most often used in chili, soups, and casseroles)
Navy beans (small with a dense texture and mild flavor and great for baked beans)
Try a different one each week and come up with your list of favorites. Experiment with seasonings and preparation methods. Once you get in the habit of preparing them, you'll be thinking of all kinds of wonderful uses. They're also great for breakfast, lunch, dinner and snacks. Cook several types of beans and use them throughout the week for fast, easy meal solutions.
Try these tips:
Add tomatoes, vinegar or citrus seasonings at the end of the bean cooking cycle when they're tender. Other seasoning such as garlic and herbs can be added any time.
Check to see if beans are ready by removing a few with a fork and biting into them. They should be tender, but not mushy.
Dry-packaged beans store well in tightly sealed containers in a cool, dry area. Use within 12 months. If stored longer than that, your cooking time will increase due to moisture loss.
Add 1/2 cup cooked white beans to smoothies to thicken and add a nutritional punch.
Toss a handful of cooked beans over a salad.
Add cooked beans to soup
Make a "clean out the fridge" soup by tossing all leftover veggies and beans into a pot, add stock (packaged is fine) and a few of your favorite seasonings and you'll have a fantastic soup.
Store your cooked beans in the refrigerator for 5-6 days.
Freeze your cooked beans for up to six months.
One pound (2 cups) dry beans yields six cups cooked beans, drained
OTHER RECIPES
Morning Hash
What a great way to start the day! Delicious and healthy, especially paired with some great tofu!
Ingredients
1 tablespoon olive oil
2 medium sweet potatoes, diced
1 medium onion, diced
1 clove garlic, minced
2 cups cooked beans — your choice of variety
Salt and pepper to taste
Directions
Heat olive oil in a large skillet. Add the sweet potatoes, onion, and garlic. Saute for a few minutes and cover. Heat, stirring occasionally for 6 minutes, or until the potatoes are soft. Add beans and heat for 3 minutes until warm. Add salt and pepper to taste.
Black Bean Tacos
Here's a lunch to look forward to, and it will keep you satisfied until dinner. It packs well, so it's a great option for brown bagging to work. I pack the bean mixture in a thermos container and it's the perfect temperature at lunch.
Ingredients
1 teaspoon olive oil
1 cup black beans, cooked
1 clove garlic, minced
1 cup chopped leftover veggies (zucchini, broccoli, carrots — anything you have on hand)
1 small tomato, chopped
1/2 cup lettuce, shredded
1 cup high quality salsa (homemade or purchased)
2 whole grain tortillas
Directions
Place olive oil in skillet and add black beans and garlic. Saute for 3 minutes. Add the leftover veggies and continue cooking for 2 minutes. Remove from heat and pack into a travel container. Add the tomato on top. Pack the lettuce and salsa in separate containers and wrap up the tortillas. When ready to eat, take the tortillas and spread the lettuce over the surface. Spoon the black bean mixture over the lettuce and top with salsa. Roll up and eat or heat if desired.
Old-Fashioned Baked Beans
Take the time to try this out. They freeze well and are really not much effort. They're always popular at our family get-togethers.
Ingredients
1 pound dry navy beans
10 cups water
1 tablespoon olive oil
2 cups onions, chopped
1 clove garlic, minced
1 small can tomato paste
1/2 cup brown rice syrup
1/4 cup molasses
2 tablespoons cider vinegar
1 teaspoon dry mustard
1/4 teaspoon ground black pepper
1/4 teaspoon ground cloves
1/4 teaspoon ground cinnamon
Directions
Place beans and water in a large pot, and bring to a rolling boil. Reduce heat to medium, and continue cooking 45 to 60 minutes, stirring occasionally, until beans are tender. Drain, and transfer to a large casserole dish.
Preheat oven to 300 degrees F. Heat the olive oil in a skillet over medium high heat. Add the onions, and cook until tender. Add garlic, and cook until soft. Add onions and garlic to the beans and mix well. Add tomato paste and mix. Add brown rice syrup, molasses, vinegar, and other seasonings and mix well.
Cover and bake 3 hours stirring frequently. Add water if necessary. Remove cover and continue baking 30 minutes. Remove from oven and serve.
Slow Mixed Bean Chili
This is perfect for tossing together before heading out for work or playing in the park with your kids. I rummage through the fridge and gather odds and ends that are left over from other dishes and always come up with a great combination. It's fast, easy and very tasty. Use the varieties of beans listed here or substitute your favorite.
Ingredients
2 teaspoons olive oil
1 package tempeh, crumbled
1 small onion, chopped
2 cloves garlic, minced
2 cups red kidney beans, cooked
2 cups white kidney beans, cooked
2 cups garbanzo beans, cooked
4 tomatoes, chopped (I use Roma tomatoes, but any will do, or use a 15 oz. can)
1 can (15 oz.) tomato sauce (plain or seasoned)
2 tablespoons chili sauce (or more to taste)
1 tablespoon oregano
1 tablespoon chili powder
1 teaspoon sea salt
Directions
Slow cooker: Toss all ingredients in, cover and set on low heat. You can leave it all day.
Stove top: Place oil in pot, sauté tempeh, onion and garlic for 2 minutes over medium heat. Add remaining ingredients, cover and simmer for one to three hours.
All recipes are courtesy of Michelle Hirsch, Spirit of Change foods columnist and co-author with her son J.M. Hirsch of Venturesome Vegetarian (Surrey Books, 2004).
Michelle Hirsch lives in southern NH and teaches whole foods cooking throughout New England. She is a graduate of the world-renowned Kushi Institute where she also worked developing curriculum.
Michelle is the author of Venturesome Vegetarian.