Winter 2013: Healing Traditions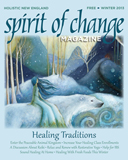 Table of Contents
We love to hear from you! Select an article below, read and comment.
DEPARTMENTS
Musings: Take the Plunge Into Commonsense Good Health
Astrology Forecast for Winter 2013
Healthy Eating: Healing With Fresh Foods This Winter
EarthTalk: The Greenest Cities in America
Feng Shui Tips for Stop Smoking and Children's Bedroom Placement
Book Review: The Good Life Lab: Radical Experiments in Hands-On Living
Book Review: Microgreen Garden: Indoor Grower"s Guide to Gourmet Greens
Book Review: Secrets of Aboriginal Healing: A Physicist"s Journey with a Remote Australian Tribe
Book Review: The Soul of All Living Creatures: What Animals Can Teach Us About Being Human
FEATURES
Restorative Yoga: Antidote to Stress
Increase Student Enrollment in Your Healing Classes
A Frank Discussion About Reiki
Do-It-Yourself Sound Healing Session
Is Your Other Immune System Working?
Healing Irritable Bowel Syndrome
DIRECTORIES
Yoga Practitioners of New England
Holistic Specialties Directory