Aromatherapy 101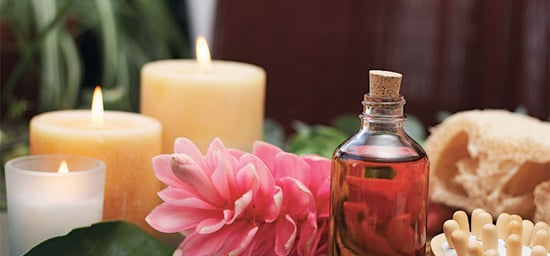 Aromatherapy is the art of healing the mind, body and spirit with essential oils, which have been harvested from nature. "Aroma" refers to the scent the essential oil possesses, and "therapy" refers to the fact that essential oils have been used to heal for centuries.
Essential oils are highly potent oils extracted from plants, twigs, roots, bark, fruits, rinds and petals. It takes at least one pound of any given plant to provide one drop of essential oil. There are over 3000 essential oils, with approximately 300 in common use.
Essential oils have many therapeutic uses including fighting infections (viral, bacterial and fungal), wound healing and skin regeneration, immune system support, nervous system imbalance, emotional and psychological issues, hormonal imbalance and auto-immune disorders. In other words, essential oils balance hormones, help regulate blood pressure, sedate, relax and stimulate. They are also great for muscle aches, pains, burns, sinus problems, coughs and colds, migraines, stress, anxiety, depression, symptoms of PMS and menopause as well as many other ailments. When used properly they can be very effective in the treatment of many conditions.
The most frequent question asked is, "How can something heal me by just smelling it?" The answer is quite simple. Each essential oil is made up of molecules, which are absorbed into the body either through skin absorption or inhalation. When inhaled, these molecules enter the olfactory area of the brain in the limbic system, which is responsible for our memory, emotions, heart rate, sexuality and hormones.
Essential oil molecules also enter through the skin. They are then transported throughout the body via oxygen molecules in the blood stream. The essential oil molecules attach themselves to harmful toxins, free radicals, cell debris, fungi, bacteria and viruses in the body and carry them away. It may take anywhere from twenty minutes to seven hours for the skin to fully absorb the essential oils, and anywhere from three to twenty hours to eliminate them. We eliminate them through our sweat, urine, and saliva.
At this point in time, consumers are more conscious of being "green" and are in search of natural alternatives which are environmentally friendly, as well as inexpensive, as costs increase for healthcare and prescription drugs. People are looking to educate themselves about a more holistic way to help heal their bodies. In Europe, essential oils are used quite frequently by the medical profession and are prescribed by some doctors. Essential oils don't have the negative side effects some prescription drugs have and the oils smell divine. There is no prescription drug that will rid the body of a virus, but there are essential oils that will.
Where to Begin
Have you ever found yourself standing at a health food store in front of a sea of little, dark blue bottles wondering which ones to buy, how to mix them, how many drops to use, what carrier oil to blend them into? Or maybe you're the adventurous type who brought them all home, only to find them sitting on your shelf. There are so many oils to choose from, how do you decide?
Essential oils should always be purchased from a reputable source, making sure they are therapeutic grade. Not all oils need to be organic (unless you're a stickler!), as most oils are steam-distilled, so any pesticides that are used are diminished. However, oils that are cold pressed (like citrus oils) should always be organic. The essential oils are extracted from the rind of the fruit. Organic carrier oils should always be used.
To help narrow your choices down, the following oils are a good start. Beware — some of these oils are very expensive and may cost up to a hundred dollars an ounce!
Lavender (Lavndula angustifolia) is a multipurpose oil. It is antiseptic, wound healing, regenerative and balances the central nervous system. Medically it's used for illness, burns, injury and migraine headaches. It also reduces nervousness, tension and aids with insomnia.
Tea-tree (Melaleua alternifolia) is highly medicinal. Its expectorant, antiviral and antibacterial qualities make it wonderful for acne, general skin care, colds, flu, inflammation and great as a decongestant.
Eucalyptus (Eucalyptus radiata and Eucalyptus globules) has two similar compositions with slight differences. Eucalyptus radiata originates in Australia, while Eucalyptus globulus originates from Australia, Corsica, Spain and Portugal. An expectorant, antiviral and antibacterial medicine, eucalyptus is used as a decongestant for the cold and flu, acne and general skin care.
Eucalyptus Citriodora (Eucalyptus citriodora) is considered to be a sedative. It's antiviral, anti-inflammatory and relaxing properties are used to treat muscle pain, joint pain, acne and general skin care.
Lemon (Citrus limon) has antiviral, antiseptic, relaxing and stimulating, diuretic and detoxifing properties. It is used as a disinfectant, liver detox and skin purifier and is known for its relaxing and uplifting qualities. It is also known to help get rid of cellulite on the butt, stomach, thighs and other areas, puffiness and water retention. Caution should be used, as it is a potential skin irritant.
Bergamot (Citrus bergamia) is very calming and relaxing. It is considered an astringent, antiseptic and digestive stimulant useful for digestive cramping, nausea, infection, acne, atopic dermatitis and oily skin. It is also helpful for anxiety. Bergamot is very photosensitive and exposure to the sun/UV lamps should be avoided after application.
Geranium (Pelargonium asperum) is considered an adaptogenic oil, which has the ability to adjust to the body's needs. Antiseptic and fungicidal, it's great for viral infections, PMS and systemic balance. Geranium is also used for general skin care.
Grapefruit (Citrus paradisi) is antiseptic, a purifier and diuretic. It's used as an antiviral and disinfectant and for general skin care, cellulite, acne. Grapefruit is considered to be very uplifting.
Helichrysum Everlasting, Immortelle (Helichrysum italicum) is anti-inflammatory, cell regenerative and is known for hematoma reduction and liver regeneration. Used for inflammation, bruises, swelling, wound healing, general skin care, inflamed skin conditions, atopic dermatitis, acne, psoriasis, scar reduction, wrinkle reduction and as a free radical scavenger, helichrysum is relaxing and balancing.
Peppermint (Menthax peperita) is stimulating, cooling and antispasmodic. It's helpful for stomach issues, digestive balance, nausea, liver congestion, fevers, PMS, allergies and bad breath. Peppermint is a wonderful skin purifier and stimulant and is considered very energizing and clearing to stimulate the mind. Caution: not to be used with small children. When used undiluted or in a bath, it will reduce body temperature.
Rose (Rosa damascene) and (Rosa centfolia) is considered a "cure all." It's an antiseptic, cell regenerative, balancing, nerve tonic, also used to regulate the liver and spleen, and for general skin care, mature skin, wrinkles and scars. Rose is considered to be an aphrodisiac and is wonderful for self esteem, depression, nervousness and anxiety.
Ylang- Ylang (Cananga odorata) is antiseptic, antispasmodic and a sexual stimulant and aphrodisiac. It's used for heart palpitations, cramps and general skin care. Ylang-Ylang is considered euphoric, uplifting and releasing, which helps with anxiety and depression.
Let the journey begin. Wearing protective gloves and eyewear if necessary, essential oils should be handled with care as they are extremely concentrated and should never be used "neat" (straight), with the exception of lavender and tea tree oil. Essential oils need to be stored in a dark blue bottle in a cool, dry place to preserve them. First, blend the essential oils together, no more than 2-5% dilution. Then you may add the carrier oil.
Organic jojoba or apricot kernel oil are good choices. Roll the bottle gently to blend, never shake. The blend is now ready to be applied to the skin or inhaled from the bottle. Simply put a few drops of the oil in the palms of your hands and inhale deeply. Rub a few drops on the soles of your feet or inside the wrists for quick absorption. Oils like patchouli and sandalwood only get better with age; however, citrus oils only have a six-month shelf life.
Research should always be conducted before using any essential oils, as some are contraindicative. Carefully follow the instructions given and enjoy the world of aromatherapy! You may also want to meet with a certified aromatherapist to discuss your personal needs.
Beverly Buccheri and Christine Lyman are certified aromatherapists and owners of BC Essentials in Rowley, MA. Call (781) 983-0304 or visit www.bcessentials.com for more information about aromatherapy products, parties and gifts.
Also see:
This DIY Lavender Aromatherapy Playdough Will Ease Your Stress
The Magic Of Fragrance And Natural Perfume
Find New England holistic Aromatherapy practitioners in the Spirit of Change online directory.