EarthTalk: Your Environmental Questions Answered
Hawaii's Fight Against GMOs | Beyond Flint: America's Water Problem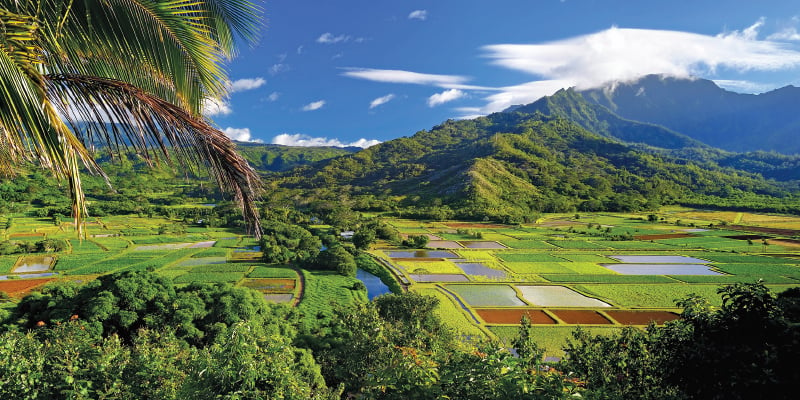 Dear EarthTalk: Why do environmentalists consider Hawaii "ground zero" in the fight against genetically engineered crops? —Michael Van, Poughkeepsie, NY
Most of us think of beaches, surfing and luaus when we think of Hawaii. But the constantly warm and moist climate actually provides some of the most productive land in the world with a never-ending growing season. As a result, Hawaii has become a major player in commercial agriculture, and is frequently used to test new farming techniques.
Large agricultural companies moved in on this productivity by using Hawaii for trials of new genetically engineered (GE) crops. Monsanto and DOW Chemical both produce huge numbers of genetically modified seeds in Hawaii for distribution around the world. Some of Hawaii's more common GE crops include corn, sugarcane, and papaya, among others.
But not everyone appreciates how widespread GE crops are in Hawaii. Many local Hawaiians are upset that their homeland, otherwise a natural paradise, is used for such risky activities. Most GE crops are designed to resist intensive chemical pesticides that kill most other plants. Around the state, vulnerable populations including kids and the elderly have suffered the effects of this type of chemical exposure resulting from the over-spraying of pesticides.
These issues aren't unique to Hawaii. People all over the world are increasingly wary of GE products, even as the chemical companies insist they are safe. However, the information on long-term effects is still inconclusive. Consumers want to know what's in their purchases. Chemical companies are denying them this right by refusing to label those products containing genetically modified ingredients.
Unfortunately, the state of Hawaii has hesitated to enact any legislation banning some of their most lucrative business ventures. Responsibility has fallen to the counties. Three Hawaiian counties initiated ordinances and moratoriums against additional GE crops and pesticide use in 2014. However, large companies like Monsanto and Syngenta sued to prevent these measures from being implemented, temporarily postponing these bans. While they did win their initial suit in late 2014, the counties have appealed the decision through the federal 9th circuit court of appeals in a trial that started this past June. The cases hinge on the concept of preemption, i.e. does the county legislation conflict with state rulings? The counties believe that the state's acceptance of genetically engineered products does not mean that the counties cannot implement their own harsher regulations.
Whichever way the federal 9th Circuit Court of Appeals decides will set an important precedent. If the court decides the federal law allowing GE products preempts the rights of the Hawaiian counties, any future GE bans would likely experience a similar ruling. However, the converse is also true. The judge allowing the counties to construct their own regulations regarding genetic engineering would pave the way for other counties and states to do the same. The cases will hopefully be resolved before the end of 2016. Safe to say, Hawaiians, chemical and agricultural companies and the rest of the nation will be watching.
CONTACTS: DOW Chemical, www.dow.com; Monsanto, www.monsanto.com; Syngenta, www.syngenta.com.
---
Dear EarthTalk: I find it hard to believe that Flint, Michigan is the only city or town in the U.S. with lead contamination of its water system. Has anyone looked at where else this could be a problem? —Jason K., Clearwater, FL
A new analysis of data from the U.S. Environmental Protection Agency (EPA) by the non-profit Natural Resources Defense Council (NRDC) found that 18 million Americans live in communities where water systems contain unsafe levels of lead. In "What's In Your Water: Flint & Beyond," NRDC reports that 5,300 different water systems across the country either shirked responsibilities to treat their water supplies to reduce lead levels, failed to monitor water supplies for lead, or neglected to report unsafe lead levels to the public or regulators. "These violations were recorded because the systems were not doing everything that they are required to do to protect the public from lead issues," added NRDC.
"Imagine a cop sitting, watching people run stop signs, and speed at 90 miles per hour in small communities and still doing absolutely nothing about it — knowing the people who are violating the law…" said Erik Olson, NRDC's health program director. "That's unfortunately what we have now."
Even more surprising to NRDC is the fact that Flint didn't even show up as having violations for lead in the EPA's database, illustrating "the serious problem of underreporting and gaming of the system by some water supplies to avoid finding lead problems, suggesting that our lead crisis could be even bigger."
Of course, Flint is far from the only metropolitan area with contaminated water supplies. Researchers believe thousands of water supplies across the country have been "gaming" the system for decades, with the EPA turning a blind eye to the situation.
"Cheating became something you didn't even hide," Marc Edwards, the Virginia Tech researcher credited with exposing water supply management issues in Washington DC and later Flint, recently told CNN. Some of the most common bad practices by water supply managers include testing only homes that are unlikely to have high levels of lead, asking residents to pre-flush their taps, and taking water samples slowly to reduce lead levels.
For its part, the EPA says that individual states are responsible for the majority of drinking water enforcement actions and should continue to be "the first line of oversight" of drinking water systems. The agency adds that "many of the drinking water systems that NRDC cites in its analysis are already working to resolve past violations and return to compliance with the Safe Drinking Water Act."
So what's to be done? According to NRDC, fixing Flint — with both emergency relief and long-term infrastructure and systemic improvements — should be priority #1. Beyond Flint, NRDC says that the EPA should be taking a hard look at the rest of the country's water infrastructure, removing lead service lines and fixing other water problems, especially in underserved communities.
To find out if your community is affected, check out NRDC's interactive map showing which communities' water systems were in violation of the EPA's "lead action level" of 15 parts per billion (ppb) and which have failed to monitor or report on lead levels.
CONTACTS: NRDC's "What's In Your Water: Flint & Beyond,"; EPA, www.epa.gov.
EarthTalk® is produced by Roddy Scheer & Doug Moss and is a registered trademark of the nonprofit Earth Action Network. To donate, visit www.earthtalk.org. Send questions to: question@earthtalk.org.
See also:
The Importance and Mystery of Soil
Can We Trust Our Drinking Water?