1,000 Mile Kisses Save Forgotten Dogs
Where ordinary animal lovers launch extraordinary animal rescues.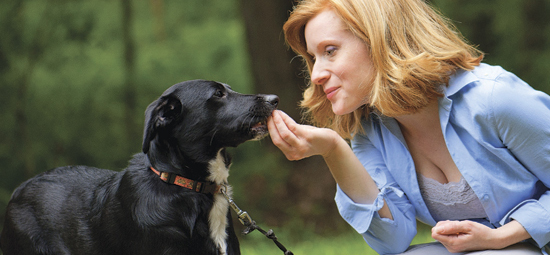 How far would you go for a kiss? For Cricket, a Labrador mix from Louisiana, that first kiss came at the tender age of 4 months old, just as she was beginning to lose her puppy teeth.
Cricket was bundled into a cage with dozens of others in line for an early death at a zero-adoption facility in Louisiana. She came in with no fanfare, just an owner who dragged her in and walked away without a goodbye. There would be no happy ending to this story, had it not been for a few good Samaritans with a van and a vision.
"I almost let her ride on my lap during transport," said Ann Salzer, a volunteer for the Massachusetts based charity Animal Rescue Front who took 17 dogs, including Cricket, away from their grim destiny in July. "But having them loose in the vehicle always worries me for their safety, so I crated her in the back seat with the door open and loved on her instead. When I carried her into the veterinary office she just hugged my neck! She barked at the cat sitting behind the counter and the cat just ignored her…so funny. Tail wagging the whole way."
And with the immediate danger of the gas chamber put aside, the race was now on to find homes for Cricket and all the rest while costs to board them at a veterinary clinic mounted quickly. Calls were made to secure a receiving shelter in far away Cape Cod, and while most of those dogs would travel by truck, Cricket flew aboard Continental Airlines because she had already found a home….with me, a perfect stranger living 1,000 miles away.
As founder of the Harmony Fund international animal rescue charity, I see thousands of animals in crisis every month. Yet there was something about this little dog that gave me pause. I can't quite explain it but when I looked at her photo, I was swept away. She felt familiar to me, like a long time friend, and I already missed her.
I started talking to my five-year-old daughter Sabrina about all the things we'd need to do to transition a puppy into our home. I said, "We'll need to teach her to go potty outside, to walk on a leash and not to chase our cats and bunny." But Sabrina knew I had it all wrong. "That's not right Mommy," she said confidently. "The first thing we need to teach her is to love."
Those words ran deeper than she'd realized. After all, I suppose we would be the first to hold Cricket for more than a moment. The first to stroke her head as she fell asleep. The first to chase her as she wiggled across the living room floor. The first to bend down and give her a kiss. It was time now to bring her home.
"You'd be surprised how unafraid they really are," said Animal Rescue Front Founder Chris McLaughlin. "The lull of the engine calms them right down. I have seen this time and again. They know they are safe once they leave the hellholes they were abandoned in; they just seem to know. We're blessed and something greater than us eases their fear once we have them in our arms."
Chris is a rescue dynamo who began saving lives immediately after Hurricane Katrina and has since made it her mission to pull homeless dogs out of death row and to find them homes through shelters and foster homes in the New England area. Chris's efforts have already saved a couple thousand dogs, and in her eyes, things are just getting started.
When creating the Harmony Fund, it was my intention to raise funds to support projects like Animal Rescue Front. They became one of dozens of rescue squads worldwide who fly with us under the banner of redefining the word "impossible" for animals in need. After all, a kennel full of dogs in a Louisiana animal control center which actually prohibits the public from adopting the animals is about as bleak as it gets. But as I write this all the dogs are safe and we're prepping to do it all over again. We've got another dozen dogs lined up right now waiting for their first kiss, too, and we don't intend to let them down.
It begins with the simplest gestures of compassion. An Ohio fisherman lowers an open palm to a drowning American robin and warms the fledgling by a lakeside fire until it flies away the next morning. A Texas obstetrics nurse negotiates with a man to release his badly neglected, nearly starving Labrador and then pays for surgery to remove the puppy sized collar embedded in his full grown neck. A Serbian schoolteacher can't bear to watch a stray cat tunneling through snowdrifts during a bitter winter storm so she captures the cat and gives him sanctuary in her house until she can find him a good home.
These are real moments, defining moments that transform ordinary animal lovers into something more. Some might even call them heroes because, for an instant, these rescuers felt the weight of the lake on a young bird, the ache of an empty stomach in a very hungry dog and the sting of snow against the body of a gentle orange cat. And most importantly, they decided to do something about it.
Deaf Boy in Shanty Town Rescues Burned, Homeless Dog
On a cold morning, animal welfare organization Vida Digna was providing free veterinary care services to the pets living in one of Peru's shanty-towns. There were more than 200 people in line when a small boy, deaf and unable to speak, used sign language to express that he needed urgent help.
He returned moments late with a small, cold, miserable puppy covered in an angry, itchy mange and with a wound caused by scalding water, probably thrown at him to scare him away from market stands. The dog was completely abandoned, except for his faithful human friend who heard his cries for help through his heart rather than his ears.
Over the course of many weeks the boy's neighbor housed the dog and the boy brought him back regularly for veterinary treatments. The dog made a full recovery and was ultimately adopted. The little boy named Darwin continues to bring in other strays he finds. A few days ago an American audiologist heard about this beautiful little soul and has offered to sponsor the boy's medical testing and to provide him with hearing aids if needed.
Woman Suffers Head Injury While Saving Baby Raccoons
Laura Guttridge of Florida has been saving animals all her life. Her rescues have ranged from untangling pelicans from fishing line to relocating the endangered gopher tortoises from construction sites. One afternoon she received a call about a nest of raccoons that needed to be rescued from an attic. The mother had been trapped and relocated days before, forcing her to leave behind her babies. The homeowner did not realize the nest existed until he heard cries days later.
"When I got up in the attic, it was hot and dark. My little flashlight barely provided any light. To make the matter worse, there was tons of snowy insulation so I could not really see the rafters. I felt the floor starting to give, but kept searching for the nest."
Moments later, Laura lost her footing on the rafters and fell through landing on the homeowner's backyard patio.
"My head hit the concrete and I was bleeding pretty bad," Laura said.
Feeling embarrassed but un-deterred, Laura insisted on going back up in the attic. The homeowner reluctantly allowed her to return.
"While up there, the cut on my head continued to bleed," Laura said, "I was a real mess when I finally got out, but I had four of the cutest little baby raccoons ever. They all survived rehabilitation and were reunited with their mom. I ended up with 14 staples in my skull. The doctor said it was the worst head wound he has ever seen in which a person didn't lose consciousness. It was certainly a lucky day for those baby raccoons — and for me."
She Finds Abandoned Pets On An Old Dirt Road
Lori Brown was driving home when she decided to take a shortcut down a deserted dirt road. Not more than a minute later, Lori saw motion up ahead. Her heart began to beat faster as she realized that there was indeed a dog on the side of the road, and she alone could help him.
"There were no houses or businesses anywhere near there " Lori explains of the Tram Road location in Panama City, Florida. "I couldn't imagine how she got out there. It took me a full 45 minutes to slowly convince her to come close enough to me so that I could touch her. She was so scared."
This first rescue set off a chain reaction for Lori, who is a devoted mother to two autistic children, both under the age of 6. Over the past few months, Lori has rescued several abandoned cats and dogs in that area and is starting an organization to help.
Man Dives Into Highway Traffic to Save Dog
Recently, Don Hill was driving home through the North Georgia mountains above the small former gold rush town of Dahlonega, Georgia, when on a grassy island in the middle of a hectic and dangerous intersection he saw a German Shepherd pacing back and forth. Obviously frightened to death, the dog was emaciated and holding up an injured hind leg.
"My heart was pounding in my chest," Don said. "I was so scared it was going to run out into the very heavy traffic before I could do anything and I was going to see it die right there in front of me."
Don crossed two four-lane highways to reach the dog and then slowly, over the course of 20 minutes with Don calmly coaxing the dog while crouched down on the ground, the dog summoned the courage to sniff Don. Just at the moment when Don was about to slip a leash around his neck, someone sounded their horn and the dog flew into traffic. Without hesitation, Don dove across the lanes, too, and grabbed the dog and carried it back to safety on the shoulder. A state trooper who witnessed the incident said, "Mr. Hill, that was either the dumbest or the bravest thing I have ever seen."
Don credits his guardian angel for leading him to the dog that day and for keeping them both safe during that dangerous rescue.
Perfect Strangers Arrange Operation for Street Cat
Just a few days before Christmas, a college student named Gregory was passing through Brooklyn, New York, when he found an injured cat lying on a snow covered sidewalk. It appeared to have fallen from a nearby building. He brought the cat to the vet and paid for an exam and x-rays with what little money he had, but when he was told that the cat's leg would need to be amputated he didn't know what to do.
Even though it was a longshot, the college student posted a plea on Craigslist asking for help. That plea made its way to a New Jersey woman named Laurelei Baker and she decided to call and find out more.
"I asked him if anyone had stepped in to help with this cat and he began to choke up," Laurelei said. "He was obviously very upset."
Lauralei made the two-hour drive that weekend and picked up the cat and assumed his care.
"He did endure the surgery and has assimilated himself into our home," she said. "He rockets around like nobody's business! I guess no one thought to tell him he was crippled."
Determination Brings Protections for Sea Turtles
Pedro Badarana released a juvenile Loggerhead Turtle that had been caught by a fisherman who intended to butcher it. "She was rescued after being 26 hours upside down, overheated and no water," Pedro explained.
When sea turtles were not yet protected in the Bahamas as they were in the rest of the world, there was an opportunistic fishery of these animals. Pedro explained, "When concerned Bahamians would find a sea turtle in distress, they called me. I've run this far with the luck that all turtles have been able to make it to the ocean without the need to keep them in captivity for observation. Some of them need to be stitched or cleansed due to gaffs, hooks or ropes. The animals are released either at the dock or at the ocean aboard of a boat. Sometimes a crew is needed to put the turtle on a stretcher and to carry her."
But Pedro didn't go quietly about the business of saving sea turtles. He decided to make some noise and launched an online campaign to unite wildlife enthusiasts in a lobbying effort to ban sea turtle slaughter in the Bahamas. Finally, Pedro's passion paid off. A new law has been put into place to protect the turtles from capture and slaughter. Way to go Pedro. Thank you for being such an amazing champion for marine animals.
These are just some of many animal lovers who have joined The Great Animal Rescue Chase, the first worldwide rescue mission open to all animal lovers regardless of age or experience. Hosted online and free for all, this mission has set out a challenge to ordinary animal lovers to go out and rescue a single animal in need and then report back with the story and photos of the animals they saved. On the site, hundreds of uplifting photos submitted by participants tell the stories of dogs cats, deer, turtles, geese, hawks and even chimpanzees rescued from harm. The idea is for rescuers to share their stories to help others like them gain the courage, the confidence and the know-how to save lives. Please join us as a reader or rescuer contributor.
Laura Simpson is the founder of the Harmony Fund international animal rescue charity based in Holden, Massachusetts. She also leads The Great Animal Rescue Chase worldwide event for ordinary heroes. Details can be found at www.HarmonyFund.org.