Glorious Grains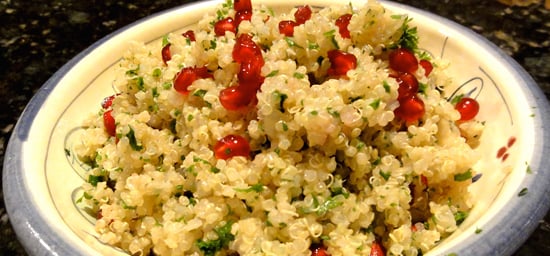 In celebration of this season's warm weather and our desire to spend more time savoring outdoor activities, we're going to explore the world of grains. Spending glorious days biking, hiking, walking and swimming means you need energy and stamina. From an energetic as well as nutritional standpoint, grains give you the staying power, are the most valuable of all foods and provide the best way to boost overall health.
Nutritionally, grains contain protein, fats, carbohydrates, fiber, vitamins and minerals. Energetically, grain seeds contain not only the embryo of the new plant, but also a food supply to nourish its growth. Talk about power! Grains, if not over-refined, come closer than any other plant food to providing a balanced diet.
Whole grains have, for the most part, disappeared from our plates. We still make references to "our daily bread," and the "staff of life," but chemically treated white bread and rolls, white rice and processed breakfast cereal make up the bulk of everyday grain consumption. This wasn't always the case. The cultivation of grains dates back ten thousand years. And, if we examine major civilizations of the world, none has ever been founded on any agricultural basis other than cereal grains.
Here are some ways to help get back in touch with a healthier, more traditional way of eating. Incorporate whole grains into your daily diet and boost your energy and stamina.
COLORFUL QUINOA SALAD
This is a delightful grain salad that is sure to please. It has a great blend of flavors that will wake up tired taste buds. The quinoa (KEEN wah) adds a mild, nutty flavor and fluffy texture, the carrots, corn and peppers add bursts of color, and the pecans, seasonings and currants balance flavors and add zing.
Quinoa has a protective coating called saponin. Unless you wash it thoroughly, it will have a bitter flavor. Toss some cooked quinoa into stir-fries, chili, stews or salads. Use it in place of other grains in recipes or try substituting half the garbanzo beans in your favorite hummus recipe with cooked quinoa. You'll be rewarded with a lighter, fluffier dish.
2 cups water
1 cup quinoa
Pinch sea salt
1 clove garlic, minced
1/4 cup olive oil
1 teaspoon cumin, ground
2 teaspoons brown rice syrup
1 tablespoon fresh lemon juice
2 teaspoons rice vinegar (raspberry vinegar is also good)
1 red bell pepper, diced
1 carrot, diced and steamed for 3 minutes
6 scallions, minced
1/2 cup corn kernels (thawed frozen kernels are ok)
2 tablespoons fresh parsley, chopped
1/2 teaspoon sea salt
1/2 cup toasted pecans, chopped
1/2 cup currants
Bring the water to a boil in a saucepan. Wash the quinoa in a fine meshed strainer under cool water for several minutes and add to the boiling water. Add a pinch of sea salt. Cover pan and reduce the heat to simmer and cook until all water is absorbed — about 20 minutes.
Remove from heat, fluff quinoa with a fork, replace lid and let sit for 5 minutes. Place the quinoa in a large mixing bowl to cool.
Heat olive oil in a small skillet. Sauté garlic in oil for 2 minutes. Add the cumin and sauté another minute. Add the brown rice syrup and stir to mix. Remove from heat and allow to cool. Add the lemon juice and vinegar to mixture.
Add remaining ingredients to the quinoa and lightly toss. Pour syrup mixture over grain/veggie mixture and mix gently. Serve at room temperature or chill. Serve on a bed of greens.
Note: to toast pecans, place nuts on a cookie sheet in a preheated oven (350 F) for 8 minutes or until lightly browned.
SOUTHERN STYLE BROWN RICE
Do you think brown rice is boring and bland? Are you looking for a more exciting way to serve this luscious and healthful grain? Look no further; this recipe is for you. It's easy to make and readily adapts from side dish to main course with the addition of tofu or tempeh. Serve it with sweet potatoes, corn bread and a crisp salad and you're transported south.
Cook rice in a steamer for no-fuss preparation. For 1 cup of dry rice, add two cups of cool water. Brown rice will take 45 – 60 minutes to cook. Try doubling the amount you'll need for one meal and have it ready to use the next day.
4 cups cooked brown rice (freshly cooked or left over)
1 onion, chopped
3 scallions, chopped
2 stalks celery, chopped
1 green pepper, chopped
2 cloves garlic, chopped
1/2 teaspoon cayenne pepper
1/2 cup fresh parsley, chopped
1 cup pecans or walnuts, roasted and chopped
1/4 cup tamari or soy sauce
1/4 cup water
2 teaspoons dry mustard
2 tablespoons dark sesame oil
1 tablespoon prepared horseradish
1 tablespoon balsamic vinegar
Preheat oven to 350F.
Sauté onions, garlic, celery and green pepper until soft, but not browned. Add nuts and cayenne. Continue cooking while you prepare the sauce.
Place the tamari in a small bowl. Add water, dry mustard, horseradish and vinegar. Mix well and add to the skillet. Turn heat down to simmer and cover.
Lightly coat a casserole dish with olive oil. Add parsley to the mixture in the skillet and cover. Spread rice on bottom of casserole pan and spread skillet mixture over it. Cover with foil and bake at 350F for 20-25 minutes. Remove foil for the last 5 minutes of cooking.
CREAMY POLENTA WITH GRILLED VEGGIES
Fire up the grill and toss on the veggies! Nothing beats this flavor combination to welcome the beginning of grilling season. The soft polenta is a great base to showcase the flavor and color of freshly grilled vegetables. Try adding mirin (sweet rice wine used for cooking) to your favorite veggie marinade recipe. I add it to basic balsamic vinaigrette for an extra splash of flavor.
Marinate and grill your favorite seasonal vegetables. Toss on some marinated tofu "steaks" for a heartier meal. Keep them warm as you prepare the polenta.
1 tablespoon olive oil
1 tablespoon mirin
1 medium onion, minced
2 cloves garlic, minced
1 cup corn kernels
1/2 teaspoon oregano (or sage if you prefer)
6 cups water
3/4 teaspoon sea salt
1 and 1/2 cups yellow cornmeal (I prefer course ground)
Heat the oil and mirin in a skillet over medium high heat. Add the onion and garlic. Sauté for 5 minutes, stirring occasionally, until the onion and garlic are soft. Add the corn kernels and, stirring frequently, cook for about 10 minutes. Remove from heat.
Place the water and sea salt in a large saucepan. Over high heat, bring to a boil. Gradually add the cornmeal to the boiling water in a slow, steady stream, stirring constantly. Reduce the heat to medium low and simmer for 15 minutes, stirring constantly. It's done when it becomes thick and pulls away from the sides of the pan as you stir. Stir in the onion/corn mixture.
Serve immediately by spooning polenta onto plates and topping with the grilled vegetables.
I always make extra polenta to use the next day. After polenta is cooked, I take a square cake pan and rinse it with water, but don't dry it. Then I spoon in the polenta, cover and place in the refrigerator. It will look like cornbread and, after it's chilled, will cut like cornbread. Eat it as is for a snack, ladle other foods over it, or grill it as an appetizer the next night.
MILLET-ALMOND PILAF
Millet has a mild, sweet, nutty flavor with a chewy consistency that lends itself well to pilaf. Of all the grains, millet has the most protein and iron and is high in B vitamins and many minerals. It's also extremely easy to digest. It has no gluten, so it's a great choice if you are on a gluten free diet.
Dry roasting eliminates any potential bitter flavor that some millet may have and will fill your kitchen with the aroma of roasted nuts or popcorn. Roasting will also allow millet to cook more evenly.
1 cup onion, diced
1 clove garlic, minced
1/2 cup mushrooms, chopped
1 red bell pepper, diced
1 tablespoon olive oil
1 teaspoon cumin
1/4 teaspoon turmeric
1/2 teaspoon cinnamon
1/3 cup almonds, slivered
1 and 1/2 cups millet
3 and 1/2 cups water or vegetable stock (or a combination)
1 teaspoon sea salt
1. In a large skillet, heat the olive oil. Sauté the onions, garlic, mushrooms and peppers until softened (5-8 minutes). Add the cumin, cinnamon, turmeric and almonds. Sauté for 2 minutes.
Add the millet and stir constantly for 2 minutes until toasted. Add the water and salt and bring to a boil. Reduce heat, cover and simmer for 20 minutes.
Michelle Hirsch lives in southern New Hampshire and teaches whole foods cooking classes throughout New England. She is a graduate of the world renowned Kushi Institute where she currently works on curriculum development. Michelle can be contacted at mphirsch@yahoo.com.