2012 Natural Living Expo in Sturbridge, MA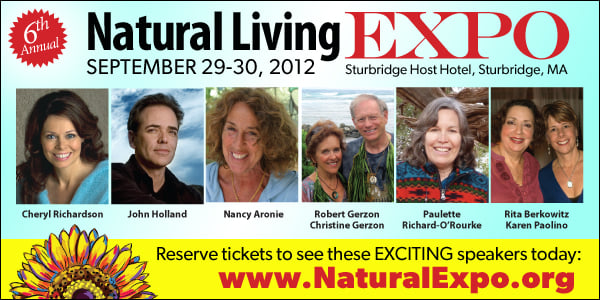 Event Date: Saturday, September 29 and Sunday, September 30, 2012
Event Time: Saturday: 9am-7pm (evening drum and dance circle until 8:30pm) and Sunday: 10am-5pm.
Arrive early! The first 200 people each day receive a free Wegman's gift bag! 
Contact: (508) 278-9640 x 1 or visit www.NaturalExpo.org
Admission: $10 for the WEEKEND! 
Location: Sturbridge Host Hotel, 366 Main Street, Sturbridge, MA 01556 
Decription: Join us for New England's largest holistic event with more than 6,000 attendees annually! We offer affordable weekend admission at just $10 making this a can't miss event each year!
Attend more than 95 unique and informative workshops on all topics holistic and healthy included in the $10 expo admission — see Saturday's workshop schedule and Sunday's workshop schedule. Hourly healthy cooking demos give you new recipes and inspiration for preparing in your kitchen at home.
Remember, you can guarantee a premium seat in any general admission workshop for just $5, click here. In addition to the workshops, the expo features 5 keynote presentations including: Cheryl Richardson, John Holland, Robert & Christine Gerzon, Nancy Aronie, Paulette Richard-O'Rourke and Rita Berkowitz & Karen Paolino. See all the Keynote Details Here. 
Experience massage, holistic healing techniques, browse green friendly products and fair trade shopping, and learn about body, mind, spirit healthy living. Attend unique and informative workshops presented by a group of over 90 expert speakers on all topics holistic and healthy. Free Parking!
Watch this Video to Preview the Natural Living Expo!
Directions to the Sturbridge Host Hotel: