Whole Foods Healthy Cooking: Pumpkins and Squash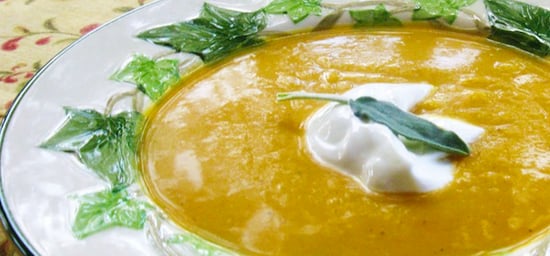 There isn't another season that offers the abundance of foods, colors, flavors and scents as fall. Nature's energy begins to flow down in preparation for winter. The warm days and cool nights signal our bodies to adjust to the new season and we naturally begin to crave foods and cooking styles that produce a warming effect. Richer tastes and textures and longer, slower cooked dishes rule this season.
Fall's days are filled with sunshine that highlights the vibrant red, orange and yellow hues of leaves that serve as a backdrop for foods that share the same color palette. Brilliant red apples fill the orchards, rich orange globes dot the pumpkin fields, glorious greens and browns of corn stalks reach upward, and curling vines twist to reveal winter squash in an almost endless variety of colors, textures and sizes.
Visit local farmer's markets to find some varieties of foods that rarely appear on grocery stores' shelves. Try something new — a variety of a food you've never tried before. This column is going to focus on a few seasonal staples: pumpkin and squash. If you're lucky enough to live near a "pick your own" farm, make it a family outing and scout out the perfect pumpkin or tastiest squash. Whether you do the picking, grow your own or buy produce already picked, the important thing is to have fun as a family preparing a great meal and enjoying it together.
Squash & Pumpkins
Squash and pumpkins, like melons and cucumbers, are part of the gourd family. And, they're among fall's greatest gifts. They're packed with nutrition, easy to prepare, extremely versatile and store well. If you've only purchased pumpkins in the past to carve jack-o-lanterns, you've been missing out. And, if you've tried cooking your jack-o-lantern pumpkin in the past, you've probably been disappointed. That variety was developed to grow large and have thin flesh (for carving) with a large seed pocket (cavity for holding light). It was not developed for its eating qualities. Pumpkins grown for food are smaller and often referred to as sugar pumpkins or pie pumpkins. They have much more flesh and better flavor and texture and are excellent for soups and roasting. There's an heirloom variety called a Cheese pumpkin that's outstanding for making pies or pumpkin butter. Its skin is smooth with a dark cream color and it resembles a wheel of cheese. Check your local farm stands or farmer's markets to find different varieties and experiment to discover some new favorites.
Some popular varieties of squash to try:
Acorn — small, shaped like an acorn with a dark green skin and orange flesh
Banana — small, cylindrical shape with an ivory/pink skin and flesh
Buttercup — small, turban shaped with green or orange skin and yellow flesh
Butternut — larger, elongated pear shape, cream-colored skin and orange flesh
Delicata — small, cucumber shaped, green and beige striped skin and yellow flesh
Golden acorn — small, shaped like an acorn, bright orange skin and orange flesh
Golden nugget — small, looks like a small pumpkin, deep orange skin and flesh
Hubbard — very large, odd looking thick bumpy, hard gray/green skin, orange flesh
Red Kuri — large, oblong pumpkin shape, orange skin and flesh
Spaghetti — medium size, oval shape, yellow skin and cream-colored flesh
Sweet dumpling — small, green skin with white streaks and yellow/orange flesh
Turban — large, bumpy orange/red skin with green stripes, orange flesh
To select high quality squash and pumpkins, look for ones that feel heavy for their size. If they seem light for their size, they're likely soft and dry. The color should be rich with a dull looking skin. This means that the squash was picked when it was fully mature. Avoid any that are cracked or show signs of decay. Look for an attached stem (they fall off when stored too long) and firm flesh.
Store in a cool, dry place that's out of direct sunlight. Larger varieties of squash will last all season. Smaller varieties such as acorn will keep for up to three weeks. If you don't use the whole squash, wrap the unused portion in plastic wrap and store in the refrigerator. Use within a few days.
Depending on the variety, preparing pumpkins can be challenging. Fortunately, it's worth the effort! I keep a small saw (like you'd have in a workshop) in my kitchen for just this purpose. Smaller varieties are much easier, so if you're not ready to tackle the large varieties, start out with something like the golden acorn or sweet dumpling varieties. They're easy to bake, sweet and so delicious. Just cut in half, scoop out the seeds, bake and savor the flavor!
Large squash are generally prepared two ways. Most people either roast or boil them. I prefer roasting. I like the texture and sweeter flavor. Either way, cut squash into manageable pieces, peel and then cut into chunks. Boil about 15 minutes or until tender. You can then mash or puree them (freeze any extra and use in any recipe calling for pureed pumpkin/squash). To roast, toss the chunks in a little olive oil and bake in a 375-degree oven until softened (time will vary depending on the size of chunks). After cutting into chunks, you can also add them to soups or stews.
A fun squash to try is spaghetti squash. I like to cut it in half lengthwise, scoop out the seeds and bake it, cut side down, until soft. Then, I cool it until I can safely hold it and use a fork to remove the flesh. It comes out in strands that resemble spaghetti. It's delicious topped with a favorite pasta sauce or tossed in a skillet with some vegan butter and garlic. I've even tossed leftover squash in my salads and it tastes great when tossed with a balsamic vinaigrette dressing.
Roasted Pumpkin Seeds
Wash off pumpkin seeds to remove stringy flesh. Dry off seeds by blotting with a clean kitchen towel. Lightly spray a baking sheet with olive oil. Spread seeds in pan in a single layer. Spray lightly with olive oil. Bake at 275 degrees for about 15 minutes, stirring a few times. Remove from oven and sprinkle with salt while still hot. Eat as is or as a garnish in soups.
Squash Soup
One of my favorite soups when we begin to get a chill in the air.
1 tablespoon olive oil
1 large onion, chopped
1 squash, peeled, seeded, chopped (butternut, red kuri or hubbard)
3 medium tart apples, peeled, chopped
2 carrots, chopped
1 cup corn kernels, fresh
20 ounces vegetable broth
1 teaspoon salt
Pepper to taste
1/2 cup soy or almond milk
1 tablespoon sweet white miso
Heat oil in Dutch oven and sauté onions until soft. Add squash, apples, carrots, corn, broth, salt and pepper. Bring to a boil; reduce heat. Simmer for 45 minutes. Remove from heat, add almond milk and miso and use an immersion blender to puree. Or, cool and puree in a blender until smooth (do in batches according to the size of your blender). Garnish with pumpkin seeds if desired.
Brown Rice Veggies
2 tbsp olive oil
1 large onion (chopped)
2 cloves garlic (minced)
1 cup carrots or squash (diced)
1 cup kernel corn
2 cups brown rice (soak for at least 30 minutes to 8 hours)
3 cups vegetable stock
1 6-inch piece of kombu (sea vegetable)
Saute the onion and garlic in olive oil until soft. Add carrots or squash and corn and sauté for a minute. Add the rice and sauté for three minutes. Pour in the vegetable stock and add the kombu. Bring to a boil. Reduce heat to simmer and cook until all the liquid is absorbed — about 50 minutes. Optional: before serving, sprinkle with a few drops of dark sesame oil and chopped scallions. You may also want to add a cup of cubed tofu with the rice.
Pumpkin Pasta Sauce
1 tablespoon olive oil
4 cloves garlic, diced
1 large onion, chopped
1 pumpkin peeled, seeded and diced
1 cup vegetable stock
2 tablespoons parsley, chopped
1/2 cup hemp, almond or rice milk
1/4 teaspoon cinnamon
1 teaspoon miso
salt and pepper to taste
pasta (I use whole wheat with flax; use your favorite)
In a large frying pan, over medium high heat, sauté garlic and onion in olive oil for 3 minutes or until onion is soft. Add the pumpkin and vegetable stock and bring to a boil. Cover, reduce heat and simmer for 15 minutes. Stir occasionally. Cook pasta while sauce is simmering.
Place pumpkin mixture in a food processor. Add parsley, hemp milk, cinnamon, miso, salt and pepper and process until just smooth. Return to pan and cook one more minute to blend flavors. Pour over the pasta and serve immediately. Note: this is also great over ravioli. Try it in lasagna instead of tomato sauce. I use it with chopped, sautéed eggplant and onions and lasagna noodles.
Stuffed Squash
What a delicious main course! It will fill your kitchen with wonderful aromas and reward you with fabulous flavors. It's a great "company's coming" dish — everyone gets their own. Each squash serves two people.
2 cups brown rice (or combine with wild rice and/or red, black, etc.)
4 cups vegetable stock
2 large acorn squash
1 tablespoon olive oil
8 ounces cremini mushrooms, sliced
1 onion, large, chopped
2 stalks celery, chopped
2 carrots, chopped
Salt and pepper to taste
1/2 cup walnuts, toasted and chopped
2 tablespoons chopped parsley
2 tablespoons fresh thyme, chopped
Salt and pepper to taste
Preheat oven to 400 degrees. In a saucepan, cook rice in vegetable stock about 45–60 minutes. While rice is cooking, cut squash in half, lengthwise. Remove seeds. Add 1/2 inch water to a roasting pan and place squash halves in, cut side down. Bake for 35 minutes, or until squash is tender. While squash is roasting, heat oil in a large skillet over medium heat. Add mushrooms, onion, celery and carrot. Saute until soft, about 5 minutes. Remove squash from oven, empty water from roasting pan and season squash with salt and pepper. Reduce oven temperature to 350 degrees. Add mushroom mixture to rice along with nuts, parsley, thyme, salt and pepper. Fill squash with rice mixture, rounding it about an inch above squash. Cover baking pan and stuffed squash with foil and bake 20 minutes or until heated through.
Squash Rings
1 acorn squash, cut crosswise into 4 rings, seeds removed
1/4 cup maple syrup or agave syrup
sea salt to taste
Preheat oven to 400 degrees. Place rings in a shallow baking pan, adding enough water to come halfway up the sides of the rings. Bake about 15 minutes, turn rings over and bake an additional 15 minutes. Remove from oven and empty any water remaining in pan. Brush maple syrup on squash (cut side facing up) and season with salt. Bake 5 minutes.
Cornbread Muffins
Agave is a sweetener I'm using more frequently as a fantastic alternative to white sugar. It comes from the Mexican agave cactus. Yes, it's the same source we get tequila from! The syrup is sweeter than sugar (about 25% more) and it has a low glycemic index score (40-45), so it doesn't affect blood sugar levels like sugar. It looks like honey and dissolves easily in liquids. Give it a try.
1/2 cup cornmeal
1/2 cup whole wheat pastry flour
1/2 teaspoon baking soda
1/2 teaspoon salt
1 cup corn kernels
1/2 cup applesauce
1/2 cup soy or rice milk
1/4 cup agave nectar
2 tablespoons olive oil
Preheat oven to 325 degrees and lightly grease a muffin pan. Add cornmeal, flour, baking soda, salt, corn kernels in a large bowl. When combined, add the applesauce, milk, agave nectar and olive oil. Stir just until combined. Pour mixture into muffin pan. Bake about 20 minutes or until a toothpick inserted into a muffin come out clean.
Pumpkin Chocolate Chip Bread
I tasted this bread at a potluck dinner where it was the preferred dessert of the crowd. The person who brought it generously agreed to share!
1 3/4 cup flour
1/2 cup agave nectar
1/2 cup maple syrup
1 teaspoon baking soda
1 teaspoon cinnamon
1/2 teaspoon allspice
1/4 teaspoon clove
1/4 teaspoon ginger, freshly ground
pinch of sea salt
1 cup pumpkin puree
1/2 cup vegan butter, melted
2 eggs or egg substitute for 2 eggs
1/4 cup soy milk
1 cup vegan chocolate chips
Preheat oven to 350 degrees. Lightly oil loaf pan. Combine flour, sugar, soda, spices and salt in a large bowl. Combine puree, butter, eggs/egg replacer and soy milk in another large bowl. Add dry ingredients to wet and mix until almost combined. Stir in chocolate chips. Pour into prepared pan. Bake 45-50 minutes, remove from oven and let cool. Remove from pans.
Michelle Hirsch lives in southern NH and teaches whole foods cooking throughout New England. She is a graduate of the world-renowned Kushi Institute where she also worked developing curriculum. Michelle is the author of Venturesome Vegetarian and can be contacted at mphirsch@yahoo.com.