Forget the Smoothies — Use Your Blender to Make Delicious Food!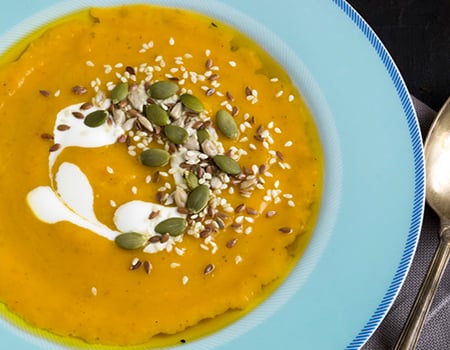 So, you purchased a blender on a whim, and months later realize that it is sitting at the back of a kitchen cupboard collecting dust because you've grown incredibly tired of smoothies. Fret not; you're not alone in this sad but oh so common tale of a neglected blender. The truth is, many people fail to realize that a good quality blender can do so much more than just prepare a morning or post workout smoothie. Here's seven ways to get more out of your blender or hand blender, with not a single smoothie in sight!  
Luxurious Homemade Soups 
Meet creamy soups, the tastier, warmer and more satisfying cousin of the humble smoothie. The blades of your blender are just perfect for creating luxurious, smooth and silky soups from scratch and in under 30 minutes. Say goodbye to preservative-laden tinned soups that contain more than your daily allowance of sodium, and hello to delicious, rich and hearty soups that your blender can whip up in seconds. Some incredibly tasty options include pumpkin or butternut squash soup, creamy truffled mushroom soup, comforting leek and potato soup, or even a spiced up creamy tomato soup for those who like a little flavor and heat explosion. 
You Say Potato, I Say Po-tah-to
Did you know that your blender is actually the perfect tool for making the silkiest mashed potatoes you've ever had the luxury of tasting? Knowing how to make the perfect mashed potatoes from scratch is a recipe that every home cook needs in his or her kitchen skill set, and the blender is the perfect kitchen tool to assist in this conquest. Simply boil and drain your potatoes, chuck them into a bowl with a generous serving of butter, cream, salt and pepper, and then use your trusty hand blender to puree till smooth. Don't forget to add a touch of nutmeg to truly elevate your mashed potatoes and impress your loved ones!
Hey Presto, Pesto!
Nothing is more comforting than a steamy bowl of pasta and all its carb goodness. The height of pasta perfection, however, is pesto-coated pasta, drizzled with high quality olive oil and a generous sprinkling of the finest parmesan cheese. For a dinner that will have everyone lining up for seconds, pop some fresh basil, pine nuts, olive oil, cheese and seasonings into your blender and you'll have instant homemade pesto, waiting to blanket itself around some steaming hot pasta. Of course, you could even mix things up by swapping out the basil for broccoli or kale, and even experiment with a variety of nuts or seeds.
Mayonnaise In a Matter Of Seconds
Mayonnaise is the perfect condiment for topping burgers, sandwiches or even a homemade pasta salad. Why not make your own instant mayonnaise with the help of your blender? All you will need is egg yolks, oil, vinegar, dijon mustard and a little salt.  Throw all your ingredients into your blender, give it a whiz, and in a matter of seconds you will have homemade mayo that's ready to be slathered on your favorite sandwich. The beauty of making your own mayonnaise is that you can add your favorite ingredients such as pesto, roasted garlic or even saffron to the mix for homemade artisanal blends that will knock your socks off. 
Homemade Ground Meat
Skip the pre-made ground meat at the supermarket and use your blender to make high quality, nutritious ground meat that is low in fat and better for your health. Simply cube your meat of choice, chuck it into the blender with some of your favorite spices and then blend away! Whether you're making a bolognese or a burger patty, you can be sure that each bite will have a burst of flavor that is unrivaled by any store-bought mince. 
Homemade Nut Butter
Apologies if this further fuels your peanut butter addiction, but did you know that your blender is the perfect tool to make delicious homemade nut butters? Whether it's peanut, almond, macadamia or walnuts you fancy, your blender is able to turn your nut of choice into a healthy, homemade spread in a matter of minutes. Personalize your nut butter by adding spices, sweeteners or even chocolate to the mix and enjoy slathering it on thick, buttered toast. Thank us later. 
Pancakes In A Jiffy
Boxed pancake mix ain't got nothin' on this. If you're a pancake lover, your blender is here to make your life just that much sweeter. By using your blender to prepare your batter in a matter of seconds, not only will you have the smoothest and fluffiest pancakes, but you'll also save up on washing a ton of bowls, whisks and spatulas. Pancakes in a jiffy are calling out your name. 
The home blender is one of the most versatile tools that any cook can have in a kitchen. Experiment with your blender and prepare the tastiest meals ever in a jiffy to delight your own tastebuds and those you cook for. 
Amrita Bala is a writer and blogger from Melbourne, Australia. With a penchant for research and exploration of esoteric topics, Amrita is always on the lookout for more pointless things to get excited about.