6 Ways To Nurture Your Soul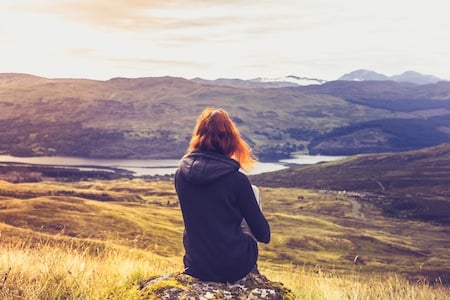 It's easy to take your soul for granted. After all, you can't see, smell, hear, taste or touch it. But it's essential to your quality of life all the same.
That's because your soul makes you human. It drives you to do your best work. It keeps you alive in both good and bad times. And it allows you to see others not as abstract beings, but as flawed people who need empathy. Therefore, it's important to keep your soul strong and healthy through these steps.
Jot Down Your Thoughts
Every morning, take three sheets of paper. Write down everything that comes to mind on those sheets. Don't worry about whether your words are coherent or whether you've run out of things to say. Just fill out the pages completely, even if you have to write "I have nothing to say" over and over again. Artist Julia Cameron coined this daily practice Morning Pages.
This exercise unblocks your thoughts. If you've been grappling with a difficult problem lately, your morning pages may be able to provide a solution. You may even gain a life-changing insight that you've never considered before, so try making it a habit.
Take Time to Meditate
Much has been said about meditation's ability to help you focus and relax. But did you know it works wonders for your brain too?
For example, open monitoring meditation requires you to take in everything around you without focusing on any single thing. This improves creativity, since your brain tries to make sense of multiple sources of information. Also, meditation in general makes you more compassionate, slows down an aging brain and boosts ability to process information.
You don't even have to stick to lotus-style meditation. Tai chi, or "meditation in motion," yields the same benefits as the traditional forms. To take advantage of those benefits, all you need are comfy clothes, a distraction-free place and a willingness to try something new.
Exercise Regularly
Exercise doesn't just keep you in shape. It also cuts down your risk of developing conditions like arthritis, asthma, back pain, diabetes and heart disease. Regular exercise can even boost your mood and build a solid foundation for self-confidence.
Even if you're aware of these benefits, however, it can still be difficult to maintain a regular exercise routine. If lack of motivation is a problem, you might want to reframe your goals. Instead of trying to lose 10 pounds in two weeks, for example, tell yourself: "I feel happy after every 30-minute jog, and that's fine with me." Keep repeating that to yourself as a mantra, and you'll eventually learn to love exercising for its own sake.
And exercise doesn't have to be a lonely activity. When you participate in a fitness class, you'll enjoy even more benefits like meeting new friends and having more accountability for your fitness goals. No matter how you choose to exercise, remember to structure your routine in the way that works best for you.
Go Hiking
Whether you're adventurous or not, you can enjoy hiking. Not only does it bring you closer to Mother Nature, it's a great cardiovascular workout. Scaling a mountain on your own two feet does wonders for your mood, too.
If you're trying it for the first time, make sure you bring an experienced hiker with you. Remember to choose short trips, know the terrain and bring only the essentials. As you gain experience, you can experiment with more adventurous trips and possibly even scale Mt. Everest someday.
Become a Volunteer
Sometimes, the best way to help yourself is to help others. If you have depression, for example, volunteer work might help you. Volunteering keeps you active, builds your support system and gives you a life purpose — all of which are essential to helping you cope with your condition.
To make the most out of volunteering, think carefully about what matters to you. What keeps you up at night? What is the thing you want to change more than anything else? Use questions like these as a springboard in your search for volunteer opportunities. Once you discover what you're meant to do, it's amazing how much you'll transform as a person.
Do Something New Every Week
As the old saying goes, variety is the spice of life. No matter how busy your schedule is, try to squeeze in an hour or two for something different.
Visit that newly-opened museum across the street. Draw a humorous comic about your life as an office worker. Outline the novel you've always wanted to read. Call the old friends you haven't seen in years. It doesn't matter what you choose to do. If it's fun, and it's something you've never done before, do it. These kinds of activities nourish your soul.
One Last Tip
Whenever you feel tired or empty, it's a sign that your soul needs some TLC. If possible, don't let things get to that point. Make a habit out of any or all of the tips above, and you'll never have to worry about your soul's health again.
Ann Mulderig is a self-proclaimed health nut who enjoys writing about food, fitness, and health in general. When she's not writing, she can be found somewhere in the mountains or in her kitchen baking new recipes.