Avatar Director James Cameron has Designed Solar Sun Flowers
James Cameron and his wife Suzi are a force to be reckoned with when it comes to environmentally friendly inventions.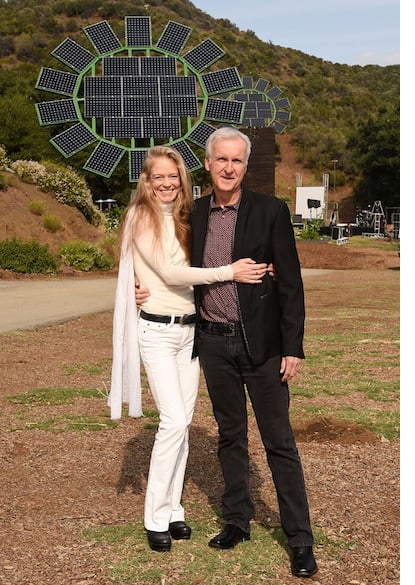 Director James Cameron has designed Solar Sun Flowers as a gift to his wife, which have been installed on campus at her MUSE School in California. Cameron had five flowers installed on the 22-acre Malibu Canyon campus and they generate roughly 300 kilowatt hours per day. The flowers are expected to offset the non-profit school's power usage between 75-90%. Amazing! The patent-pending design will soon be an available, free and open-source, to encourage wider use of solar power. Now that's what we call charitable!
"My incredible husband really knows how to give a girl a bouquet of flowers!"
– Suzy Amis-Cameron
We couldn't agree more!
The flowers, nearly 30-feet in diameter and with a 16 ft. tall 'stem', are designed to resemble a flower and rotates with the position of the sun. It is driven by a central tracker that uses astronomical calculations to determine the sun's position in the sky. When wind gets too strong, the flower will sit flat.
Cameron is no stranger to innovation, and thought that the gift would be a "functional art piece" that was both "fun and symbolic". He started Solar Sun Flowers by sketching them, and then collaborating with an Avatar CG artist. Suzy noted that the Sun Flowers will also be integrated into the school's science curriculum and that a "digital dashboard" is being developed that will monitor the amount of energy generated by the flowers, as well as energy consumed by MUSE. It will give the students a tool to learn how the solar power offsets environmental equivalents like planting a number of trees, homes powered, gas saved, carbon dioxide removed from the atmosphere and water used by a coal fired steam plant. Anything that shows the world how solar power is a better alternative is fine by us!
"They can be integrated into landscape architecture… I think it's a beautiful way to express the spirit of what solar energy is all about." – James Cameron
The couple already have their ranch powered by solar, and James' Manhattan Beach Studios have five soundstages powered by Lightstorm solar. James Cameron isn't the only director getting on the environmentally friendly bandwagon, check out these directors who incorporate eco-friendly precautions into their film making.
We hope more people invest in these beautiful Solar Sun Flowers! I can't wait to see what James does next.
See also:
Seven Surprising Realities About Renewable Energy
Solar Energy Now Cost Competitive With The Grid