Baking Soda Remedy Shrinks Tumors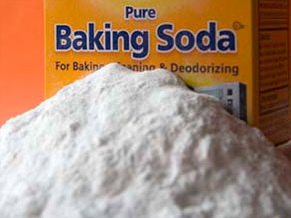 Baking soda has been used throughout history for a variety of purposes such as removing odors from the fridge, freshening up carpets and whitening teeth. But what few people know is that is it also a successful alternative cure for cancer. The treatment primarily benefits cancers of the throat, colon, intestines and rectal area, and when compared with the exorbitant costs of chemo and radiation, the baking soda cure weighs in at around $3. In addition, it is humane and non-invasive, something one cannot say for traditional cancer treatments. With baking soda, the worst that can happen is nothing, no change. This is a far cry from the decimation caused by cancer drugs and surgeries, which damage the immune system and leave the body in a severe state of shock.
"I was healthy and happy that I didn`t have to go through the torture that other people were being subjected to by doing the chemo or radiation. I never lost my hair or anything," remarks 60-year-old cancer survivor Sondra Braun.
Cancer cells thrive in a low-oxygen environment. The body cannot retain oxygen cells if the blood pH is highly acidic, and this is the standard condition of those with tumors who eat a diet of refined sugars, flours, caffeine and other acidic foods. Baking soda, or Sodium Bicarbonate, is a substance that neutralizes acids. One teaspoon a week will reverse an acidic blood pH, as will switching to a diet high in alkaline-producing foods.
Because cancer cells are so hungry for sugars, when the baking soda is mixed with maple syrup, the mixture will go straight to the site of the tumor, like a Trojan Horse, where the bicarbonate will quickly work as a weapon against disease. A good recipe for this is to mix 3 parts organic maple syrup with 1 part baking soda, stir over very low heat for 5-10 minutes and take 3 tsp per day for 1 to 2 months.
"I found the article about Dr. Simoncini in Italy who injected baking soda directly into the tumors to kill them." Braun continues. "For some reason this idea struck a chord with me. Three weeks after taking a baking soda and maple syrup mixture, my tumor began to shrink and become softer. This was documented by my oncologist and the surgeon by physical exams and also measurements by ultrasound. The tumor shrank down to 1.7 centimeters then only to 1.4 centimeters 2 months later after the ultrasound. It stopped shrinking because it had died."
Italian physician and researcher Dr. Tullio Simoncini determined that high levels of Candida were present in those individuals with cancerous tumors. His conclusions led him to declare cancer a type of fungus. The body does not quickly develop immunity to baking soda as an anti-fungal, so he was able to apply it directly to tumors and neutralize their acidity. He also found it is important to replenish the body with good bacteria, or probiotics, and to avoid exposure to chemicals and environmental toxins as much as possible.
North Carolina farmer Ian Roadhouse also experienced the healing power of this baking soda mixture when healer Jim Kelmun put him on the protocol.
"Those other doctors told me that I was a goner and had less then six months to live," says Roadhouse. "But the doc put me on his mixture and in a couple of months the cancer was gone. It did not even show up on the x-rays."
For maximum results, combine the baking soda treatment with other alternative cancer-healing protocols as recommended by your holistic health practitioner.
Sircus, Mark Allan Ac. OMD. Sodium Bicarbonate – Rich Man`s Poor Man`s Cancer Treatment. IMVA Publications, 2008
"Skin Cancer and Maple Syrup" http://www.center4cancer.com/skin-cancer.sb.php
"Cancer Treatments and the Death of Common Sense" http://www.holisticvoice.org/Death_of_Common_Sense.html
Allison Biggar is a writer and filmmaker who believes in using the media to empower people to make a difference. Allison is directing a documentary on people who have cured themselves of disease naturally without drugs, surgery, chemotherapy or radiation. You can visit her Natural Health web site at www.holisticvoice.org. Allison also recently released "The Vitality Diet". This informative, reader-friendly diet book to changing your diet is jam-packed with knowledge, secrets, stories and answers that will motivate you like no other diet book has with a heartrending first-hand account of a personal transformation that will make you think differently about your health and your relationship to food. Whether you are seeking to recover holistically from a serious disease, or just looking to shed a few pounds, The Vitality Diet is an invaluable blueprint for constructing a brand new lifestyle based on eating right and becoming whole again. To buy "The Vitality Diet," book please visit www.thenaturalchick.com To donate to Holistic Voice and help fund a documentary on healing naturally from disease please visit www.holisticvoice.org
Learn more: http://www.naturalnews.com/032070_baking_soda_tumors.html#ixzz1Jag9YTuj