Benjamin Creme, 1922-2016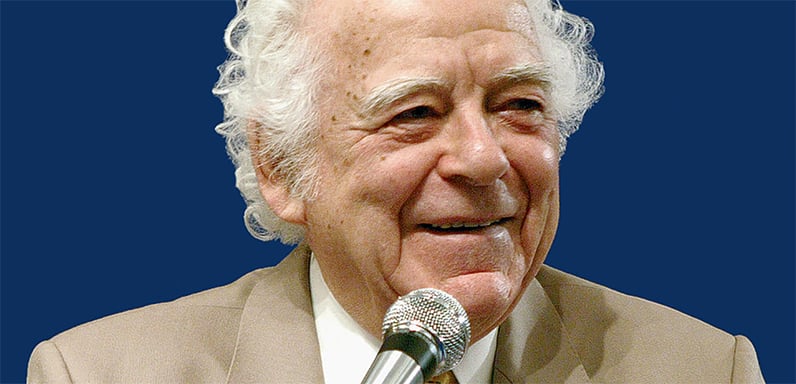 British artist, author and lecturer Benjamin Creme died on October 24th, aged 93, peacefully at home in London with his family around him.
Benjamin Creme inspired millions throughout the world with his message of hope about the emergence of Maitreya, the World Teacher and the Masters of Wisdom. Maitreya has been expected for generations by all major religions under different names: the Christ, Messiah, Krishna, Maitreya Buddha and the Imam Mahdi.
As a student of the Ageless Wisdom Teaching presented by Helena Blavatsky and Alice Bailey, Benjamin Creme expanded and brought up to date this ancient knowledge. Under the tutelage of one of the Masters of Wisdom, he dedicated the last 40 years of his life to his work for the Emergence of Maitreya. In response to his message, a worldwide network of volunteer groups, under the umbrella name Share International, formed to assist him in this task.
His public work began in 1974 with his introducing Transmission Meditation, a potent and dynamic group meditation by which the Masters are able to send spiritual energies into the world for the good of humanity. It is form of service activity now practiced worldwide and also provides powerful, personal, spiritual development.
Benjamin Creme began to lecture in the UK in 1975 and then soon around the world, only finally ceasing at the age of 91. His talks were engaging and compelling, envisioning a new world of oneness and peace, under the guidance of Maitreya. At the end of every lecture he was mentally overshadowed by Maitreya, who gave His blessing to the audience; the spiritual energies were palpable to many and convinced them of the truth of his information.
He was the author of 16 prophetic books translated into many languages and was interviewed on hundreds of TV and radio stations, particularly in the USA, impressing with his sincerity, intelligence and humour.
In 1982 Share International magazine was launched with Benjamin as chief editor. It presents the teachings of Maitreya and Benjamin Creme's Master, and demonstrates the relationship between the esoteric-spiritual and the political-economic domains, and advocates sharing as the only way to create justice and therefore lasting peace.
Benjamin painted all his life, until he lost his sight in his late eighties. Under the inspiration of his Master his painting changed profoundly and became a way of expressing the spiritual reality underlying the phenomenal world. In 2015 the Benjamin Creme Museum opened in Los Angeles to present both his art and its relationship to the Ageless Wisdom Teaching.
Share International magazine and the worldwide groups are committed to continuing the work of Benjamin Creme with steadfastness and resolve.
Reprinted from Caduceus, issue 95, January 2017. www.caduceus.info
See also:
How To Live In Interesting Times
Be A RAKtivist And Help Change Your Community