Creating A Backyard Paradise With Tropical Plants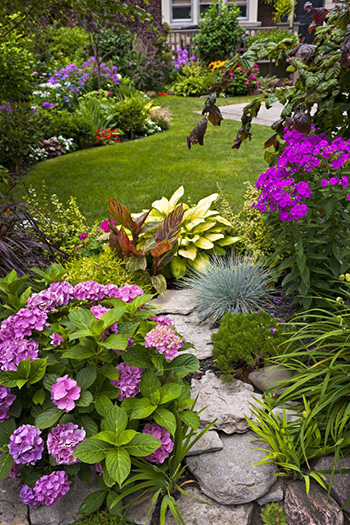 Have you ever wondered how you can make your backyard look and feel like a tropical paradise? Resorts, spas, and the rich and wealthy boast lush gardens, tropical plants, and greenery. You can replicate that same look in your own backyard. With a few simple techniques in layout, color, and plant choices, you'll be enjoying your personal tropical paradise in no time.
Start With A Layout Plan
The first place to start, is to decide what layout plan you'll use for your backyard oasis. There are a lot of options and it's important to choose a look that suits your taste. You can choose to completely flood your backyard with an outlandish display of tropic plants, walkways, and colors, but using a bit of lawn-edging can make a huge difference when it comes to aesthetics.
You can select a portion of your backyard to be the home for your oasis and run edging around the premises as you would for a garden. Steel edging is viable option but to ramp up the tropical feel, consider using limestone, or any natural stone, even smooth concrete to run an edge around your tropical paradise. Using natural stone is really appealing and it will give more of a dimensional look than traditional steel edging. You can even incorporate a stone walkway to create boundaries.
Don't forget about using a fence as an edging technique. Fences, especially the right color and style, can create a very classy and elegant look. There may be certain sections of your backyard that you want to dedicate to specific plants, shrubs, or trees and using fencing or edging would be useful.
The Greener The Better
Going green is always a good thing, and when it comes to "coloring" your yard, don't be afraid to go all out when it comes to greenery. The more green you incorporate, the more extensive the tropical vibe will be. There's almost no overdoing it when it comes to adding greenery to your tropical paradise. To avoid making your yard seem bland, as if it was a uniform forest, add in a variety of green plants with different sizes and textures, and consider planting some in containers. Green is the language of the tropics, and with a healthy dose of green plants and foliage your backyard will feel like the Amazon.
Include A Variety Of Tropical Plants
In order to have a tropical paradise in your backyard, you're going to need some tropical plants! Tropical plants don't just have to grow in the Bahamas, you can easily plant your own. Some tropical plants do not lend themselves to cooler climates but rest assured there's still a variety of "cold-hardy" plants that won't wither away with a slightly cooler breeze. The best way to go about it, is to choose plants of varying color, and typically bright colors like orange, pink, purple, and light blue will give off a strong tropical sense.
Hibiscus is a tropical plant of choice; it'll bring the Hawaiian ambience to any backyard space. It's easily planted in pots and with proper care can bloom almost all year long. Orchids are another great choice but they can be finicky when it comes to taking care of them. The agapanthus is a wonderful choice as a perennial flower and can even be used as a border when you're considering lawn-edging. It's a sturdy plant and can withstand colder temperatures as opposed to other tropical flowers. There's many other choices, just make sure that the environment will be suitable for the upkeep of your tropical plants.
In terms of green tropical plants, the list is quite exhaustive. One of the top choices for green tropical plants are elephant ears. These plants have giant leaves that look like big elephant ears. They are sure to make your backyard look like a paradise.
Japanese silver grass is another great choice. It can grow just about anywhere, inside or outside and in any pot or garden area. The skinny leaves are a great differentiating factor from most oversized green tropical plants. It does grow quickly and can look messy if it's not attended to. Some trimming may be required, or repotting.
Ferns are another extraordinary plant for your tropical paradise. Ferns can grow in various sizes and have beautiful shaping around the edges of the leaves. There are many different varieties of ferns and they typically manage to withstand cooler climates.
Vines can aid to the green theme of your tropical backyard. They do need attention especially since you won't want them to cover other plants. Try setting up accent fences, or containers where the vines can flourish over them.
A word of caution is that there are some tropical plants that will need to be "winterized". Whether it be covering the plants, or providing certain moisture, some plants won't make it without proper care. If you want your backyard paradise to last, make sure you're practicing your tropical plant green-thumb. The more you learn about your plants, with time, taking proper care of your plants will become easier.
Pots And Containers For Your Plants
Don't neglect using pots or containers for your tropical plants. Using stone containers adds an element of purity and serenity that fits the mold for a backyard paradise. Look for pots or containers that are larger and don't go overboard. Choose a few simple pieces and one or two that have a pop of color to accent your paradise. If you use too many pots, or too many smaller sized pots, your backyard will look too cluttered and it'll take away from the natural feel that a tropical paradise should have.
Don't Forget To Add Water
Water is a staple in any paradise and it goes hand in hand with tropical plants. The tropics, and all of the glory of its flora and fauna are always within short distance of water. Copy the same effect by including water in your backyard plan. It can be something as simple a small pond surrounded by stones, or a fountain in the middle of your greenery. You can go grand and install a pool, and this would help with creating edges and boundaries on your lawn, but only if it's an inground pool. Water will make your backyard paradise pop and your tropical plants will look right at home.
There's nothing better than going outside in your own backyard to a personal paradise. It's your oasis of rest and relaxation. Make the tropics your own habitat by utilizing tropical plants in all their beauty and follow the techniques that'll leave you satisfied at the end of the day.
Emmy Noel is a writer and an editor from New Jersey who enjoys writing about architecture, home décor and remodeling, as well as do-it-yourself projects. She also has a passion for environmental preservation and animal rights.
See also:
Urban Nature: What Kinds Of Plants And Wildlife Flourish In Cities?
15 Organizations Creating Edible Landscapes