Curcumin Reduces Symptoms Of Anxiety And Depression Even In People With Major Depression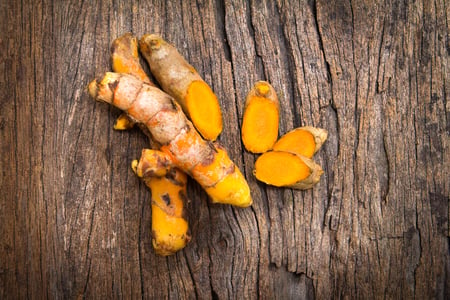 Curcumin, the yellow pigment associated with the curry spice Turmeric, has been found to be effective in reducing depression and symptoms of anxiety even in people with major depressive disorders.
Writing in the Journal of Affective Disorders, researchers from Australia said studies had supported the antidepressant effects of curcumin (from the spice turmeric) and saffron for people with severe depression.
"However, these studies have been hampered by poor designs, small sample sizes, short treatment duration, and similar intervention dosages. Furthermore, the antidepressant effects of combined curcumin and saffron administration are unknown," they wrote.
Powdered turmeric has been used for centuries to treat a host of illnesses. It inhibits inflammatory reactions, has anti-diabetic effects, reduces cholesterol among other powerful health effects. A recent study led by a research team in Munich showed that it can also inhibit formation of metastases.
The researchers from Murdoch University, Perth, undertook a randomised, double-blind, placebo-controlled study, using curcumin extract BCM-95.
A total of 123 people with major depressive disorder were allocated to one of four treatment conditions, comprising placebo, low-dose curcumin extract (250mg), high-dose curcumin extract (500mg), or combined low-dose curcumin extract plus saffron (15mg) for 12 weeks.
The outcome measures were the Inventory of Depressive Symptomatology self-rated version (IDS-SR30) and Spielberger State-Trait Anxiety Inventory (STAI).
They found that those on all three treatments saw considerable improvements compared to the placebo group.
"The active drug treatments (combined) were associated with significantly greater improvements in depressive symptoms compared to placebo (p=.031), and superior improvements in STAI-state (p < .001) and STAI-trait scores (p=.001)," they wrote.
"Active drug treatments also had greater efficacy in people with atypical depression compared to the remainder of patients (response rates of 65% versus 35% respectively, p=.012). No differences were found between the differing doses of curcumin or the curcumin/saffron combination."
"These findings suggest that there was insufficient power in the study to detect group differences, or that there was a ceiling antidepressant effect of these natural spices. This ceiling may have been achieved with the administration of the low-dose curcumin alone. The inclusion of a stand-alone saffron condition would be desirable in future studies," they noted.
They concluded that investigations with larger sample sizes are required to examine the efficacy of differing doses of curcumin and saffron/curcumin combination.
"Its effects in people with atypical depression also require examination in larger scale studies," the study states
Future examination of these compounds should also take into consideration quality and bioavailability, they added.
This article was republished from Prevent Disease.
See also:
6 Natural Herbs To Prevent Mental Disorders
The (R)Evolution In Mental Healthcare — Brazilian Style