Finding Your Mama Tribe: Supporting A New Mother's Sense Of Self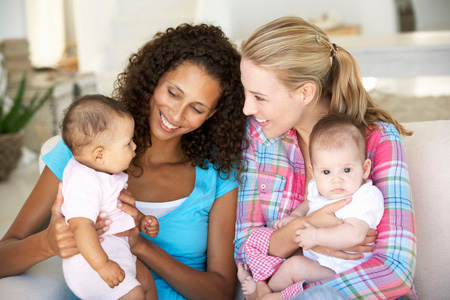 For many new mothers, a sense of spiritual wandering is common as they search for a new source of grounding in adapting to their babies and the shifts in their partnerships and personal relationships. Many women feel a loss of who they were before having their babies and don't know how to feel confident in their skin as they take on the role of mother. Especially for women who stay home with their babies, feeling isolated caring for a newborn around the clock is normal. Although new mothers learn about the creation of their new selfhood by paying attention to their babies — they are a mother's first teacher on this new path — getting out of the house to relate with other women who are in a similar role in life makes coming into one's new sense of self much easier.
The human need for relationships gets established as soon as a mother provides skin-on-skin contact, nutrients (mother's milk or formula), and shelter to her baby. This immediate satisfaction of survival requires established neurological programming for social connection to meet basic human needs. In his book Social: Why Our Brains Are Wired to Connect, Matthew D. Lieberman writes:
"Food, water, and shelter are not the most basic needs for an infant. Instead, being socially connected and cared for is paramount. Without social support, infants will never survive to become adults who can provide for themselves. Being socially connected is a need with a capital N . . . Love and belonging might seem like a convenience we can live without, but our biology is built to thirst for connection because it is linked to our most basic survival needs.1"
Satisfying our basic needs creates a foundational understanding of ourselves as people worthy of care. The baby enters the world. Baby smells and feels mother. Mother places baby on her skin and nurses baby or holds him/her. Baby instantly feels "I am cared for. I am loved. I am." This is self-actualization. A mother can find a similar path and form relationships with other mothers who are similarly navigating this terrain and bear witness to each other's struggles and celebrations. Meaningful relationships matter in helping people understand who they are.
As you enter this new season of life as a mother, the relationships you sustain and those you develop strengthen your identity and sense of self. Shallow relationships with the grocery clerk or the coffee barista seen every other day may not do much to affirm your identity as a mother unless you happen to share stories about your mutual experiences. If you enter this new stage of life as a mother and have no relationships to connect through about your baby and motherhood, then how can you find your sense of self as a woman and a mother? Relationships come first; a personal sense of identity follows.
As strong as we believe we are, we cannot come into our personal power and integrity on our own. We need a community of people who understand us and our needs on some level. A group of new mothers provides the perfect network to find wellness support. Mommy/baby get-togethers could take the form of group yoga classes, La Leche League meetings, or mommy stroller walk groups. They can become an important component for a mother's physiological, emotional, and even spiritual healing. A positive support system is the most critical part of a woman's recovery.
Mothers can find emotional support in their partners, best friends, and family. If you don't feel close to family members, remember, we cannot choose the family we're born into, but we can choose who becomes our family. Best friends can certainly fulfill that role and will be ready to receive you when you need support.
You can also find resources online that offer help with questions regarding self-care or care for your baby. However, take online advice with caution and check the background of those who provide it. If you have medical concerns of any kind, please refer to your doctor/midwife or pediatrician for expert advice. Internet sources aren't all valid for medical advice, nor are moms' groups on Facebook. Local friends, neighbors, and members of your place of worship can offer tangible support, so don't be afraid to ask for help.
You can build a community network to expand your tangible and emotional support systems. If you take the time to search and follow up, you'll find many opportunities for mothers to meet and connect. It's better to seek actual in-person social time and connection rather than social media groups. In fact, many times, mothers increase their anxiety via social media because of the inherent "mommy shaming" that occurs over one mother's choice for sleep training, bottle feeding vs breastfeeding, and a dozen other different choices mothers make as mothers.
The point of being in a group is to make you feel better, not worse. If you feel anxious, sad, frustrated, or competitive in your social media group, leave it and seek out an in-person group. If there are no other options for interacting with mothers because you live in a remote area, post a handwritten sign in the local supermarket community bulletin board or local library. State that you are seeking to meet other new mothers in a shared public space for an hour of conversation. Start here and see where it grows.
I believe it is possible for a woman to enter motherhood on solid ground while navigating the hormonal and emotional highs and lows with support and confidence in knowing who she is because she surrounds herself with other women. These women become her "Mama Tribe." It's never too early to build your tribe. If you are pregnant, connect with other women in prenatal yoga, prenatal exercise classes, or other community gatherings. Keep in touch with each other often and check in. Genuinely care about them and they will express the same care for you. As you cross the threshold into motherhood, they come with you, and you all can grow stronger in this new season of life together.
Melissa Hurt is a certified yoga teacher (RYT 500), a Lessac Certified Trainer of Kinesensic voice, speech, and movement, and the owner of Integrative Studio, LLC in Delmar, New York. She is the author of Arthur Lessac's Embodied Actor Training (Routledge 2014) and several other works. You can learn about Melissa, follow her blog, and discover her online course offerings at www.melissahurt.com.
See also:
When A Mom Feels Depressed, Her Baby's Cells Might Feel It Too
11 Benefits Of Breastfeeding For Both Mom And Baby
Sources
1 Lieberman, Matthew D. Social: Why Our Brains Are Wired to Connect. (Crown Publishers, 2013), p. 43.