Free Acupuncture Trauma Relief Care for the Boston Area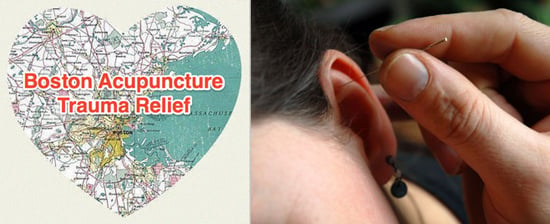 New England School of Acupuncture (NESA), Acupuncture and Oriental Medicine Society of Massachusetts (AOMSM), and Acupuncturists Without Borders (AWB) are collaborating to launch Boston Acupuncture Trauma Relief, providing treatment to anyone affected by the recent events connected to the Boston Marathon tragedy. All members of the Boston community are welcome to receive free, short duration (15-30 min) ear acupuncture treatments to help relieve emotional distress or physical pain in the wake of the bombing.
Our volunteer practitioners are available at the NESA Teaching Clinic, 150 California Street in Newton, MA, as well as over 70 other locations and private offices. To schedule an appointment, please call the NESA Teaching Clinic at 617-558-6372 or visit http://www.nesa.edu for more information or to find a location near you.
Acupuncture treatments are effective in helping people deal with stress, anger, frustration, depression, fatigue and other emotional and physical pain. Therapeutic effects occur quickly and can last for a week or more. Acupuncture treatments have a positive transformative effect without requiring the recipient to discuss their symptoms or emotions.
A specific acupuncture treatment protocol to relieve post-traumatic stress includes five thin, sterilized, disposable needles applied gently to points in each ear. We create a safe, quiet space that allows the calming effects to take place. These treatments are fast, safe, effective and used by the United States military to treat PTSD.
To share this information with your friends and receive updates, please visit our Facebook page: www.facebook.com/BostonAcupunctureTraumaRelief.