Garlic And Onion Help Prevent Mammary Tumors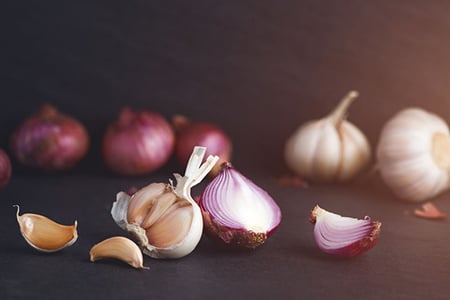 October is National Breast Cancer Awareness Month in the U.S. Chances are you've seen the pink ribbons drawing attention to breast cancer awareness campaigns and reminders that mammograms save lives. Unfortunately, little attention has been paid to educating women about preventing breast cancer.
According to the World Health Organization,1 breast cancer is the most common type of cancer found in women around the world. Statistics from the American Cancer Society2 reveal approximately 12% of women in the U.S. will develop invasive breast cancer and it's estimated 268,600 new cases of invasive breast cancer will be diagnosed. The organization reports it is likely that 41,760 will die by the end of 2019.
The Centers for Disease Control and Prevention finds breast cancer is the most common cause of death from any type of cancer in Hispanic women. It is also the second most common cause of death from any cancer in many other groups of women, including white, black, Asian Pacific Islander, American Indian and Alaskan natives.3
In one study evaluating 28 countries, data showed the incidence of breast cancer in the U.S. had increased from 1975 to 2004 while the mortality rate had declined from 1960 to 2002.4
Raw Garlic And Onions Reduce Risk Of Breast Cancer
The catalyst for one population based study in Puerto Rico was the lower rate of breast cancer on the island as compared to the mainland.5 Scientists6 from the University at Buffalo sought to assess the evidence associated with eating onions and garlic and the prevention of breast cancer. The researchers wrote that an inverse relationship between the intake of onion and garlic and the risk of lung, prostate and stomach cancers had been previously established.
The team collaborated with the University of Puerto Rico7 to analyze the association between these ingredients commonly found in a popular condiment, sofrito. Lead study author Gauri Desai from the University at Buffalo School of Public Health and Health Professions, said in a press release from the University,8 "We found that among Puerto Rican women, the combined intake of onion and garlic, as well as sofrito, was associated with a reduced risk of breast cancer."
The final data revealed those who ate sofrito more than once a day enjoyed a 67% reduction in their risk of breast cancer as compared to women who did not. Desai9 pointed out that it was the total amount of onions and garlic the women ate that provided the protective effect and not sofrito alone.
While Desai recognizes10 "Puerto Rico has lower breast cancer rates compared to the mainland U.S.," the rise in rates from 0.018% to 0.05% between 1960 and 1990 has drawn the concern of experts.11 Data were gathered from 2008 to 2014 from participants enrolled in the Atabey Study of Breast Cancer. The researchers identified 314 women with breast cancer from those ages 30 to 79.12
The study included 346 women in a control group whose only history of cancer included non-melanoma skin cancer and who lived in the same geographical area. After adjusting for age, education, number of pregnancies, family history and other factors, the researchers found there was a strong inverse relationship between breast cancer and those who ate moderate to high amounts of raw garlic and onions.
Protective Properties Of Raw Garlic And Onions
Desai said their interest in garlic and onions was related to the high levels of flavanols and organosulfur compounds found in the ingredients.13 Allium is a large family of herbs to which both onions and garlic belong.14 The researchers15 were interested in the diallyl sulfide, diallyl disulfide and S-allylcysteine found in garlic and the alk(en)yl cysteine sulphoxides found in onions.
In addition to protection against cancer, garlic has a history of protecting your brain as you age. University of Louisville researchers16 linked the allyl sulfide compound in garlic to improved long- and short-term memory in an animal model. Those receiving the supplement also demonstrated healthier gut bacteria. The findings were presented at the 2019 Experimental Biology meeting.
Associate professor Neetu Tyagi, Ph.D., from the department of physiology at the University of Louisville, commented on the team's interest in analyzing the relationship between gut diversity and the development of neurodegenerative diseases. As reported in a press release, Tyagi said:17
"The diversity of the gut microbiota is diminished in elderly people, a life stage when neurodegenerative diseases such as Alzheimer's and Parkinson's develop and memory and cognitive abilities can decline. We want to better understand how changes in the gut microbiota relate to aging-associated cognitive decline."
As I have discussed before, garlic stimulates your immune function, has an antimicrobial effect and has a history of preventing a variety of cardiovascular and metabolic diseases, including high blood pressure and diabetes.18 Raw garlic also reduces blood coagulation, meaning it is a potent blood thinner.
The other half of the featured study analyzed the effect of raw onions, rich in polyphenols, quercetin and inulin. Red onions offer an additional benefit associated with anthocyanin, the pigment that turns the onion red and supports free radical scavenging. Seek out organically grown red onions for your meals as they reduce your toxic load and offer greater nutritional benefits.19,20
Optimize Vitamin D For Protection Against Breast Cancer
Another easy step you may take to help reduce your risk of cancer is optimizing your vitamin D levels. As I've discussed in the past, optimized serum vitamin D levels may reduce your risk of cancer by as much as 67%. Most cancers occur in those with levels between 10 and 40 nanograms per milliliter (ng/mL), and the optimal level for vitamin D has been identified between 60 and 80 ng/mL.
Not only does vitamin D offer protection against developing cancer,21 but maintaining optimal levels increases your chances of surviving cancer if you do get it. One of the easiest and most cost-effective ways of testing your levels to protect your breast health is enrolling in the D*action Project Enrollment – Breast Cancer Prevention Project, which now includes omega-3 testing with vitamin D.
Participation in the project helps scientists learn more about how these two essential nutrients function together. The results also help determine how you can make changes affecting your health. The tests are done at home, are completely private and require no doctor or lab visit.
Once your sample and questionnaire are mailed, your results are usually ready within 10 to 20 days after the lab receives your sample. I offer this test kit simply as a convenience and courtesy as I don't benefit or participate in the test in anyway. Proceeds from the sale go directly to GrassrootsHealth.22
Although the best way to get your vitamin D is through sensible sun exposure, this may be challenging if you live in the Northern Hemisphere. If you need oral supplementation to achieve an optimal level, also consider your intake of calcium, magnesium and vitamin K2.
These four nutrients work together to direct calcium into your bones and teeth. Inadequate levels of vitamin K2, in the MK-7 form, may increase your absorption of calcium resulting in deposits in your heart and kidney. Your calcium-to-magnesium ratio is also important for cell function, and magnesium is required for the activation of vitamin D.
Mammograms Have No Impact On Mortality
Mammography has proven to detect invasive breast cancer but may not be the right tool to reduce rates as there is concern it does more harm than good. The significant drawbacks happen when you undergo consistent mammograms that you may have been told would help diagnose early breast cancer.
As reported in one study published in the British Medical Journal,23 researchers used a five-year screening in 15 centers across six Canadian provinces, enrolling 89,835 women from between the ages of 40 and 59 years old. The participants were assigned to either receive five annual mammogram screens or an annual physical breast exam without mammography.
During the study period, 3,250 women who received mammography were diagnosed with breast cancer and 500 died. This was compared to 3,133 diagnosed in the group who did not receive a mammogram and 505 who died from the disease. The authors of the study concluded:24
"Annual mammography in women aged 40-59 does not reduce mortality from breast cancer beyond that of physical examination or usual care when adjuvant therapy for breast cancer is freely available."
The featured study clearly identified the protective effects garlic and onion have in mitigating the development of breast cancer. By reducing your potential risk through optimizing your vitamin D levels and making healthy additions to your diet, you will be on the road to take control of your health.
Make Delicious Sofrito At Home
Sofrito is often the foundation for many Caribbean dishes.25 The aromatic blend of ingredients has been used to season stews, beans and rice dishes. Although it is often tomato based, Caribbean variations include mixtures ranging from green to bright red and from mild to spicy.
Since fresh, homemade sofrito contains no preservatives, it doesn't usually last more than four days in the refrigerator. However, you may easily extend this to several months by freezing it in ice cube trays26 and popping the cubes into an airtight container in your freezer. This way you'll be able to enjoy sofrito throughout the winter months.
Sofrito may be used raw or it may be slightly cooked. The condiment used in the featured study used raw ingredients because even slight cooking may reduce the health benefits associated with garlic and onion. Following is a recipe adapted from AllRecipes.com27 that can be ready in minutes.
Sofrito
Ingredients
2 green bell peppers
1 red bell pepper
10 ajies dulces peppers (may substitute 10 ajies dulces with 1 red bell pepper)
3 medium tomatoes
4 onions
3 medium heads of garlic
25 stems of cilantro with leaves
25 recao stems with leaves (may substitute with Mexican coriander or long coriander)
1 Tablespoon Himalayan Sea Salt (or less to taste)
1 Tablespoon black pepper
Procedure
Prepare the ingredients by seeding and coarsely chopping the peppers, peeling the garlic and coarsely chopping the onion and tomato.
Add all ingredients to a food processor and pulse process until it's the consistency of semi-chunky salsa.
Add just half the salt, then taste it after processing. Mix in more if needed.
This article was brought to you by Dr. Mer cola, a New York Times bestselling author. For more helpful articles, please visit
Mer cola.com today and receive your free Take Control of Your Health E-book!
Sources and References
1 World Health Organization
2 American Cancer Society, How Common Is Breast Cancer?
3 Centers for Disease Control and Prevention, Breast Cancer Statistics
4 Annals of Oncology, 2008;19(5):1009, Methods, Data Sources
5 Science Daily, September 23, 2019
6, 12 Journal of Nutrition and Cancer, 2019; doi.org/10.1080/01635581.2019.1651349
7 News Medical Life Sciences, September 24, 2019
8, 9, 10, 13, 15 University at Buffalo, September 23, 2019
11 NDTV Food, September 26, 2019
14 Encyclopedia Britannica, Allium
16, 17 EurekAlert! April 8, 2019
18 Nutrition Journal, 2002;1:4
19 Journal of Agriculture Food Chemistry, 2017;65(25):5122
20 Science Daily, June 14, 2017
21 PLOS|One, 2016; doi.org/10.1371/journal.pone.0152441
22 GrassrootsHealth
23, 24 BMJ, 2014;348:g366
25 The Spruce Eats, June 27, 2019
26 Analida's ethnic spoon, August 6, 2019
27 AllRecipes, Sofrito