Getting to the Root of The Bullying Epidemic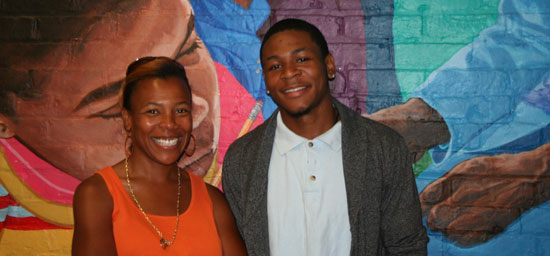 Chandra Banks, director of the Peer Mediation program for the Cambridge Public Schools with teen mediator Chris Maurice Sylvera. "Countries with acts of war taking place have fewer people going to the emergency room on a Saturday night than in the United States," reflects Banks.
Everywhere we turn today, bullying rears its painful and destructive head: in the news, in our schools, in the workplace, in our communities, in the highest echelons of government, in the world of finance. Wherever there is the potential for an imbalance of power, bullying finds fertile ground.
Bullying takes many forms, some overt, some covert:
Physical violence
Verbal or psychological attacks or intimidation
A climate riddled with emotionally unsafe behaviors
On the Internet (cyberbullying) or phone
And bullying-like behaviors can extend beyond bullying to exclusion, put downs, rumors and picking on or socially shunning an individual.
Bullying is one common form of violence in our culture. According to Chandra Banks, the director of the Peer Mediation program for the Cambridge Public Schools, based on information gathered by the Center for Disease Control and other international data agencies such as NationMaster.com, the United States is a very violent country.
"In the United States, people resolve their conflicts with violence," reflects Banks. "Countries with acts of war taking place have fewer people going to the emergency room on a Saturday night than in the United States. People often don't think ahead and end up doing needless damage to themselves or others."
Ignorance, fear, and choosing to look the other way all feed the bullying epidemic. Too often, there is no systemic containment structure. Bullying often exists under the radar. It is hard to prevent if we don't recognize its signs and symptoms until there are serious and tragic consequences. Most interventions are reactive rather than proactive. Few include the whole system and address the climate of a school, community, family or organization.
The cost of bullying to schools is tremendous. Rick Phillips, founder of Community Matters and the Safe Schools Ambassador Program in Santa Rosa, CA, notes, "The United States has spent more than $10 billion to address violence prevention, but we haven't got the results we are seeking. Every child deserves to walk across a campus and feel welcome, safe and included."
Some of the real-life costs of bullying include:
teachers, administrators and students spend more time on discipline
kids and adults are tense and afraid
students bring weapons to school
lower test scores
increased drop out rate
increased vandalism
Some argue that bullying is a part of human nature and has been around since the beginning of time. Bullying is a right of passage for young people. Kids will be kids. These messages are cultural myths. We don't have to buy into them.
Phillips notes that bullying is occurring at younger ages, is getting meaner, has become more acceptable in youth culture by blurring the lines between reality and entertainment, is more difficult for adults to identify, and has diversified to include electronic aggression. A key issue that needs to be addressed is what Phillips calls "the growing bystander culture."
When a bullying incident occurs, 85% of people are bystanders, "the passive majority," Phillips notes. "Silence is a form of consent. It sends a message to the bully and the target that no one cares."
To change this behavior, we must change our norms, our beliefs and our actions. Despite messages from our families, our schools, the workplace and the media telling us, "don't get involved" or "mind your own business," we are responsible for each other. When we become bystanders, we lose our power to make a difference in large and small ways.
It's More Cool to Be Cruel
Phillips underscores the point that "bullying is a relationship issue." By cutting class time spent on emotional and social literacy skills, we feed the bullying problem. We need to understand that different people have different points of the view. We need to learn skills for conflict resolution, especially non-violent alternatives.
The approaches we tend to utilize to address bullying are "outside in," according to Phillips. These approaches focus on security, are adult driven, and underscore rules and consequences. To date, "there is no measurable evidence that zero tolerance significantly reduces school violence," he says.
To get to the root of the bullying epidemic and make true and lasting changes, Phillips emphasizes the need for an "inside out" approach.
"While you can keep guns out, the weapons that needs to be addressed are prejudices, assumptions, stereotypes and grudges," argues Phillips.
An "inside out" approach focuses on relationships, is student-centered, questions and reformulates norms and encourages social change.
"Right now, it's more cool to be cruel than compassionate," he acknowledges. Empowering students to be peacemakers allows school norms to change.
The Peer Mediation Program Chandra Banks started in 2006 in the Cambridge Public Schools proves Phillips' point. When Banks started her program, the incidence of reported violence in the schools was in line with the national average. In 2009, the incidence of reported violence in the same schools was half the national average.
When kids learn to use emotional and social tools like active listening, open-ended questioning, non-judgmental facilitation, confidentiality, eliciting all sides of a story, and future-oriented, mutually collaborative problem solving, not only do they feel empowered, but also, so do those they engage with.
While our educational system places a high value on intellectual literacy and development, emotional literacy and social development are largely ignored. Yet, social and emotional illiteracy are at the root of the bullying epidemic, while enhanced social skills and emotional development are at the heart of bullying intervention and prevention.
Many of today's parents and leaders have not grown up in a climate of emotional and social literacy. I have heard many teachers report that when they call a parent to discuss a child's behaviors at school, the parent gets angry and starts to bully the teacher, either denying that there is a problem, accusing the teacher of picking on their child, or saying they would act the way the child acted in the same situation. All stakeholders in a community need to model respect in relationships for respect to prevail. Both parents and other adults who work closely with kids may need to see and experience new models of thinking and behaving to support cultural change.
As emotional and social literacy increase, we learn first hand:
We are responsible for each other. No man, woman or child is or should be an island.
What we ignore and what we respond to both have consequences.
How we respond to conflict makes a world of difference.
When a climate or system is oppressive, all are oppressed.
When a system or climate is safe, bullying cannot be tolerated and will not be sustained.
A vision-driven model is needed, not a fear-driven model.
Students need to have input in the creation of prevention strategies that effect them.
Programs with follow-up must be implemented consistently across schools (elementary, middle and high school) to provide a safe container for all.
While the anti-bullying law that was passed recently in Massachusetts has brought the bullying issue to the forefront, there is the danger that communities will respond in a fear-based, reactive way to "quickly comply." If we slow down and dig more deeply into the issues surrounding bullying, we have the opportunity to make significant changes that can help build a better future for all.
"Belongingness and connectedness are the key predictor for achievement," notes Phillips. Creating a climate where all are welcome, respected for their differences as well as their similarities, given the space to be who they are and contribute to the greater good will indeed fuel the cultural change we need to prevent bullying and other kinds of violence from continuing, and help build a safer and more compassionate world.
Linda Marks, MSM, is a mediator and coach and has practiced body psychotherapy with individuals, couples, families and groups in Newton for more than 25 years. She is on the faculty of UMass Boston in the College of Public and Community Service and serves on the City of Newton's Anti-Bullying Task Force. You can reach her at LSMHEART@aol.com or visit http://www.healingheartpower.com.
Massachusetts Anti-Bullying Law
On Monday, May 3rd, 2010, Governor Deval Patrick signed into law a landmarkanti-bullying bill for Massachusetts. Provisions of this new law include requirements for schools to create and implement bullying prevention plans which must include:
Descriptions of and statements prohibiting bullying;
Clear procedures for school staff to report bullying or retaliation;
Provision for anonymous reports;
Clear procedures for promptly responding to and investigating reports of bullying or retaliation;
Range of disciplinary sanctions for perpetrators of bullying or retaliation;
Clear procedures to address the victim's need for safety;
Strategies for protecting students who report bullying;
Procedures for notifying parents or guardians of both victims and perpetrators;
Procedures for reporting criminal activity to law enforcement;
Disciplinary provisions for knowingly false reports of bullying;
Strategies for counseling perpetrators and victims; and
Provision for ongoing professional development to build skills of all members of school staff.
The new law includes tough restrictions on young people's use of any technology to bully another person and the new law includes a prominent role for the Attorney General's office, along with the Department of Early and Secondary Education, the Massachusetts Department of Public Health and other agencies to develop and to implement comprehensive bullying prevention plans in order to ensure that every student feels safe — in and out of school.
The law also gives responsibility to the Attorney General's Office to chair a multi-agency commission which will conduct a careful review of related-Massachusetts laws to determine if any additional laws need to be amended to address bullying and/or cyberbullying.
Visit the Massachusetts Attorney General's Office webpage for details.
Resources
The Massachusetts Aggression Reduction Center (MARC) at Bridgewater State College offers anti-bullying programs for grades K-12 in Massachusetts. For more information, http://marccenter.webs.com.
Rick Phillips, the founder of Community Matters and the Safe Schools Ambassadors Program, is a leader in the field of bullying prevention. http://www.safeschoolambassadors.org.
Chandra Banks runs a mediation program for the Cambridge Public Schools. CBanks@cpsd.us.