Giving the Gift of Language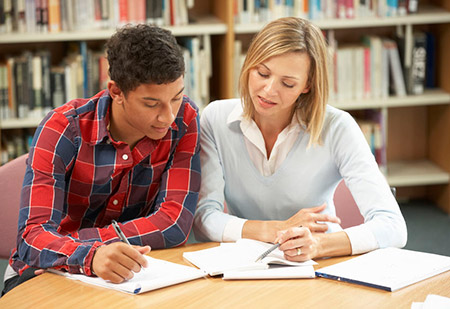 Imagine coming to a new country, leaving all that is familiar and comforting: your culture, your friends, your family, and your roots. You find yourself baffled by a strange and difficult language — one you know you must master to fulfill your dream of advancing in your adopted homeland. This is the dilemma of the growing number of immigrants who come to Worcester in search of a better life.
Most of us descend from immigrants who came to these shores knowing very little English. How can we not empathize with today's new arrivals? After all, these newcomers must overcome the same language barriers that stood in the way of our own forbears when they arrived so full of the same hope and determination. Too often, immigrants suffered prejudice and discrimination inflicted by those who came before them. But in the past, many newcomers also experienced the kindness of strangers. Today, the newly arrived continue to benefit from America's tradition of compassionate aid.
You, too, could become part of this great benevolent tradition of service. If you have as little as an hour or two a week to volunteer, you can have the satisfaction of enabling a grateful, deserving person to fulfill his or her dreams. You can join Literacy Volunteers. Our mission is to empower adults to achieve their goals of a better life by mastering the English language.
Our students are not only immigrants. Unfortunately there are many native born Americans whose literacy skills are below the 6th grade level. In Worcester County, nearly twenty percent (82,026 people) are without a high school diploma. Often secretly illiterate because of their embarrassment, some native citizens, for whatever reasons, never learned basic English language skills. They struggle to decipher road signs, to read their mail, and their newspapers. They cannot read to their children nor can they fill job applications or read warning labels on medications. All their adult lives they have attempted to live without the verbal survival skills the rest of us take for granted. Finally admitting their need for help, these native born Americans, as well as immigrants, come to us for help, and what you as a Literacy Volunteer can offer will change their lives immeasurably.
Located at the Worcester Public Library, Literacy Volunteers of Greater Worcester is one of 13 independent non-profit affiliates throughout the state dedicated to promoting literacy through volunteer tutoring. We offer confidential, one-on-one student-centered instruction at no cost to the learner. Our mission is to promote the comprehension, speaking, reading, and writing of English for those adults who most need this help.
The only requirement to be eligible to tutor is that you have a high school diploma, that you be at least 18 years old, and that you be willing to give freely of your time. If you decide to become a volunteer, prior to being certified and matched up with a student, we ask you to participate in a two hour orientation and six weekly workshops to prepare you. Following this preparation, you tell us when you are available and the Literacy Volunteers office sets up the first meeting with your student in a public place such as the Worcester public library.
You will usually meet with your student, for about two hours, once a week. After a 9- 12 month commitment, student and tutor may continue working together, but if your student has achieved his or her goals, or moves, you can decide to be matched with another student. The workshops provide excellent preparation for the tutors, though there is no set curriculum. Instead, student and tutor work together to reach the student's individual goals. In the LV office at the library, there are helpful literacy experts as well as a wealth of books and materials, including computers with learning programs for volunteers and their students.
At the moment, we do not have enough tutors in Massachusetts to accommodate the many who seek our assistance. We and they need your help. Consider joining Literacy Volunteers. You will learn that there is no greater satisfaction than giving the gift of language!
Harvey Fenigsohn, formerly taught English at the Bancroft School and now teaches at the Worcester Institute for Senior Education at Assumption College. Contact Literacy Volunteers at 508-754-8056 or info@lvgw.org.