Green Homes and Gardens: The Co-housing Option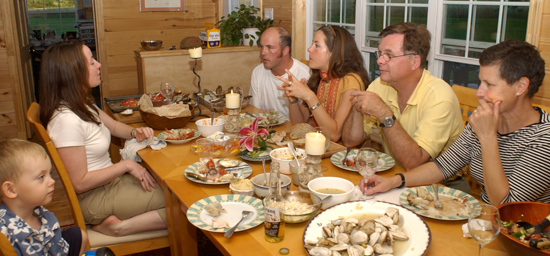 If you are looking for a greener home in a greener community, co-housing may be the answer. Co-housing is a living arrangement consisting of individual homes, complete with kitchens.
There is sharing of other living spaces, such as community rooms, guest rooms, and play areas. Most communities have a large kitchen and dining area and a community room that is shared. Co-housing differentiates itself from intentional communities by referring to themselves as "intentional neighborhoods." Intentional communities often share greater bonds than just a desire for increased community and may form around religious beliefs, political, environmental or social beliefs and finances may be communally shared.
The theory of co-housing originated in Denmark and has spread to many countries. Currently there are over 80 completed co-housing communities in the United States with many more in the planning stage. The community is planned, operated and maintained by the residents, although there is no pooling of financial resources. There are co-housing communities in all types of settings from inner city urban areas to suburban and rural areas. The homes may consist of apartments, individual buildings or townhouses. A common theme of co-housing communities is that cars are kept on the fringes. Homes are typically built in a compact space allowing for closer interaction between neighbors and to keep the footprint as small as possible. The smaller area means that there is less roads, thus less clearing of land, allowing for increased open space and reduced urban sprawl.
Some co-housing communities form with a particular mission statement. Some are looking to minimize their ecological impact. Most co-housing communities incorporate green design and materials into their building plans as many people who desire to live in co-housing have some level of environmental consciousness. Some co-housing groups are particularly focused on community and strive for a wide diversity of residents. Senior co-housing is planned for adults 55 and above. During the building process, accommodations are made to provide housing for home health aids whose services several residents may share. Buildings also allow for a variety of physical abilities. Many elders are choosing co-housing as a retirement community in order to grow older meaningfully, consciously and independently in a self-managed, close-knit community.
Even though each home has its own kitchen, residents consider communal dining to be an integral part of community life. While it varies from community to community the typical co-housing group shares three or four community meals each week. Residents sign up and pay in advance. A team of residents will prepare the meal with responsibility rotating through the community.
Each community establishes responsibilities for maintenance and care of the common areas. Some communities require a minimum number of hours per month; some are based solely on a volunteer basis. Talents and abilities can be shared to barter for needed services. A neighbor with electrical knowledge can install your ceiling fan in exchange for free babysitting or a month of desserts.
A resource website, Cohousing.org provides six defining characteristics of a co-housing community as follows:
Participatory process. Future residents participate in the design of the community so that it meets their needs. Some co-housing communities are initiated or driven by a developer. In those cases, if the developer brings the future resident group into the process late in the planning, the residents will have less input into the design.
Neighborhood design. The physical layout and orientation of the buildings (the site plan) encourage a sense of community. For example, the private residences are clustered on the site, leaving more shared open space. The dwellings typically face each other across a pedestrian street or courtyard, with cars parked on the periphery. Often, the front doorway of every home affords a view of the common house. What far outweighs any specifics, however, is the intention to create a strong sense of community, with design as one of the facilitators.
Common facilities. Common facilities are designed for daily use, are an integral part of the community, and are always supplemental to the private residences. The common house typically includes a common kitchen, dining area, sitting area, children's playroom and laundry, and also may contain a workshop, library, exercise room, crafts room and/or one or two guest rooms. Except on very tight urban sites, co-housing communities often have playground equipment, lawns and gardens as well. Since the buildings are clustered, larger sites may retain several or many acres of undeveloped shared open space.
Resident management. Residents manage their own co-housing communities and also perform much of the work required to maintain the property. They participate in the preparation of common meals, and meet regularly to solve problems and develop policies for the community.
Non-hierarchical structure and decision-making. Leadership roles naturally exist in co-housing communities, however no one person (or persons) has authority over others. Most groups start with one or two "burning souls." As people join the group, each person takes on one or more roles consistent with his or her skills, abilities or interests. Most co-housing groups make all of their decisions by consensus, and many groups have a policy for voting if the group cannot reach consensus after a number of attempts.
No shared community economy. The community is not a source of income for its members. Occasionally, a co-housing community will pay one of its residents to do a specific (usually time-limited) task, but more typically the work will be considered that member's contribution to the shared responsibilities.
The N Street Co-housing community in Davis, CA, is different from other planned co-housing communities as it grew through the acquisition of neighboring homes. This model is termed "retrofit co-housing." Currently the community consists of 16 homes and plans to continue growing as houses become available. With the removal of fences, backyards have been joined together. The ownership structure is very diverse; some houses are owned by community residents, some by absentee landlords, and others as partnerships of (former) tenants in the community. The garage of one home was remodeled into a community kitchen. That home has now become the common house for communal dining and the garage has continued its transformation into a meeting space, TV and piano room. The ownership of the properties varies from home to home. In 1999 the community received designation as a planned development from the city council. This allows greater leeway within the zoning regulations and allows for greater flexibility in planning their buildings. N Street co-housing started with just two neighbors joining together and shows the possibilities of what you may be able to accomplish in joining together with your neighbors to create community.
There are many characteristics of co-housing that you may be able to share in your neighborhood or community without creating an entire development. The cluster model of building houses in a smaller footprint and allowing greater open space is being incorporated into many communities' building codes. On a smaller scale, agreements can be made with neighbors to share some of the responsibility of home maintenance. Neighbors can share chores such as mowing each other's lawns on alternate weeks. Joint ownership of tools and power equipment is possible in any neighborhood, even without the formality of a co-housing plan. Weekly potluck and shared bulk purchases are just a few of the ways you may be able to begin today to increase the community spirit in your neighborhood.
Whether you want the experience of living in a planned co-housing community or would like to expand your sense of community where you are right now, many options are available to you. Who knows, cooking that shared meal may lead to ever greater cooperation and community for all!
Co-housing Books
Co-housing: A Contemporary Approach to Housing Ourselves by Kathryn McCamant, Charles R. Durrett, and Ellen Hertzman (Ten Speed Press, 1994)
The Co-housing Handbook: Building a Place for Community by Chris Scott Hanson and Kelly (New Society Publishers, 2004)
Senior Co-housing: A Community Approach to Independent Living by Charles Durrett (Ten Speed Press, 2005)
Reinventing Community: Stories from the Walkways of Co-housing by David Wann (Fulcrum Publishing, 2005)
Mary Farrell teaches self-empowerment tools and is a writer, environmentalist and student of herbalism.
See also:
Aging In Community: Inside The Senior Cohousing Movement
How To Support Your Community In 2017