Greener Homes and Gardens: Tips For "Greening" Your Wedding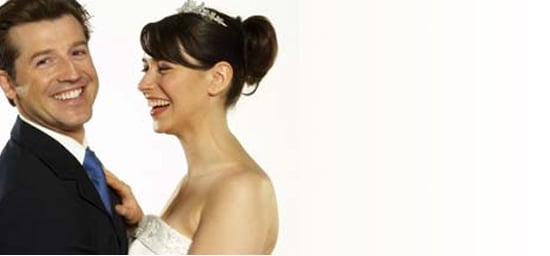 With all the excess of energy and material expended for just one day of a traditional wedding, planning a wedding for the "green" bride and groom may seem impossible, but with some extra creativity, foresight and flexibility, you can still ensure your special day will not only be beautiful, but sustainable as well. Many of these suggestions can be incorporated into planning for other special occasions too.
Invitations
The first step is to ensure that your invitations are printed on recycled content paper. Technology has improved the quality of recycled paper to such an extent that it is indistinguishable from virgin paper. A high percentage of post–consumer recycled paper is the most environmentally friendly of the recycled papers. Post-consumer means the paper was recycled after being used — like all that junk mail you recycle each week. Additionally you can find invitations that are "tree-free." Look for paper made from hemp or kenaf. Kenaf is a plant from Africa. It is related to cotton and grows well in many parts of the U.S. It offers a way to make paper without cutting trees. Kenaf grows quickly, rising to heights of 12-14 feet in as little as 4 to 5 months and produces a large quantity of fiber per acre. Using recycled content or tree-free paper is a small step that will not overtax many couples.
Decorations, Favors and Flowers
An important part of any celebration is the decorations. Many green couples want to avoid single use decorations. A little forethought can avoid filling the trashcan with throwaway items and instead provide memorable keepsakes to the guests. Live plants are a viable option for decorations and centerpieces. Depending on the season you may choose indoor or outdoor plants. For flowering plants, working with a local nursery will help ensure the necessary blooms. Using non-flowering plants will expand your choices. For the bride and groom with a green thumb, starting the plants yourselves will be a money saver. Purchasing small plants and combining them to create centerpieces is another do it yourself option. Those less inclined to be hands-on can purchase plants and simply place them inside of pots that match the color scheme. At the end of the event guests can take home the plants and have a unique and lasting keepsake of your special day.
Decorating with potted trees provides an added bonus in that planting trees will offset the carbon created by guests traveling to your wedding. One individual causes the emission of about 10 tons of carbon dioxide a year. One tree removes about 1 ton of CO2 per year. We can erase our carbon debt by planting trees. Giving a tree can have a long-term greening effect.
Support local artisans such as potters for table decorations and local jewelry makers can be used to make favors and gifts for the wedding party. Make your purchases locally, if possible, and you will further help reduce the impact on the environment.
An unusual wedding favor can be found at http://www.treeinabox.com. You can give each guest a kit that provides everything needed to grow a tree from seed. The kit is designed to be "add water only" and grown in a sunny window. Personalized labels are available for you to add your name and date of the event. Or you may incorporate your party favors into the wedding itself. Inexpensive wine or champagne glasses can be purchased and personalized. Guests will use them during the day and take them home as a favor. By keeping the personalization generic the glasses will be able to be used again and again. Replace your names and the date, and personalize the glasses with a quote, poetry or a line from a favorite song. Or, forego party favors entirely and you can give the money to a non-profit group and let your guests know that you made a donation instead of buying favors.
Choosing organic flowers will keep pesticides and fertilizers away. Organic flowers carry a higher price tag but you can save money by arranging them yourselves. If organic isn't an option, see if a local grower can provide your flowers and save the pollution of shipping flowers across the country and often across borders. Instead of corsages, consider a brooch or pin that will carry the memory of the day long after the flower has faded.
Reception
Finding a facility that is green can be a bit more challenging. Small farms are beginning to add restaurants and banquet facilities. The food is grown on the farm and some even raise their own beef. If you do not have access to such facilities speak with the events planner at your banquet hall and let them know of your preferences for local or organic food. Today, understandably, many chefs are concerned with the quality of the food supply and are a powerful force behind the growing local food movement. Organizations such at the Slow Food Movement http://www.slowfoodusa.org/ receive strong support from celebrity chefs so your request for local food may find receptive ears. Look for local vineyards and breweries in your area to provide your libations. Speak with your caterer to determine if arrangements can be made for leftover food to be donated to an area shelter.
A home-based wedding can offer additional ways to minimize impact. While perhaps not available locally, using paper plates made from bamboo, (which unlike other trees grows quickly) and plastic ware made from biodegradable products. Your trash can be placed in a compost pile instead of being sent to a landfill or incinerator. Serve a vegetarian menu and you won't need to worry about separating items; everything can go into the compost pile. Specially designed compost bins are available for purchase, or you can make your own using a section of your yard. Simply pile the compostable materials and cover with leaves or hay. For more rapid decomposition provide water and turn the pile regularly. The finished compost can be used in your garden in place of chemical fertilizers to grow food or flowers for your next celebration.
Attire and Ceremony
Wearing clothing that can be worn again, is borrowed or purchased from a thrift store offers more opportunities for savings and lowering your impact. For your rings, consider antique jewelry, family heirlooms, reworking jewelry you already own, or create your own design for a local artist to make for you. You will end up with a piece more meaningful and affordable than jewelry that you can purchase at a chain store.
If the bride and groom are from different parts of the country (or world), instead of inviting the guests to one party, consider traveling yourself and having two (or more!) small intimate gatherings. You will reduce the amount of fossil fuel expended by your guests traveling to share in the celebration. Alternatively, you can purchase carbon offsets for everyone's travel. There are many providers of this service but you want ask if they have been certified by a third party. One website that offers carbon offsets is http://www.e-bluehorizons.com/. They donate a portion of each sale to The Conservation Fund, an environmental nonprofit organization. Instead of or alongside your gift registry, you can invite guests to make a donation to your favorite charities or their own.
Eloping may be the greenest way to go but with thought and planning you can minimize your environmental impact on your wedding day and save money too. Use your energy to concentrate on the most important part of the event — each other.
Mary Farrell teaches self-empowerment tools and is a writer, environmentalist and student of herbalism. Mary can be reached at http://www.spiritualtools.com and 508-747-5202