Healthy Aging Stories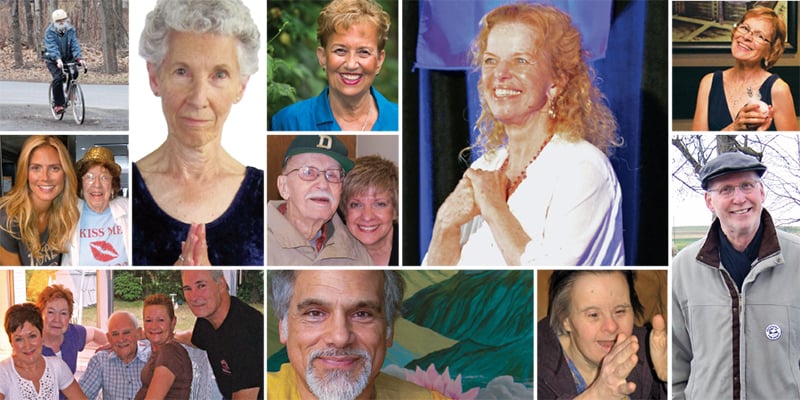 Who gives better senior health advice than the seniors and caretakers actually living it? In honor of all the seniors in our lives, and the future seniors and caretakers we are becoming, Spirit of Change Magazine shares this storytelling collection of healthy aging wisdom for senior care.
"The Healthiest Patient I Have"
By Steffi Lewin Shapiro
I celebrated my 80th birthday in March and I am grateful to be in excellent health. I do not take any medications. My doctor once said, "You are the healthiest patient I have." I said, "You mean for my age." She said "No, altogether." I feel better now than I did growing up or in my early adulthood. I was the most nervous and uptight individual anyone could imagine. My mother was very fearful. She wouldn't let me have a bicycle or roller skates. Her motto was "Be careful or you'll get hurt."
My life changed for the better when I discovered yoga in 1967. I saw a phrase in the Newton YMCA catalogue — "Peace of Mind" — that drew me like a magnet. It was part of the description of a yoga class with a teacher from India, Shri Khanna. I finally learned how to relax. Three years later he started a teacher training course that I attended and I am fortunate to have been teaching ever since.
I have had a couple of physical conditions since childhood that I have been able to avoid in my later years. One is allergy to mold, which usually causes sore throats and laryngitis. In the last few years I have had a couple of instances of that but have learned to avoid it as best as possible. I sometimes feel like the "canary in the gold mine" because I can usually detect even mild mold by the musty smell in certain old buildings, which I then avoid. The other one is lactose intolerance, which was not detected in my early days. That is no longer a problem since I have been vegan for over 20 years, as well as vegetarian for over 40 years. I continue to appreciate my good health, as well as my ability to teach each week six yoga classes at my studio and 16 classes at various senior facilities.
Steffi Lewin Shapiro, MSW, RYT, is a registered yoga teacher, psychotherapist, and the founder and director of The Well Street Station in Watertown, MA.
The Joy of Senior-ness
By Jane F. Allard
When I was fully entrenched in the years of earning ferociously and meeting the nurturing needs of my young family, I used to glimpse the articles in my parents' AARP magazine. You know, those seniors' stories freely expounding upon the self-rescue each had achieved through fitness. The process fascinated me; every story gave me hope. My body was tired then, and I enjoyed reading about those who claimed to be fully alive and excited about it. I heard Oprah advise, "Put your exercise gear on and stride out there: don't wear that garb all day and never do the action!" That got my attention.
In my teens: Biking after school, just to see how far two wheels would take me, I got hooked on the sensation of wind in my hair. I'm a visual person, so the landscapes and observations sumptuously rewarded my efforts.
20s: I'll never forget my first yoga class in college. How surprised to be freed-up after one session! I never forgot my first steam, sauna, and massage from those years, either. I knew this genre of self-care was more than pampering.
30s: Walk, walk, walk. Easily assimilated into my lifestyle as a mother of school-aged children, walks proved to be an escape from the pressures of my daily responsibilities. I walked while I pushed a pram, and then a double stroller to bus stops, around soccer practice fields, in neighborhoods known and unknown, on beaches and wooded paths, by rivers in northern RI. I later loved solo walks and singing under the nearby Route 146 overpass, my hymns echoing in a way no other surface grants. Thank you muscles and brain, lungs, legs, and feet!
Now my 50s: In summer 2012, I started swimming in my large pond, looking forward to late spring dips and floats, even a few laps for good measure. I felt better, looser, connected with nature and my natural self. At 55, grateful that I could gain membership to my local Resource and Activity Center, plus another town's senior center (go bocce clubs!) where yoga was being offered, I joined the Pilates Stretch and Tone class. Fellow seniors at my center are perpetually kind and friendly. I believe it's because activity makes them shine inside and out.
I've discovered a fountain of youth in the attendees. For three bucks a pop, at a wonderful come-when-you-can class schedule, the moving forces of women (the majority are women) who've been at it for 12 years together is like my pond swim — natural and rhythmic. These dames' stamina and dedication to keeping limber and living is a testament to their youth inside. A courteous formula of no competition blended with full-on encouragement — "Keep coming, Honey, you'll get it!" — sweeps me up in care. Yes, improved circulation and range of motion are our results, but the social support, the smile or wave, the friendly compliment — these are my electrolytes and endorphins.
Last night, my Tuesday yoga teacher repeated the invitation to feel the swirl of air in and out of our nostrils. "When else do you EVER get to do such a thing?!" she chirped as we extended ourselves into the air, adjusted consciousness and broke those old body beliefs wide open. When indeed? When I suit up and embrace the wonders of fitness. There I attain a lightness that only comes with my effort to attend, moving in unison with others, laughing at ourselves, lifting our mutual spirits.
Jane Allard enjoys the "senior miracle" of the moving, living community of health activists she discovered at age 55.
And Just Who Is the Supermodel?
By Thea Iberall, Ph.D.
I have a picture of my mother last year with Heidi Klum, the blonde supermodel and TV star. We were in Heidi's trailer on the Warner Bros lot in Burbank watching her prep for a commercial shoot. Heidi and her makeup entourage gathered around my mother who was wearing her "Kiss Me I'm 100" T-shirt. They wanted to know her secret to aging well.
My mom laughed and told Heidi about the gin-soaked raisins she eats every morning to ward off arthritis. Then she talked about the raw apple cider vinegar she takes before every meal to overcome gas. And the walnuts and blueberries and probiotics. The classes and crossword puzzles. How she plays bridge and Scrabble. She even mentioned setting a world record in swimming when she turned 90 years old.
I sat thinking about all she didn't say. She didn't tell Heidi about the Thomas Carlyle poem we share every morning. Or the way I hug her so hard I stretch out her back. It's crooked like the letter C. Her heart valves are leaking; she can't hear much. She has to be kickstarted in the morning — eye drops for dry eyes, a nitroglycerin patch for her heart, hearing aids to hear. But she doesn't complain and looks and acts thirty years younger. We laugh about her physical state. She finally started using a cane a few months ago because her knees are getting weak. But she never dwells on her aches and pains. When other people in the retirement community talk about their physical problems, she changes the subject and tells everyone to dwell on human kindness.
She's lived a life of community service from Campfire Girls to the National Council of Jewish Women. She tutored Russian immigrants in English as a second language. In 1974, at great risk to herself, she smuggled letters and money to Russian Refusenik Jews in the Soviet Russia. In the 1930s, she picked my father out of the eligible bachelors at a dance hall because she wanted smart children. They were married 62 years before he died in 2002, a marriage that coped with World War II rationing, my sister's polio, my other sister's manic depression, my father's job insecurity, anti-Semitism, and multiple moves. She says her secret is a positive attitude. I say it's her curiosity and sense of humor. She's always asking questions. She lives in her passion. At an event last year where she was honored, people got up one by one to tell stories about her. At the end, she only had to thank everyone but instead, she launched into her favorite topic — getting music into the elementary schools.
Her younger sister had everything you can think of wrong with her and then some. But she also shared my mom's sense of humor. The two of them would spend hours telling jokes to each other. I rolled my eyes when they got to the risqué ones. My aunt died at age 93.
My mom gave up swimming because of a rotator cuff problem. After that, she walked on the treadmill for exercise. When that got too much, she switched to Wii virtual bowling. She was the first in the family to break 200.
Every morning, I go into her bedroom and check to see if she is still breathing. We kiss twice on each check and say the Yiddish word for delicious, geschmack. Then she recites the Thomas Carlyle poem she learned in the 4th grade:
So here hath been dawning another blue day.
Think wilt thou let it slip useless away?
She grabs my hands and together we say, "No way."
Heidi Klum may be a supermodel. But when it came to Halloween last year, Heidi dressed up like a 100-year old woman. I think Heidi would agree: It's my mother who is the supermodel.
Dr. Thea Iberall is a writer and scientist, whose novel, The Swallow and the Nightingale (Strong Voices Publishing, 2014) is about a 4,000-year-old secret brought through time by the birds.
Walking in the March of Time
by Mark Mathew Braunstein
I became an old man in the blink of an eye. At age 39, I experienced instant old age when I dived off a footbridge into a river and did not land right. The impact broke my back, which injured my spinal cord, which paralyzed me below the waist.
A quarter of a century later, I am facing induction into the ranks of senior citizenry yet again, this second time so gradually and so subtly that I barely notice its incremental steps. Deaf to the faint ticking of my biological clock, I also am blind to the wrinkles etching that familiar face that greets me every morning in my bathroom mirror. Perhaps that steamy mirror works like a facial cream that claims to eliminate only the appearance of wrinkles without claiming to actually remove the wrinkles themselves. Attendants at museums and theaters who view me directly nevertheless grant me admission discounts. Unlike my mirror, they now officiate my status as an elder.
More poignantly, my generation now is succumbing to fatal illnesses associated with old age, and the pages in my ledger of lifelong friends are dwindling. In recent issues of my college alumni magazine, the obits for my fallen classmates outnumber the entries boasting the meager accomplishments of the living. My senior class has ripened into senior citizens.
We can brace ourselves when facing the loss of family members and friends as they age and die. Meanwhile as we age but do not yet die, we must adjust to our loss of bone density and muscle mass. As we learn to act our age, we no longer may be able to ski the Laurentian Mountains or to hike the Appalachian Trail or to run the Boston Marathon. Instead we can walk half a marathon, or halfway around the block. No matter how brief our action or short our distance, we all enlist in the march of time.
I do not observe the march of time while seated on the sidelines. In the physical rehab ward, I took a stand against spinal cord injury. I began to creep, then to crawl, then to stand up and inch forward with the aid of a metal walker, then to walk slowly with leg braces and crutches. While I relinquish title as a healthy and sexy sexagenarian athlete, I instead lay claim to being a healthy and fit sexagenarian paraplegic. I use a wheelchair at home, but outside my home wherever I go, I walk.
Whereas I previously backpacked the Grand Canyon from rim to river to rim, and ascended several presidential summits of the White Mountains, I now am happy to go for a walk just down the block or along the woodland trail behind my home. My walking is like your cross-country skiing, all uphill. That I have not suffered from most of the grave health complications of paraplegia, I attribute to my high raw vegan diet and to my full body workout while walking.
Often climbing stairs rather than nearby elevators, I embarrass those lazybones who take the elevators. When standing still, I need grip only one crutch, so can employ the other hand for chores. Bystanders offer me a helping hand when they see me clumsily bagging produce and haphazardly placing the bags into my cart, but I politely decline and explain that food shopping is an integral part of my exercise program. While my gait with crutches and leg braces is always slow and sometimes unsteady, nevertheless I walk. One of my greatest joys is walking in nature, whether the desert or a forest, whether the seashore or a city park. As a born-again pedestrian, I enjoy walking even in a parking lot. I probably would enjoy even walking the plank.
If we were to rank one form of exercise above any other, that likely would be walking. While calisthenics, aerobics, gymnastics, athletics, aquatics, and acrobatics may build greater strength or more agility or longer endurance, we hardly engage in any of those as consistently as we do walking. Indeed, walking is what gets us to the gym or to the track or to the pool and then back home again. Even walking into and out of cars is still walking.
Walking is our most ancient mode of transportation, and our most basic. By the time you are one year old, you take your first baby steps. By the time you are two, your walking needs little guidance or assistance. By three years old, you are a master. As a master walker, you do not need walking shoes or running shoes or any shoes. You need only your two feet.
The health benefits of walking are well documented. Walking at a moderate pace for merely half an hour daily boosts energy and stimulates metabolism and circulation throughout our day, and can lower blood pressure and reduce the risk of diabetes and osteoporosis throughout our lives. Recent studies have confirmed what has long been assumed, that walking is a stimulus for creative thought. (Many of the ideas for this very essay dawned upon me while walking in the woods.) Psychologists further counsel that we can walk our blues away, that going for a walk guards against stress and depression. Just thinking about not walking should be enough to make anyone feel stressed or depressed.
No need to weep nor to workout when we can walk. Modern medicine has intervened with new and remarkable ways to prolong our verticality. Thanks to joint replacement surgery, the elderly now can remain ambulatory, whereas previously their arthritic knees landed them in wheelchairs, or their fractured hips delivered them to their graves. Less than 24 hours out of surgery for hip fractures, patients are led out of bed and made to walk, albeit very short walks just around the hospital bed. Expressed in an idiom of the Sixties and apt advice for aging hippies in or past their own sixties: Keep on Truckin'.
As we creep toward that final stage along life's way, if our walking weakens and falters we can resort to mechanical aids to bolster us. First a cane, then a crutch, then two crutches, then a walker. If we become so infirm that we can walk only from bedroom to bathroom to bedroom, walking will remain the one physical activity to which we glorious elders will cling until the very end of our lives. But if blessed with healthy aging, the more fortunate among us will go walking to our graves.
As we age, we may walk and fall, and walk and fall, and walk and fall. But better to walk and fall than no longer to walk at all.
Mark Mathew Braunstein is the author of three books and contributor to many magazines, including Backpacker, Natural Health, Vegetarian Times, and the disability monthly New Mobility.
John Harvey Gray's Secret to Healthy Aging
By Lourdes Gray, RMT, Ph.D.
Over our many years together, I watched John Harvey Gray tell our Reiki students about the benefits Reiki self-treatment would provide for a long and healthy life. John would explain, "Reiki helps to bring balance and healing to all aspects of the self … physical, emotional, mental and spiritual." He would continue, "Practice Reiki self-treatment every day. If at the end of six months you do not feel significantly better, then quit if you want to. I've outlived all members of my family by many years, but it is not how long one lives that really matters. What really counts is the quality of one's life."
I often heard John say those words and knew they were true. However, John's many years of practicing Reiki had also brought out another ability in him that significantly contributed to his real secret of healthy aging. It was his practice of being truly in the present. He had learned how to live in the moment, finding delight in all the little things that take place in daily life — working in his vegetable garden, going for a car ride, cooking breakfast, spending time together with me, relaxing around the house, going to the bank and saying hello to the bank teller. Everyone loved him. The bank tellers would later tell me that whenever John walked into the bank, that was the highlight of their day. John truly enjoyed being in the present, finding joy in simple moments. He would bring a smile to anyone he met. John touched many lives; he was not just living, he was truly alive.
Of course, life brought challenges, but I never saw John dwell on the past nor worry about the future. Whenever facing a future challenge he would say "Why not think of the future in the way you would like it to be and send that energy forward?" There's an old Taoist tale about a man who is being chased by a tiger. He comes to the edge of a cliff and jumps. This leaves him dangling in the air, half way down the cliff, hanging for dear life from a small branch. The man can't climb back up because the tiger is waiting for him at the top. He can't climb down because now there's another tiger at the bottom of the cliff, also waiting for him. To make matters worse, two rats appear, one black and one white, and start gnawing on the branch. The man realizes that if the rats keep gnawing, the branch won't be able to support his weight and he will fall. Suddenly, the man sees a red plump juicy strawberry growing on the cliff, not far from him. He loosens his grip on the branch, hangs onto the branch with one hand and with the other seizes the strawberry, eats it, and finds it delicious!
The tiger at the top represents the past, to which we can never return. The tiger at the bottom represents the future, which will eventually lead to death. The branch represents the present moment that lies between the past and the future. The two rats, one back and one white, represent the passage of time, night and day. The rats gnaw at the branch, making it weaker, bringing the man closer to death. The strawberry represents all of the amazing beauty and gifts that life makes available to all of us every day. To pick the juicy strawberry is to seize the present moment, to be awake, to be alive and enjoy all of the amazing gifts, big and small, that life brings to each of us every single day, no matter what else is going on in our lives at that time.
Knowing how to live in the present moment was truly John's secret to healthy aging, his gift to me and to all of his students.
Lourdes Gray was initiated by John Harvey Gray as a Reiki Master Teacher in 1996 and serves as the director of the John Harvey Gray Center for Reiki Healing in Rindge, NH. John Harvey Gray passed away in 2011 at the age of 93.
I Choose Vitality
By Betsy Bragg
At every moment we're either living or dying. We can either eat something that gives us life or eat something that takes life away. We can take action that invigorates us or action that deteriorates us. We can have thoughts that inspire, excite and fill us with joy or we can have thoughts that make us despondent. Any decisions we make regarding our eating, exercise, sleep, mindset or surroundings affect our life.
As Hippocrates, the renowned 5th century Greek physician exclaimed, "Let food be thy medicine." He predicted that the future of medicine would be based on natural foods, vegetables, herbs, exercise and a positive mindset to unblock our stagnant mind, body and spirit.
I agree with Hippocrates. I believe that our bodies speak to us everyday. A sore throat, headache or tiredness tells us what habits have been holding us back from leading our life with more potential. In fact the leading causes of death are chronic diseases, which are lifestyle diseases, such as heart disease, cancer and diabetes. Most of these can be reversed by changing our lifestyle.
What will your last ten or twenty years be like? Vitality or sickness. I choose vitality.
If this sounds simple, it is. All it takes is turning one's back on a lifetime of advertising and indulging in sugary foods and toxic drugs — yes, I mean prescription drugs. Okay, it may be simple, but it is not easy. However, it can be done.
Crippled with arthritis and substance abuse (alcohol, food and prescription drugs), I made my choice in 2006 as a result of a life changing experience at the Hippocrates Health Institute in West Palm Beach, Florida. Twenty-one days of vegetables, exercise, education and a very supportive community reversed the arthritis and lifted my cravings for alcohol, unhealthy food and prescription drugs for the first time in my life. I had never felt more fit, spiritually uplifted and filled with vitality. I returned the next summer and learned to prepare delicious, nutritious raw vegan dishes as an intern in the kitchen. The following summer in 2008, I returned again to Hippocrates for certification as a Health Educator. I was immediately hired as director of the non-profit Optimum Health Solution. Its mission and my passion is to heal myself and heal the world by preventing obesity, chronic disease and malnutrition through the education and advocacy of healthy living, one person at a time.
At 80, I have made the choice of good health by paying attention to my spiritual health, mind-body connection, cleansing, nourishing the body through proper eating, juicing, limiting exposure to toxins, exercising, meditating, opening my heart and giving to others. Most important, however, is the empowerment that results from taking the responsibility for my beliefs. In other words, I believe that the mind or soul is the primary source of optimal health. Through practicing this lifestyle, I am "youthing." I strive daily to remove any blockages that prevent my ability to tap into my true self and unlock my innate potential to achieve optimal health.
How do we begin this journey? We must naturally start with understanding ourselves. Start by writing down your passion or mission for life, three goals for the next ten weeks that will help you to achieve it and make a commitment that you are going to follow through with them. It starts with beliefs, as Mahatma Gandhi said:
Your beliefs become your thoughts.
Your thoughts become your words.
Your words become your actions.
Your actions become your habits.
Your habits become your values.
Your values become your destiny.
Healing requires an outright refusal to remain trapped in negative thought patterns that undermine us. Our thoughts do indeed create our reality, or our experience of reality. The primary element of healing is self-responsibility. When we proceed with positive intention, we reconstitute our resources from within, tapping that deep well of healing wisdom to forge a brighter future.
Betsy Bragg is the Executive Director of Optimum Health Solution in Waltham, MA.
Finding Strength in Vulnerability
By Marilyn Taylor
As a massage therapist for many years and a life coach for the last 15, I've witnessed many challenging times with people. However, my experience as a caregiver was where my greatest life instruction took place. The journey and the teacher will never be forgotten.
That teacher was my sister Joan. Joan was 15 months younger than I and was born with Down syndrome. She always felt to me like she was more than my younger sister; she was my soul sister. At an early age I had heard that people with Down syndrome died young, and as a young child, I didn't really understand what that meant. So I spent a lot of my early life wondering when Joan was going to die. Sometimes as a child it was paralyzing for me because I was reluctant to be away from her for any length of time, like going to summer camp for a week. Actually, Joan was extremely healthy. She was healthy in body, mind and especially in her spirit. As I grew older, I understood that her death wasn't imminent, but the fear of losing her kind of stayed with me. I couldn't bear the thought of Joan dying; I thought for sure I wouldn't survive.
Joan was an incredible person, as many people with Down syndrome are. She was incredibly happy, compassionate, loving, spirited, and lived with a kind of zest most of us would like even a smidge of. And after both of us lived a good 50 years — and we had many great experiences with and without each other — Joan started to decline. I had envisioned for many years that she would just quietly become less of herself, her body and soul leaving without a complaint. Challenging circumstances in life generally have no clear game plan; we have to adapt as the experience unfolds.
As Joan's life was declining, my parents were showing their own signs of growing older. As we had planned years earlier, we decided it was time for Joan to come and live with my family and me. Like many people my age, my family was in constant transition during this time. My daughter and her husband had moved back in with us to save money, my son had also moved back home during a transitional time in his life and within a week our household had increased by 4 more people. Oh, did I say that my daughter was also pregnant with her first child. Such excitement afoot!
I didn't realize at the time that Joan was beginning a slow but very steady decline into Alzheimer's, and all the sadness and complications that accompany that disease had arrived at my doorstep. Over the next 3 years it felt like each day brought with it new challenges. She began having seizures that were very difficult to control with medication, her body being taken over in a heartbeat with ravaging force. It tore my insides apart to see her in this state. One minute I had the day all planned out, people in place to help, and the next minute, whoosh, I had to make a new plan. For me, along with losing my sister, I was also losing control over my life, as I knew it.
As I started to see the end in sight for Joan, I felt incredibly vulnerable. Beyond what I had already done, I realized I felt powerless to change the course of her life and mine. But Joan had more in store for me. Of all the gifts she shared with me in her life, she was going to part with this final gift. She taught me that my love could get bigger, that I could feel weak and vulnerable, and my love could get bigger. She knew that I needed one more nudge, or maybe I should say push, to let my heart grow bigger. I used to say to my husband, "When Joan dies you will have to scrape me off the floor." And I was right, but, not because I couldn't get up. It was because I had to surrender to a place of incredible heartache and pain. My heart grew bigger and I felt stronger, a full participant in the final chapter of life with Joan. I understood that she was calling me to connect with my brightest light within by going to my darkest corner.
How did I enter into this space with my dear sister that I loved so very much? I chose to write. This experience was immensely helpful to me because I chose to write about the qualities that I felt were supporting me in this journey and I knew they would empower others: being calm, clear, confident and courageous.
Calm. I found ways embrace some moments of calm each day. I really enjoy the music of Deva Premal and would play some of her chant music and chant along. The repetition and toning was extremely calming for me. I found the inner smile exercise to immediately shift how I felt at times. Imagine your heart smiling. Allow a very small gentle smile to come across your face. Repeat as often as necessary!
Clear. Clarity came in the form of patience, acceptance and being present with the challenges in the moment. The next moment it would be different. I also decided to use water to help me clear the confusion and cobwebs. Whether I was drinking a glass of water or taking a shower, I reminded myself to let go, get clear. There is a waterfall at the end of my road that I would walk to. Listening to the rushing water, I would envision being grounded, rooted to the earth and finding fluidity in the sound of the waterfall.
Confident. I began to invite into my life a deep sense of trust that regardless of what happened in any given situation, I would survive and thrive by being more present to the experience. Self-talk was very powerful for me to build my confidence, so when I would catch myself saying, "I'll never get through this." "I feel so alone and scared," I would do my best to replace those with, "Everything will work out for the highest good." "I am taking good care of myself during tough times." It was critical for me to surround myself with positive, loving people. There is no place for naysayers, or people who drag you down when you are stressed.
Courage. I tried to examine what my fear was all about, how much was real, and what was I dramatizing or imagining. In looking to move past my fear, I often thought of people who have been through incredible hardship and came through offering their message of strength or inspiration. Journaling was helpful in having a place to dump all my worries and fear down on a piece of paper. This practice reminded me to check in with myself, to live from a place of truth within myself, not the opinions of others that I sometimes found very undermining. My actions and decisions were always best when I made them in Joan's best interest, that voice coming directly from my heart, apart from the word "should."
Vulnerability is a transformative experience and has an energy all its own. The best advice I would have for someone about being a caregiver is to trust your gut, your wise voice to guide you on this journey. There is no one way to follow, but many ways to the final destination.
Marilyn Taylor is a certified life coach, workshop facilitator and owner of Confident Directions in Southborough, MA.
All Grown Up and Moving in with Mom and Dad
By Linda Champagne
I turned age 65 in May, 2014. I am now considered a senior. Two years ago, I left my professional life and home in Arizona and moved into my parent's home in Massachusetts to care for them. They have lived in their home since I was in second grade. Moving into my childhood home felt a bit unsettling, but I knew it was the right thing to do at that time in our lives. Little did I know that this job was going to take me on a physical, emotional and spiritual rollercoaster ride.
Both my mother, age 86, and my father, age 88, had taken good care of themselves throughout their lives and were still mall-walking five days a week until my father got sick at age 82. Dad got depressed after the death of his beloved dog and did not recover in spite of medication and family support. Within a few months, he showed signs of dementia, and as he slowly lost his ability to perform his family responsibilities, my mother resentfully was forced to take over duties she had not done in years.
During phone conversations and visits over the next years, I noticed that everything was starting to unravel. The light, love, laughter and care for each other and their home was deteriorating and there was no way, without assistance, they could come back to a level that would meet their basic needs. After months of looking at my choices, I suggested that I move in with them to offer support. My mother was thrilled and relieved. This move would benefit me as well, since I yearned to live closer to my three daughters and granddaughters who lived in New England.
So begins the journey of maintaining my life while experiencing the demands of becoming a full time caregiver. Like many people, I have worked on healing habitual patterns stemming from the past and have evolved into a somewhat healthy adult. What I quickly discovered was that healing was a lifetime process and if I thought I was done with it, I was delusional!
The first few months were a lot of fun. Mom was starved for socialization (my father stopped wanting to leave the house) so we spent a lot of time going out for meals, shopping and visiting friends and family. My healthy lifestyle was already being tested with lots of restaurant food and with cooking their familiar comfort foods at home. My parents were used to eating lots of beef, bread and potatoes, which I had not eaten much of in years. My exercise routine (which was almost daily) started to slacken as well. I was not finding the time to go to the gym classes that I used to enjoy. At the same time, I was aware of all these personal challenges but I thought I would get it together soon.
In January, 2013, a friend offered me a 20-hour a week marketing position which I quickly accepted. I was now going to get a little balance in my daily routine. Within six months, my mother's heart disease and a swallowing problem worsened and she was admitted to the hospital for a week. With this new occurrence, I decided that I did not have the energy or the time to do both jobs. Slightly resentful, I stepped back into the role of full time caregiver to both parents. I also hired a home health company to provide personal care assistance for my parents and some relief for myself.
Noticing feelings of resentment and occasional anger, sometimes leading to anxiety, I wondered where I was. People kept telling me how blessed I was to be able to care for my parents in their end years. Somehow I did not feel blessed; I felt persecuted! I knew I had to try to remember all that I had learned throughout my adult personal healing journey. To wake up, come back to the present, get out of victimhood and tune in to the healthy adult that I am, filled with love, honor and respect. Where did she go? How easy it was to lose my footing, to slip back into the past and be the little girl who had no self-esteem or power, whining and complaining about how unfair it all was!
It took some time, but I recognized my emotional connection to past drama and realized that the person who was experiencing all of that pain was not me. She was the ghost of the past. I was able to fully accept the present, that is, no longer resist this mission that I had chosen. I began to walk daily — rain, shine or snow — adding yoga stretching at home. I started cooking healthy soups and stews, which I enjoyed while continuing to make comfort foods for Mom and Dad. I was feeling empowered as I took control of my daily life, all of which changed my attitude for the better. I was able to care for my parents with more love and compassion, seeing it all as an opportunity to share this special time. Mom was so grateful that I was living with them and that I was able increase their quality of life. I finally felt blessed!
I wrote about the inner peace that I was beginning to feel in my daily journal. I also wrote about periods of fearful emotions and worry over what my future held when caregiving was finished. I would remind myself to come back to the present, look around, feel the sun, hear the birds and trust that the future is based on how I am living life right now. I committed myself to a spiritual practice of living in the present and being grateful for all that I could. I am learning to keep my attention on peace, love and joy as opposed to the continual focus on concerns for career, money, family and relationships, and to trust that my life will fall into place according to a divine plan.
My mother passed away in a peaceful sleep in August, 2014. I thought I was all grown up when I moved in with my parents, yet within these past two years, my life has evolved into a higher understanding of what it truly means to experience life as an adult. I am still living with Dad who needs assistance with all aspects of daily living, yet my compassion and love for him fills my heart in spite of the fact that he keeps asking me when I am going home.
Linda Champagne, M.Ed, is a life coach astrologer specializing in awakening the spiritual self.
12 Steps to Invigorated Aging
By Sparrow
1) As you age, your life contains more nouns and less verbs. The books and trophies on your shelves grow heavier, dustier. You must fight the inertia of time. Verbify yourself! I once read that the average housewife walks 2.3 miles a day just around her house. This strongly influenced me. I decided to hike as much as possible in my apartment, to constantly manufacture new tasks for myself. Now I spend my day sharpening pencils, washing two or three dishes, beginning to make the bed then remembering a poem I've composed but haven't transcribed, such as:
Heard In A Dream
"My scale is worth more than your gold."
— then pacing over to my computer to write it down. Then I hop up again to clear off the kitchen table!
2) Be willing to look old. Aged faces can be gorgeous. We live in a culture that despises the old but loves antiques. Try to resemble a Victorian lampshade.
3) Writing palindromes is the secret to mental youthfulness. (A palindrome is a word, phrase or Supreme Court decision that reads the same backwards and forwards.) At night in bed, just before falling asleep, I often practice this genial artform. Here are some recent compositions:
Noses on!
Tipsy, my spit.
No! Help pin a nipple, hon!
Do not refer to Nod.
Blurt out: "Tuotrulb!"
Da, Lassie is salad.
In words drown I.
No, man; nice cinnamon!
Sex is sixes.
Thinking in two directions at once strengthens both halves of your brain.
4) Vary your walking speed. Walk slowly and thoughtfully, like a rhinoceros, for a while — then skitteringly, like a sandpiper.
5) Strategy for Aging
When
I get
dementia,
my poems
will
improve.
6) Touch trees. Humans have faces in the front, but trees have 360° faces. Close your eyes and learn the Braille of a tree's skin.
7) Play the tonette every day. (Do you know what a tonette is? It's a plastic flute-like instrument that essentially anyone can play. My tonette has seven holes, plus one in the back, which seems to add an octave. I only use mine outdoors; in my opinion, music should be unconfined by houses. I live in the Catskill Mountains, between a mountain and a stream. The mountain is called Romer Mountain. The stream is called the Esopus. I walk outside, usually in the afternoon, and play my tonette for two or three minutes — quick avant-garde noodlings, or slow songs that sound like exercises for 8 year olds. The notes I play rise up into the alert Catskills air.
A bad musician is still a musician. Though I have no "talent," I am still a tonette player! No one can deny that!)
8) Cook happy food. Some food is inherently happy. Today I made a salad: Romaine lettuce, sliced red pepper, fresh green beans, black olives, artichoke hearts. This is happy food. (Incidentally, I find that I require at least one salad a day for fine health.)
9) But also prepare other types of food! Food, like art, should be various. Just as you wouldn't want to see only orange paintings, you need non-happy foods. Learn to cook solemn breakfasts, envious lunches, zealous suppers.
10) One way to stay warm in winter: walk outside. My wife and I keep our house quite cold in the winter — sometimes as low as 50°. But if I'm cold, I just walk outside. I return invigorated, plus the house will briefly seem outlandishly warm. Violet and I get sick much less than other people by living in the cold. Americans drive themselves into illness through heating and air-conditioning. Which reminds me:
11) Cure a cold with potatoes. Around 1980 I discovered the cure for the common cold: fried potatoes. French fries work best, but potato chips will suffice, if necessary. I have no idea why this occurs, but I passed this remedy on to my daughter Sylvia, who also found that it works.
12) Do yoga with your hands. Study a book — or website — of yoga postures and reproduce them with your hands. Do the Downward Dog with your left hand while your right hand performs the Sun Salutation. This will add 3.7 years to your life.
Sparrow lives in the secluded hamlet of Phoenicia, NY, in a doublewide trailer and on Twitter @Sparrow14. His latest bumper sticker is: Where Is Robin Hood Now That We Really Need Him?
People Who Help Me Care
By Alex Lemski
I am a senior and also a paid caregiver, aka, PCA, a Personal Care Assistant. At 71 years old, I have been doing it for 20-some years, now semi-retired with a part-time position. I have no license, but have had exposure to CPR and blood borne pathogens classes when working in group homes for adults, as well as a Sociology degree. There are two adult children in my life in Colorado, one granddaughter, and I am in a darn good personal relationship now, having moved to Cambridge from New Jersey in 2012.
My current client in Somerville is a man in his early 50's with multiple conditions, wheelchair bound, plus a walker. Prior to him, I assisted a woman from Cambridge with multiple conditions, also in her 50's, and bound by a walker much of the time. And before her, I worked with an 81-year-old gent from Braintree, legally blind and a stroke victim with conditions that ultimately took his life.
I have worked with youth, too, but found that my personality and abilities were more compatible with older people, especially seniors. They seem to respond to me likewise. I've worked for both private social agencies and independent families. I continue because I am people-oriented, and Social Security plus a modest pension isn't enough, especially in Cambridge (smile).
I'm not necessarily an expert in one or two conditions but exposed to many different ones from which one learns a lot. My philosophy is an equal mix of what can I do (job description) along with human outreach and relationship with a client (and family, never neglected). We can be friends, too, I hope, so let's see? Gently, gradually.
Sometimes I've learned a client doesn't want that, at least in the beginning, though interacting is appreciated, so one keeps on their toes to prevent problems or serious disputes from arising. The person (sometimes in the "industry" they're called consumers and I despise that) shouldn't be pressured. Go with the flow since you work for them — you're not the tax collector. Ultimately you're trying to create give and take openness as best and easiest as possible, yet respecting the client's person, space and condition so that they understand you and can appreciate what you have to offer.
It's a learning curve, as the client must eventually come to rely on you for daily or necessary needs, and it's not guaranteed you'll be welcomed with confidence when you're not family. It takes time to learn the ways and means, personality, habits, techniques, needs and desires of an individual.
Yet, as a senior myself, and one who is in decent health, on the vegetarian and natural side of life, but older so I have my own health to monitor and take care of, I can be an asset to a senior client because I am of their generation and understand them, sometimes been there, done that, had it. I want them to live well as best as possible and continue to grow.
Despite this, it has taken me many months to find work once I needed it again. I've been told males do not fit the profile of a caregiver, even with male clients. Then I'm sure my age affects families who review me; being older I can't lift as much as before, nor do much transferring, nor do I possess the exacting skills required for acute conditions.
I take my caregiver experiences seriously and proudly, yet I am informal, too. I've been fortunate to be associated with wonderful people and families who help me care.
Keeping Busy
By Brent Higinbothom
I'm older than I care to reveal, but newly met people tend to knock about ten years off my age. I think their first observation is my fairly full head of brown hair (no gray, for some reason). I'm reasonably trim, stand straight and tall and move about easily. But I suspect the subliminal reason people see me as younger is a youthful energy and attitude.
The energy comes from keeping busy. Here at the home I share with my brother, who has yet to retire as I have, I am the "housewife." I cook, clean up, do the dishes and laundry, vacuum, dust — all those formerly distaff chores — plus I'm Mr. Fixit, with a garage full of tools and a mechanical knack.  In the summer I tend to my flower garden and walk. In other words, I am not sedentary.
I've been a yoga student for a good seven years or more. This keeps me limber and flexible. But equally important is its social aspect. I look forward to my gathering of wonderful friends; being the only male most of these years, I'm happily the class pet. The ladies and I share plants and vegetables in season, recipes, and laughter all year.
The rest of the social element includes my vibrant Bohemian girlfriend, an array of bright, upbeat buddies (some of whom comprise a regular dining out group), and one or two nights out per week performing as a professional musician with an R&B dance band (no sleepy background Muzak!), mingling and chatting on breaks.
I admit there may be an occasional cigar and bourbon, because I enjoy those solitary, relaxing moments. We are not required to surrender all our guilty pleasures be it wine, fried chicken, caffeine or baklava. Happy is a big part of healthy, as yin is part of yang.
As someone said, "All things in moderation — including moderation."
Aging Joyfully
By Donna Eden
I started the New Year with a weekend workshop showing how energy medicine can be a powerful resource for aging joyfully. It was my first time teaching this topic and it was a wonderful class. I thought I'd share with you, for your Healthy Aging issue, some of the points from the first page of the 40-page handout.
To stay vital, four major systems that need extra attention as you age are:
1) You need to be bathing your cells, muscles, organs, and bones in energy that keeps them invigorated. You can stimulate that energy.
2) You need to be bathing your nervous system in energy that keeps your brain vital and body fluent. You can stimulate that energy.
3) You need to be producing hormones that keep your body buzzing at an optimal level. You can stimulate energies that support this.
4) You need to keep your free radicals from running wild. You can stimulate energies that support this.
The core techniques of Eden Energy Medicine will work on any body — whether an infant, an adult, or an older person. These techniques can, however, be selected and focused on issues that predictably emerge with age:
1. Staying energetically balanced
2. Keeping your mind sharp
3. Releasing stress and distress
4. Keeping your spirit radiant
5. Keeping your body flexible
6. Managing pain
7. Ensuring restful sleep
8. Preventing or overcoming illness
9. Energizing yourself every day
We are wired to become mentors and sages in our elder years, not to become consumed with breakdown of the body. Energy medicine offers tools for staying vibrant throughout your entire life.
Donna Eden has taught some 80,000 people worldwide, both laypeople and professionals how to understand the body as an energy system.
Soothing a Broken Heart
By Magdalana Siegel
I've had many challenges. I was widowed at 34 with four small sons to raise, found love again at 50 only to have my heart strings pulled up and out by betrayal. We keep going even when we think we can't. Having begun my spiritual journey at 20 studying Buddhism, I have always felt incredibly blessed to have supportive, loving friends and family. One either shapes fate or becomes its captive.
I'm not quite certain what healthy aging feels like at 64. I'm hard pressed to know, but I think it might be being able to make a joke about something that was once breaking your heart. Nothing is worth more than this day.
Tips on Aging
By Loretta Dixon
My good fortune was to have known numerous elders as I was growing up. As I age, now 84, I am trying to emulate them. Strength training, yoga and walking are my regular routine. Healthy eating with an emphasis on fruit, vegetables and fish help to control my weight. Fortunately I have normal to low blood pressure. Playing bridge weekly with delightful companions, quilting with others, and attending theatre keeps me busy. I try to have a positive attitude toward aging with an emphasis on laughing as often as possible.
Well-Aged
By Elizabeth Lemke
I live with passion. I spend time with family and friends, have an active social life and make new friends. I exercise daily with Yoga and walking. For nutrition, I cook healthy food and am careful of my menu selections in restaurants. I see my doctor regularly and take my medications faithfully. I meditate and look for positives in life. I volunteer doing hospice work, resumes for people and collecting stuffed animals for foster children. I believe in myself and others. At 77, I am writing a motivational book.
My advice for aging well is to have a good hair stylist and doctor. Thank goodness, I have both!
From Croatia with Love
By Vesna Dye
At almost 62 years old, I am a Croatian woman who has lived for 30 years in America, 15 in California and 15 in Vermont. For the last three years I've been living in my first homeland, Croatia, having giving up my rented apartment, a car, jobs and everything else to be with my father in my hometown of Zagreb. He died five months after I arrived.
The recent years have been full of hardships, leaving me with occasional depression, arthritis and high-blood pressure. In spite of my doctor's advice to take pills for my condition, I refused them due to the side effects of various medicines that bring me more problems than my ailments.
I decided to take my health into my own hands and prescribed myself a therapy. The therapy combined yoga, swimming, walking, meditation, herbal teas, and above all, writing. Writing poems and stories for many years in both Croatian and English, I designed a special cure for my depression. I wrote and published a book of poetry in Croatian entitled Face Against the Window, dedicated to relatives and friends who passed away or with whom I have lost touch. Writing about people who left my life or passed away helped me heal myself. I find great comfort in sharing my poems with people who also lost their loved ones.
Not everyone needs to be an accomplished writer to share their personal story with others, as our human problems basically come from the same source. Illness always starts in the soul and affects the body. Old Greeks have a saying, "Healthy spirit in a healthy body." Nothing much has changed since ancient times; by healing our souls, we also heal our bodies.
For me, an important part of the healing process is rituals. In Croatia, we pay respect to our deceased loved ones by bringing flowers and candles to their graves. It is a common practice to visit graves not just for the November 1 Day of the Dead, but also for loved ones' birthdays, Christmases, Easters and the day they passed away. I developed my personal ritual to visit my parents' grave on the important days and read a prayer that I randomly choose from a booklet "Prayers for the Dead." I also recite the poems I wrote for them. I choose candles and flowers to match. Doing rituals helps me heal my sadness and also brings comfort that they are, in spirit, with me again.
My Good Health Recipe
By Suzanne Wicks
I choose to love myself and accept myself so that I may better love others. I sincerely feel keeping love in my heart and accepting people exactly as they are helps to keep me healthy.
Accepting my relatives is especially important. Even if they do not want to accept me, I choose to love and accept them. Forgiveness is also important to me. I am a Pisces and overly sensitive, in both a good and not so good way. For this reason, I have to be on guard not to get my feelings hurt. This also helps to keep me healthy.
As a medicinal herbalist, I have about 30 herbs growing in my yard. I make an antibiotic from comfrey and red clover, an external pain reliever from St. John's Wort, and an excellent bug repellent from my lavender. I make many different medicinal herbal teas and use culinary herbs from my garden all summer. I was taught that all the important minerals needed for an individual could be found in one's own yard. The plants draw these minerals, which are then passed on to us.
Gratitude helps to keep me young at heart. Almost every night I try to recount all the things that happened that day for which I am grateful. I try to be grateful for the challenges as well as the joys. It is the challenges that help to make me strong. I am grateful for the laughter and the tears.
I believe embracing life at its deepest spiritual level is very important to health. I am going to be 70 years old in less than 2 months. In order for me to embrace my life happily, I must know that I am a valuable human being. I am valuable because I am human. I am valuable because I can give love and receive love. I feel that many older adults become depressed because they forget how valuable they really are. We must continually remind ourselves of this truth.
I read many years ago that the human body is programmed to live for at least 100 years. I have accepted this as truth and I work at it every day. I do whatever I think I need to do to keep my body functioning at peak level. I try to walk briskly for 35 minutes a day, no matter what the weather. Sometimes I walk seven days a week, sometimes fewer, but I do something every day to keep physically fit. I shovel my own driveway and it's not small!
It is a proven fact that if a person is exercising her brain and concentrating, pain is lessened and sometimes even temporarily forgotten. Those who are depressed or with chronic pain often feel better while doing some kind of research or challenging reading. I do many things to attempt to stay healthy. Though it is a constant challenge and takes a lot of time, it's worth it.
See also:
Conscious Aging
Living Gracefully Through the Years
Find New England holistic Coaching practitioners in the Spirit of Change online directory.