Healthy Cinnamon Streusel Coffee Cake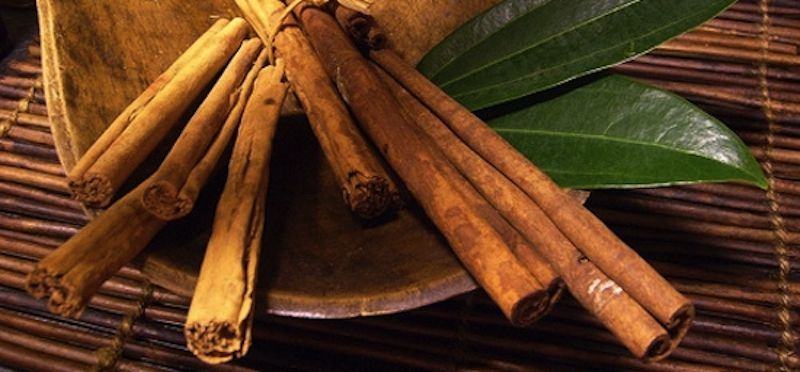 This cake is sure to please. It is completely free of all sugar and grains, yet it tastes just like the coffee cake you might buy at your local coffee house. Simple to throw together, it is delicious and healthy!
Ingredients:
1 cup almond flour
2 tablespoons organic coconut flour
1 1/2 tsp aluminum-free baking powder
1 teaspoon organic cinnamon
1/4 teaspoon sea salt
1/4 cup xylitol, powdered*
3 large eggs
1 tablespoon vanilla
1/4 cup high-oleic sunflower oil
Preheat oven to 325 degrees F and line an 8X8 pan with parchment paper, oiling the pan and paper lightly. Set aside. Combine dry ingredients. Whisk together wet ingredients. Combine wet and dry ingredients. Pour into prepared pan.
In a medium saucepan over low-heat combine:
2 tablespoons organic butter
1-2 tablespoon organic cinnamon
1 tablespoon xylitol
30 drops liquid stevia
1 teaspoon vanilla
dash sea salt
Once butter and xylitol are melted add 1-2 tablespoons organic heavy cream. Mix well and add 2 tablespoons chopped pecans. Spoon cinnamon mixture over cake batter and swirl it in with a knife.
Next combine the following in a coffee grinder: 2 tablespoons each of whole flaxseed, xylitol, pecans, organic cinnamon, dash of sea salt. Grind until powdery. Sprinkle over top of cake. Cut 2 tablespoons of chilled organic butter into cubes. Sprinkle over cake with 2 tablespoons of chopped pecans. Place in preheated oven and bake for 25-30 minutes or until a toothpick inserted in the center comes out clean
Cinnamon is our spotlight ingredient today. Medicinal use of cinnamon dates back as far as 2800 B.C. in Chinese writings1 and later in the first century A.D. 350 grams of cinnamon was equal in value to over 5 kilograms of silver; in other words cinnamon was 15 times more valuable than silver! Ancient Egyptians used cinnamon in the process of embalming, and physicians used cinnamon to treat coughs, sore throats, colds, and digestive upsets. Battles have been fought and lives lost over this spice that was once so highly prized.
Even after thousands of years of use we are still learning about the health benefits of this tasty herb that arouses the senses and passions (cinnamon is a known aphrodisiac!). It reminds us of Saturday mornings as children, awakening to the scent of cinnamon rolls baking in the oven, or of delicious Autumn evenings sipping hot mulled cider around a campfire.
Recent studies on the health effects of cinnamon have shown that it may help control blood glucose levels in type 2 diabetics2. One study published in September, 2010 showed that cinnamon bark oil had significant antimicrobial and anticarcinogenic properties, indicating great potential for treating topical infections3. (Always seek guidance from a knowledgeable healthcare practitioner; cinnamon oil may cause skin irritation if not properly diluted, and it has also been linked to miscarriage). Yet another study cites cinnamon leaf oil as containing "excellent anti-inflammatory activities", making it an ideal choice for many natural health products.
Like trying to obtain health benefits from any food source, cinnamon is thought to be best consumed in its whole form rather than in oils (though, as we can see from several of the studies referenced above that the oil does yet have health benefits). Aside from using cinnamon as a spice with other foods it can also be consumed as a tea either by adding powdered cinnamon to hot water, allowing it to sit for a few minutes and drinking (without stirring), or by adding a stick of cinnamon to your favorite tea or even a cup of coffee. Slainte!
*Coffee grinders work well to powder xylitol
References:
1. http://www.indepthinfo.com/cinnamon/history.shtml
2. http://www.ncbi.nlm.nih.gov/pubmed/20854384
3. http://www.ncbi.nlm.nih.gov/pubmed/20828600
About the Author
Megan Rostollan is a certified family herbalist and works with her husband David, a private natural health and nutrition consultant (www.reforminghealth.com). She is also the author of a blog which can be found at NaturalHousewifery.blogspot.com. Her areas of greatest interest include women's reproductive and prenatal health, as well as organic and green living and dietary and lifestyle changes.
Learn more:http://www.naturalnews.com/032094_cinnamon_cake_recipes.html#ixzz1JsLhwaQa