Herbal Tidbit — Garlic (Allium sativum)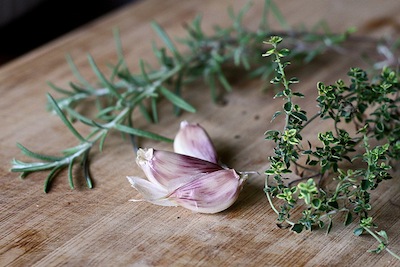 A universally known plant, garlic has been used for millennia as food and medicine. Because it is so common and inexpensive, it is easy to overlook its extraordinary ability to combat colds and infections. I often add chopped garlic along with ginger and scallions to hot chicken broth to shorten a cold.
Of course, garlic is an ingredient in Rosemary Gladstar's famous Fire Cider recipe which also includes grated ginger, horseradish, chopped ginseng root, cayenne to taste, apple cider vinegar and honey. Fire cider is warming and energizing and can be added to cooked foods and salads. It can also be used to address colds.
Garlic by itself is effective against both staph and strep infections.
Crushed garlic can be applied topically to get rid of warts and surface infections.
Unlike antibiotic medication, garlic kills pathogenic bacteria while leaving the good bacteria in our gut to thrive.
Garlic also does not elicit resistance. There are no garlic resistant bacteria.
Garlic oil can be used for ear infections. It is particularly effective when combined with mullein oil.
Garlic activates enzymes in the liver that destroy carcinogens.
It is used as a preventive for many kinds of cancer and degenerative diseases.
Garlic is also known to lower hypertension, protect against narrowing of the arteries and reduce excessive clotting.
When using garlic as food or medicine, always crush the garlic to release allicin, a chemical constituent that is active against fungal infections, including candida.
Garlic preserves well in oil or honey.
For bronchitis, Adele Dawson in "Health, Happiness and the Pursuit of Herbs" recommends crushing two cloves of garlic in a garlic press and adding it to one cup of honey. Take spoonfuls of garlic honey.
Years ago, I heard of an annual garlic fair where people brought all kinds of garlic products to display and share, including garlic ice cream.
Garlic flower essence helps to strengthen boundaries in those who are too easily influenced by others.
Herbs are everywhere – by our front door, in our back yards, along the streets we walk and in open spaces. Deciding what to use for our health problems has ecological and political significance. Pharmaceutical medications are found everywhere in our environment and have unintended, negative effects. Medicinal plants help strengthen our bodies and, as natural substances, make no extra demands on our environment.
The Boston School of Herbal Studies offers classes and training programs so that people can make informed choices about how to stay healthy. See our full schedule of classes, trainings and apprenticeship programs here.
The Boston School of Herbal Studies
12 Pelham Terrace
Arlington, MA 02376
781-646-6319
www.bostonherbalstudies.com
Also see:
Do You Love Garlic? She Loves You!
Garlic: An All-Star Winter Remedy
Find New England holistic Naturopathic Physicians in the Spirit of Change online directory.