Holotropic Frontiers In Inner Power
The culture-changing shift from power over to power with to power within has already begun.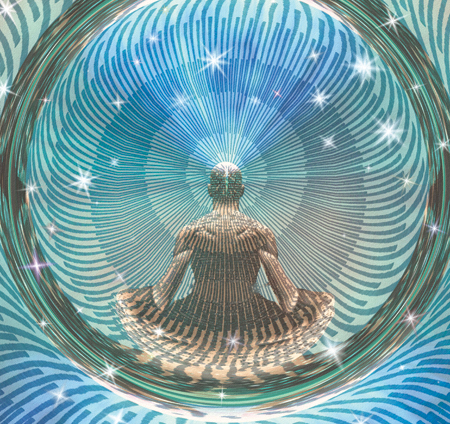 The first of the Buddha's Four Noble Truths states that all life is, or contains suffering. No kidding. Here is a principle on which we can all agree. The second truth says that that suffering is caused by unfulfilled desire or craving. Stated informally, the Taoist Lao Tzu offered that the Great Way is easy if we are not addicted to our preferences, to our personal desires. Almost all spiritual systems — as well as many modern psychotherapies — agree that one of our most basic and powerful human drives is the search for true happiness, freedom, and empowerment.
Most systems propose, in one metaphor or another, that one of the core causes of our suffering is that we are deeply mistaken about how to go about finding this lasting, authentic happiness. We all wish to confront this looming tragedy of disempowerment that has for millennia gripped planetary civilizations. As Morpheus told his disciple in the movie The Matrix, before he "unplugged" him from his imprisonment in the Matrix: "You've been living in a dream world, Neo." What seemed to make this movie series so wildly popular was that it struck a universal, or archetypal, chord.
It sounded a note that so many of us either consciously or unconsciously feel — most of us for our entire lives. This is that we have been misled by the current world dream. Because of this, we are unable to find our way to freedom. The glamour that binds us is daily rewoven. It is a spell of global magnitude. It is consciously or unconsciously reinforced by systems of thought, where the primary directive seems to be to prepare each new generation to be continually slotted into some subservient role in the global cultural dream experiment.
What fuels this so-called dream experiment? At least part of it seems to be the result of a wild, unchecked exercise in greed and power. This exercise is itself the result of a deep longing for happiness that has gone horribly awry. The dream experiment is what world teachers have been referring to in all spiritual systems in one way or the other. Some say that this world is nothing but an illusion — that it is false altogether — and that the purpose of life is to free ourselves from it completely. This proposes a great mystery for which, it seems, there can be no one answer. We might encourage a seeker to find out for herself, through her own authentic power within, the answer to this and other cosmic riddles.
Others say we need to awaken from the dream of Maya — to get free by recognizing that Maya is a great delusion or illusion. We also hear and read that this world as we see it is only an appearance of limitation and falsehood. We are assured that — perhaps freed from the bonds of linear time — we have the ability to experience it in a glorious perfection of which, at this point, we can only dream. And once having awakened, we can then be moved to serve others — to do what we can to help them be free of suffering as well.
Still others say that we live in a desire-fueled shadow play, a program, a matrix, a fixed, limited operating system, or a "dark city," as the modern film classic of this name suggests, fed by this addiction to power and greed. The result of this collective hypnosis is that we are blinded by the light of false promises that we are guaranteed can be fulfilled in our frantic pursuit of various addiction-dreams in the external world. Here is one of the most cruel of these false promises: If we just work hard enough, we can wrest from life, from the resources of the planet, and from other human beings, whatever we feel we want or need to bring us lasting happiness.
Two Possible Tragedies
The main problem with this fantasy was addressed in a quote by Oscar Wilde, and most teachers of spirituality would agree. "There are only two tragedies in life: one is not getting what one wants, and the other is getting it." In the case of the former, if we don't get what we want, we will be unhappy because of the pain of our continued wanting, our grasping, and the emptiness we feel when we don't receive the fulfillment of our desires.
The other sorrow is getting what we want. And why would this cause us suffering? Because if we have it, we will always be afraid we will lose it — something which inevitably occurs in our pursuit of happiness. Or else we will become addicted to it and crave acquiring more and more. In either case, we suffer.
This is exactly the situation that we face on the planet today. There seems to be a great dream woven by the relentless pursuit of countless threads of egoic and material greed and obsession. As we said, there is a global culture now, more and more enmeshed and fueled by cyberspace — a formidable, shadow-generated experiment in electronic dream weaving. On the one hand, we have at our fingertips a whole array of information, knowledge, and opportunities to pursue the eventual reality of planetary transformation. So many of us would long to play a part in a drama which sees us each undertake what some Sufis call moving "toward the One: the perfection of love, harmony, and beauty."
Sufficient means for everyone to live in health and safety are gifts all humanity deserves. It seems to be all possible, here and now. Perhaps one day we will utilize world resources toward these goals. Yet instead, most of those in power seem driven to successfully manipulate other members of the world human community toward their own ends, so that power and wealth are increasingly acquired by fewer and fewer individuals and consortiums. And one of the ways they do this is through an insidious manipulation of the electronic dream machine.
We are taught to go get it, to fight for it, to be radiantly healthy, cool, and beautiful. We are schooled to acquire more and more of whatever it is we think we need, even though what we think we need is changing almost hourly due to the cyber-fuelled advertising barrage promising the newest happiness craze. This fantasy is being beamed at us relentlessly through a thousand forms of an instantaneously available and ubiquitous multimedia. The message: that it is possible for us all to get it all. We become stultified and stupefied by cyberspace, even as we may walk through a grove of sacred trees.
Yet we are forever overlooking one major flaw in this trajectory. If we are pursuing our dreams in the external world — the ones we are promised that we deserve — we have to realize that so are the rest of the seven billion people on the planet. Therefore, it is inevitable that we will be in constant competition with a number of these people throughout our lives. Sometimes we will succeed, and sometimes we will fail.
Then, at the end of our lives, as we look back on our Earth adventures, if we have come anywhere close to experiencing the fulfillments of our desires half the time, then we can consider this to be about as successful as we could expect. A certain statistical percentage on a graph on some website: for all our struggles, do we really want to be satisfied with this return on the investment of our dreams and ambitions? Ought this be the final reward — the result of a lifetime of want, craving, and a pervasive sense of lack — of never enough?
Breaking Through
The good news bears repeating: there is a way to find a true lasting freedom, independent of outside circumstances. Within us all along has been a force more powerful than any the outside world can offer. This unlimited power goes by such a diminutive, unassuming name that it is easy to overlook it in our frenzied search outside ourselves for happiness. But the search, though sometimes difficult, is just not that complicated. As you may have guessed by now, this unlimited power is none other than the inner healer, the power within.
Many true spiritual paths in one way or the other lead us to our inner selves and the power latent there. Yet even though it is the promise of virtually every form of therapy, many of these psychotherapeutic and transformational systems can often be misguided as well. Instead of recognizing the inner healer and supporting us to discover the true resources of a power within, they often direct us, consciously or unconsciously, to rely instead on them — to look outward to the therapists who become their priests and priestesses.
Most of us, at some point in our lives, will recognize and confront the need for a download of some kind of true personal power. Without power, it is impossible to reach a level of worthwhile fulfillment, be it for any kind of outer or inner riches. In this search for power, and if we are fortunate, or some might say blessed, three things may happen. First, we may become disillusioned with the ability of any outside person, system, or circumstance to know what is best for us, or be able to provide whatever that panacea may be. Second, we may then arrive at a disconcerting existential crisis. In this crisis, we can have the experience, based on whatever operating system of the false self we are using, or constricted lens through which we see ourselves, that these limited tools of the ego, for all intents and purposes, are simply powerless to fix us.
The third event that may occur is a milestone, a true breakthrough. This one can happen either spontaneously, or through some deep experiential method like Holotropic Breathwork, meditation, psychedelics, shamanic practices, a spiritual emergency, and the like. The transformation seems, at least in part, to be a flowering of what philosopher Macy has called the culture-changing shift from "power over" to "power with."
Yet the dynamic of power with is still just one essential, important element on the trajectory toward the fulfillment of any exploration of true power. Of course, it is not far-fetched to propose that a cornerstone of any new transformational millennium will be the evolution from power over to power with. But, perhaps, even at that point of great shift, there is a further, deeper horizon of power that must be embraced for there to be a culmination of the true human dream experiment. We have, in the manner of a mantra, referred to it already. This further horizon is what we are calling a radical, full-bodied, mental and emotional turning inward to the treasure of power always, already within.
Through this gift, we are able to get in touch with and to activate a previously untapped dimension deep within ourselves. This inner resource can then become a constant catalyzing agent for true empowerment, with the absolute potential to lead us to our evolutionary fulfillment as human beings in this planetary cycle. We now have very real means to embrace freedom, power, and wholeness in our lives, one moment at a time. This is the basis of a holotropic paradigm.
Excerpted and adapted with permission from The Power Within: Becoming, Being, and the Holotropic Paradigm by Tav Sparks, Muswell Hill Press, 2017. Visit holotropic.com for New England holotropic events in spring 2018.
See also:
Just One Thought Away
Practical High Sense Perception