How To Support Gay Rights In 2017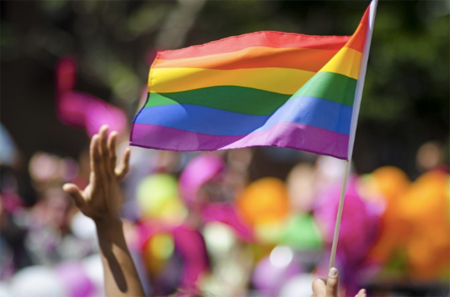 Throughout his campaign, President Donald Trump affirmed and reaffirmed his commitment to supporting LGBTQA rights. Indeed, Trump's history with the LGBTQA community is rife with positive notes: He has donated heavily to AIDS charities, he considered adding sexual orientation to the Civil Rights Act, and his Mar-a-Lago resort was among the first to admit gay couples.
Yet, more recently, his views seem to have changed ― likely due to the influence of his extremely conservative partners and advisors. More than once in the years leading up to the 2016 election, Trump has stated repeatedly that he is "a traditionalist" and staunchly against same-sex marriage. Worse, his VP, Mike Pence, has all but pledged to make life more difficult for the LGBTQA community, opposing nearly every bill and action that would thwart discrimination.
Thus, it is becoming ever more apparent that members of the LGBTQA community as well as cis allies will need to fight the current administration to ensure their hard-earned rights. Fortunately, there are plenty of actions people can take to make America safe and secure for every sexual orientation and gender identity, and many of them are as follows:
Be Anti-Bullying
It might seem easy and obvious to be against the act of bullying, but many people fail to notice or react when bullying occurs. It is especially important for non-participants to be actively anti-bullying because so few victims are willing or able to stand up for themselves. At least 62 percent of gay and lesbian bullying victims chose not to tell officials about harassment, and that high number is likely due to cultural or racial concerns. Worse, as much as a third of victims who do come forward received no response from authorities, discouraging them from seeking help in the future. LGBTQA allies must speak against bullying in every environment, help victims obtain adequate care, and disassociate with known bullies to reduce the toxic activity.
Be Confrontational
Though Americans have a reputation for being loud, most try to avoid personal confrontation at any cost. Unfortunately, in these troubled times, it is important for LGBTQA allies to confront those who hope to limit the rights and freedoms of the LGBTQA community. Though it may feel uncomfortable, cis allies should address those who express homophobic or biased attitudes against LGBTQA lifestyles. Though inciting anger isn't necessarily productive, asking questions like "What bothers you about LGBTQA people?" and "Why do you believe your lifestyle is superior to theirs?" might help you find a flaw in their reasoning and thus alter their opinions on LGBTQA people. It is wise to become educated on popular ― if misguided ― reasons behind homophobia before entering such conversations.
Support Gay Media
More and more depictions of LGBTQ lifestyles are entering popular media; "Glee," "Modern Family," "Scandal," and other well-liked shows on network stations have done much to introduce and familiarize gay characters to the American public. However, the LGBTQA community continues to receive less-than- adequate airtime on network news, so few Americans are aware of the continued plight of real-world gays, lesbians, and queer folk. It is important to support members of the LGBTQA community who are active in mainstream journalism, such as ABC's political director Amy Walter, MSNBC's Rachel Maddow, CNN's Anderson Cooper, and many others.
Cis allies should consider subscribing to a number of gay media sources, including OUT, The Advocate, and Instinct Magazine. Further, they might follow active LGBTQA voices on social media, such as Dan Savage, Janet Mock, and Laverne Cox.
Be Involved In Activism
Recent marches and demonstrations have worked to draw attention to many injustices perpetrated by the acting administration, including repression of First Nations rights, harassment of women, and extreme racism against people of color, but potential threats to the LGBTQA community have been prominent as well. Cis allies can bolster the LGBTQA message by participating in activism. LGBTQA organizations, such as GLAAD and the Human Rights Campaign, can help cis allies find opportunities to support LGBTQA causes.
Write Senators, Representatives, And The White House
Finally, as is true of most social and political change, it is vital that cis allies remain in contact with those in office. Already, state and federal senators and representatives are suffering from a deluge of communications from their concerned constituents, and the more messages they receive in support of LGBTQA rights and anti-discrimination legislation, the better. Instead of reaching officials through social media, cis allies should send physical mail or call state or federal offices to ensure their messages are heard.
See also:
It's Not Really About Bathrooms: Why The Trans Fight Is About Human Rights
20 Ways To Take A Bigger, Louder Stand In The Post-Election World