Liam's Lunches Of Love Launches Into New Projects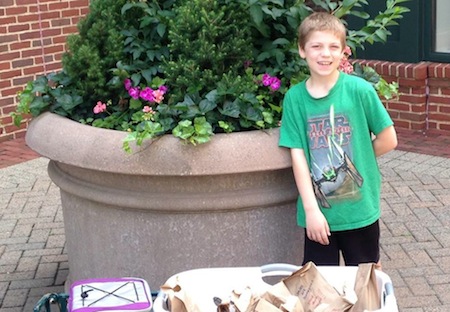 After being inspired by his summer reading program, Building a Better World, and the educational website Brainchase.com, Liam Hannon a 10 year old boy in Cambridge, Massachusetts decided to start making lunches for his neighbors that are experiencing homelessness. Along with his family, friends, and donations from the local community, he has been making lunches week to week for 50 or 60 individuals in his neighborhood. He also assisted Hildebrand Family Self Service Center, an organization dealing with family homelessness in helping raise close to 400 backpacks and school supplies to help kids start school this year on the right foot.
While continuing the lunch program, Liam's Lunches of Love have the following events and projects coming up:
In November, Liam's Lunches of Love will be participating in SleepOut America to help Covenant House bring awareness and support to homeless Youth. People will be sleeping out for one night to raise donations for youth services.
They will also be assisting Hildebrand House to bring Thanksgiving dinners to their over 250 families in the Boston area.
Also in November, they will also be making care packages filled with items like cold weather gear, first aid supplies, food gift cards and other items to help their customers make it through the winter.
Liam's Lunches of Love is looking for volunteers and corporate sponsors that would like to help them grow and be able to help more people in their time of need. Anyone who would like to donate or become involved can visit their Facebook page and their GoFundMe page.
See also:
Nation's First Library Social Worker Connects Homeless With Meals, Healthcare And Housing
Why Poverty Is Not A Personal Choice, But A Reflection Of Society