Living Legends in the Organic Industry Share Solutions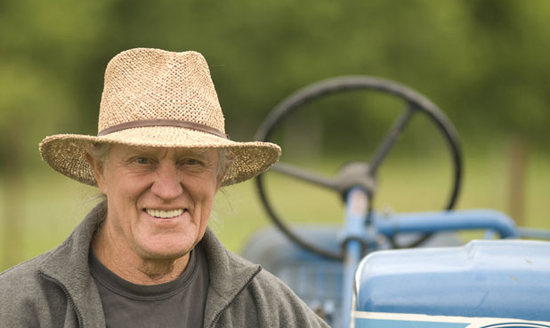 Will Allen, owner of Cedar Circle Farm in Vermont, has spent the last 14 years pioneering a process where a relatively small farming community feeds thousands of locals, and teaches them about organic urban agriculture. He is widely recognized as a pioneer in the organic agriculture movement.
I visited Will's farm in Vermont last year just prior to attending the BioChar conference. We did the interview at his farm. Their community-supported agriculture (CSA) program has 200 households in it during the summer, and another 100 households join their fall program.
"When we first started out, we decided that it's going to be an educational farm because most of the farmers right now are not producing young farmers," he says. "We're trying to train the next generation of farmers and trying to change farming by training that generation to be organic and community-focused…
We have several young people and middle-aged people who got trained here and who are now running their own farms. We put them through a program where they have to be here two or three years. But they get paid a regular salary; it's not like an apprentice program," he says.
His farm sells produce within a 50-mile radius, and his customers include local restaurants, co-ops, and farmer's markets. Well over 1,000 children visit the farm each year, and the farm even runs a farm-to-school program with the local grammar school and high school. There's also a backyard garden program, where budding gardeners can learn the tricks of the trade.
What's Old Is New: Pesticide-Free Crop Growing Techniques
Allen has been part of the organic movement for about 40 years. When he first began, he had the first organic farm in the San Joaquin Valley in California. Rather than relying on chemical pest control, Allen used age-old principles of fighting pests with beneficial insects.
Eventually, he became director of the Rural Toxics Program for the California Institute for Rural Studies, which did outreach programs to cotton growers. Cotton is actually one of the most toxic crops there is. Over half of all the pesticides used worldwide are used on cotton.
"We were able to teach cotton growers how to grow organic cotton, and we did an outreach to 62 clothing companies," Allen says.
As a result of this outreach, a number of well-known brands have switched over to organic cotton, including Patagonia, which uses nothing but organic cotton for its line of clothing. About 18 percent of Nike's clothing line is now also organic.