Meet Amma: From Hugs To A New Humanity
An interview with Mata Amritanandamayi Devi originally posted September, 2013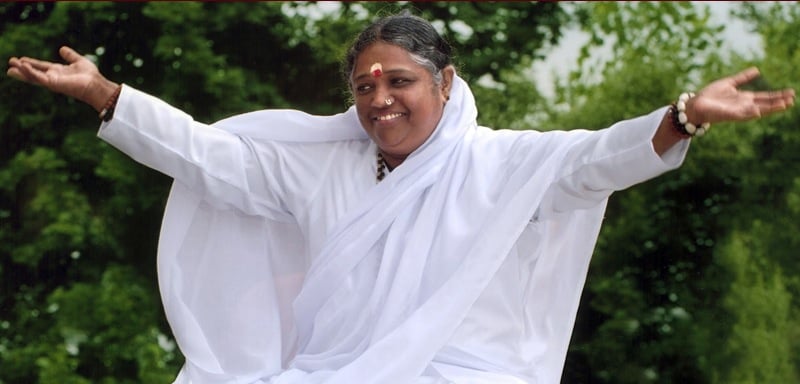 Affectionately called "Mother" by her devotees and nicknamed "the hugging saint" by mainstream media, Mata Amritanandamayi Devi — Amma — will acknowledge thousands worldwide celebrating her 60th birthday in September. But for this global humanitarian and spiritual leader, the true celebration of the day will be that food is available for the poor and houses built for their shelter.
Known for her unique expression of embracing all those who come to her for spiritual comfort, called darshan, Amma sits for ten, twenty or more uninterrupted hours at a time, individually receiving each person from crowds that can number many thousands. While these largest groups gather for the free programs Amma holds annually in over two dozen cities around the world, including Marlborough, Massachusetts, for the past forty years she has spent hours in darshan every single day. Thousands come to her daily at Amritapuri Ashram in Kerala, India, an international pilgrimage center and headquarters of Mata Amritanadamayi Math, where Amma manages her many global humanitarian projects and makes herself available around the clock, hugging each and every person who comes to her.
Amma says, "As long as there is enough strength to reach out to those who come to me, to place my hand on a crying person's shoulder, I will continue to give darshan. To lovingly caress people, to console and wipe their tears until the end of this mortal frame — this is my wish."
Amma spontaneously began hugging people and providing food and clothing to them from her family's meager belongings as a child growing up in India, where she encountered much suffering. From this deep wellspring of compassion arose the inspiration for her daily darshan, however from where does the will and energy arise to physically carry it out?
A friend first took me to see Amma in the early 1990s. At least 400 people were gathered in a big, renovated barn in Temple, New Hampshire, to feast together, chant, meditate, and receive a hug from the young Indian woman leading the devotional singing up on the stage. As people started lining up in order of the numbered tokens we'd received and the hugging began, I realized with dismay that it would take many, many hours for everyone to receive an individual hug and we would be there well past 3AM.
Settling into a comfortable seat in the upbeat, chant-filled atmosphere, I awaited the signal for my token and that of my friend, watching hour after hour as Amma hugged the unending line of people before her. While I was able to get up, walk around, have some refreshments and explore a few vending tables set up in the barn, I noted with amazement that Amma never moved from her seat in all those hours nor lagged when embracing each new person. To be honest, I found it rather miraculous she could sit for so long with open arms to all, since I was so challenged just sitting there waiting for my turn, trying to stay awake.
Why would anyone wait hours for a hug? Quite simply, because that's what Amma does. I've had friends howl in derision about "people who are sheep" and "those who bow down to gurus," however since my first encounter in the 90s, I've been unable to ignore the growing list of Amma's remarkable humanitarian achievements and the miracle of endurance in her darshans. I want to know the secret of her success. From what I can glean, it all starts with the hug.
Not that a hug from Amma promises to bring me serenity, enlightenment or healing, but it always renews my focus there. Each time I've received a hug from Amma, I've waited many hours with hundreds or thousands of others patiently heading in the same direction. Despite cranky egos popping up from time to time, Amma's intention sets the agenda of cooperation and care for each other, and the crowd makes it happen, guided by over 250 local and traveling volunteers at every event. Each time I wait, my heart opens just a little more. And when your heart is open, so are your eyes to the suffering of starving children, polluted oceans, terrorized people or disaster victims. Once you are aware, compassion takes action, and you realize how much more you have to give.
Amma teaches that everyone — rich or poor — has the power to make a difference in the life of another, and that no selfless gesture is insignificant. Rather it is only through these selfless actions that the world will ever change — beginning with myself.
Teaching by example, Amma's list of humanitarian accomplishments is staggering.
Disaster Relief
2012 LPG Tanker and Fireworks Factory Explosions, Kerala, India: aid packages to families of dead and injured
2011 Japan Earthquake/Tsunami: $1 million focusing on children orphaned in the disaster
2010 Haiti Earthquake: Medical supplies, blankets, scholarships to 30 students
2009 Floods in Karnataka and Andhra Pradesh: $10.7 million relief package including medical care, food, supplies and 1,000 homes for displaced refugees
2009 Cyclone Aila, West Bengal: Medical care, food and supplies
2008 Floods in Bihar, Gujarat (2006), Mumbai (2005): Over $1.5 million in medical, food, supplies and shelter
2005 Earthquake, Kashmir: Food and supplies
2005 Hurricane Katrina, USA: $1 million to Bush-Clinton Katrina Fund
2004 Tsunami, India and Sri Lanka: $46 million in relief building 6,200 tsunami-resistant homes, 700 new fishing boats and an evacuation bridge, vocational training for 2,500 victims.
2001 Earthquake, Gujarat: 1,200 earthquake-resistant homes
Ongoing Humanitarian Projects
45,000 homes for the poor throughout India, plus town halls, roads, wells, electricity, sewage systems and clean drinking water
41,000 scholarships for children of impoverished farmers, with a goal of 100,000
Empowering 100,000 women by providing start-up capital
Orphanages for 500 children in Kerala and 50 children in Nairobi
Annual feeding over 10 million poor inside India and 100,000 outside, including 75,000 people in 47 cities throughout North America
Lifetime pensions for 59,000 destitute women and the physically and mentally challenged, with goal of 100,000
Four care homes for the elderly in India
Hostel providing secure housing for women
Institute of Peoples' Education providing award-winning literacy and vocational training for India's indigenous tribal population
47 schools throughout India with a values-based, holistic approach to learning
A school for hearing-impaired children in Kerala
Training for hundreds of tribal villagers as healthcare workers
Providing 100,000 women with training to become in-home nurses in more than 6,000 self-help groups
Amrita Institute of Medical Sciences (AIMS) runs a not-for-profit 1,300-bed hospital (210-bed ICU) providing free care to the poor. More than 2.6 million patients have received completely free treatment since 1998.
AIMS provides telemedicine for hospitals and more than 40 remote centers across India and in parts of Africa with free health screenings and preventative healthcare. More than 100 free medical camps annually throughout India
Five branch hospitals (three in Kerala, one in Karnataka and one in Andaman Island) provide free care
Ayurvedic medicine through the School of Ayurveda's 160-bed hospital, offered free of charge to the poor
AIDS care home in Trivandrum, cancer hospice in Mumbai, free in-home palliative care
Amrita Vishwa Vidyapeetham (Amrita University), a not-for-profit institution, has five campuses. One of India's leading research institutions, it is focused on humanitarian goals such as protecting vulnerable communities from landslides, empowering women and curing disease
Prisoner pen pal/mentoring project in U.S. providing inspiration for prison inmates
IAM® Technique (Integrated Amrita Meditation Technique®) taught free throughout the world
AYUDH helps youth "Be the change you wish to see in the world" via community-outreach projects
GreenFriends cultivates reverence for nature and has arranged planting of 1 million trees since 2001
Using permaculture, eco-friendly buildings, and recycling projects to create exemplary sustainable living communities at Amma's centres worldwide
Organic farming initiative supporting 10,000 impoverished people to grow organic vegetables on their own land, distributing free seeds to all the participants, arranging free training and demonstration classes. The Chief Minister of Kerala, Sri. Oomen Chandy remarked, "The social-service activities executed by the Mata Amritanandamayi Math are always conceived with foresight. Assisting these 10,000 people to cultivate organic vegetables on 1,000 acres is becoming a role model for society."
In response to managing the needs of so many projects that she has provided for with the help of countless volunteers, Amma initiated Embracing The World® as a global network of local charitable organizations. Currently active in more than 40 countries, ETW exists to help alleviate the burden of the world's poor through helping to meet each of their five basic needs — food, shelter, education, healthcare and livelihood — wherever and whenever possible. "If, in any part of the world, thousands of people are dying of hunger or suffering in poverty, it is a matter of shame for all nations," says Amma.
While many open their hearts to Amma, they obviously are also opening their wallets, providing many, many millions of dollars each year that funds the massive humanitarian outreach and sustains Amritapuri Ashram's international community of over 3000 residents who have dedicated their lives to self-realization and selfless service.
According to Dan Marshall, a communications director at Embracing the World, "There are no paid members of the board of directors or in other administrative positions; none of the organization's executive administrators take any salary at all. Essentially the only paid workers are doctors, nurses and support staff at Amma's hospital and some skilled construction workers." Amma succeeds in inspiring over 50,000 volunteers annually to lend a hand, and millions more to contribute the funding, purposefully generating positive global change one person at a time — the only way it can happen.
In addition to her unconditional embrace and humanitarian leadership, Amma offers some of the wisest, most practical advice in any language. Speaking her native Malayalam, then translated into English, Amma seamlessly answers interview questions during darshan between hugs, effortlessly moving her undivided focus back and forth between a cradled head and a thoughtful reply. Unlike many spiritual leaders, Amma appears to revel in the sea of humanity around her wherever she is, inspiring hope and generating peace, joy and love.
Spirit of Change is presenting a Healing Concert performed by international kirtan singer Wah! to benefit Amma's Embracing the World on Saturday, November 16, 7-9pm at the Natural Living Expo in Marlborough, MA. Wah! and the Natural Living Expo are donating 100% of all $35 ticket sales to ETW. Free expo admission is included with your concert ticket purchase. Come breathe, meditate and feel blessed at the concert while supporting global compassion. Tickets are available at www.NaturalExpo.org.
In Amma's Own Words
1. The Dalai Lama made a comment at the Vancouver Peace Conference that "Western women will save the world." What are your thoughts on the role of women in the world today?
It is not just Western women, but women all over the world who should awaken. Men also should awaken though because if only women awaken and men do not, then that will also create a problem because men can block women's path. Men should prepare the path for women to come forward in all areas of life. Both men and women have infinite potential within them, but since women have the power to conceive and give birth, she has a higher power of receptivity. She is the creator. She can understand the feelings of others more easily than men. There is a man in every woman and a woman in every man. It is like matter and consciousness. Women should try to cultivate more masculine qualities and men should try to cultivate more feminine qualities. However, in today's world, feminine qualities — such as love, compassion, patience and understanding — are more important. So, both men and women should strive to cultivate these qualities.
In some countries, this awakening is taking place more quickly. In other countries, it is not happening fast enough. But there is a general awakening all over the world. People are becoming more and more aware of the importance of spirituality and the need to create that awakening within them. Because we have tried everything else: political power, financial power, military power. We have tried everything within the material world to bring peace and happiness. But if you travel across the world and talk to people, you will see there is sorrow everywhere. Sorrow is gnawing deep within. The happiness we see is just a whitewash. It is just skin-deep. So, only a shift in consciousness can really help humanity.
There are people who ask if the world is going to end. There was a rumor that the world would end on May 21, 2012. People were gripped with fear. And people ask me regularly, "Is the world going to end soon?" The world is not going to just end one fine morning. But if humanity does not change, things can go from bad to worse — a catastrophe can happen at any time. We need to become more careful, more alert, with our words and deeds.
There was a time when women did not have the power to vote. But when you say, "Western women will save the world," others can raise the question: "The U.S. has never had a female president, whereas developing countries such as India, Bangladesh, Pakistan and Sri Lanka have had women chief ministers and prime ministers." In the Western world, women have reached a point where they have realized that an awakening is absolutely necessary. Maybe that awareness is less in other countries, but it is happening everywhere. But it is not enough if only Western women awaken. They should awaken all over the world. The power to vote was given to women by other countries before the United States or other Western countries. In other areas of work, Western women have been able to prove their capabilities.
Amma is not disagreeing with what the Dalai Lama said. Amma would need to know the context in which he said that. Unless Amma understands that context, she cannot really answer this question.
2. Does my striving make any difference or does fate take its course anyway?
What we call "fate" is the result of the actions we have performed in the past — either in this lifetime or previous lifetimes. So, if our current fate is the result of our past actions, our current actions are creating our future. The actions of the present moment are in your control. If you perform your actions intelligently using proper judgment, you control your future and can definitely create a change.
Sometimes we get earthquake warnings or tornado warnings that tell us to evacuate our homes. You can call the tornado "fate," but evacuating and going somewhere safe is your action. That is what saves you. Don't look at the closed doors. Look around, find the open door and leave via that door.
3. There is a story about Sabarimala, a mountaintop temple in southern India, which attracts more religious pilgrims each year than Mecca. Unfortunately these visitors also leave behind their thousands of tons of trash. According to Mr. K. Jayakumar, who manages Kerala's nearly one million government employees, the trash removal problem at Sabarimala was so overwhelming in 2011 that even the government could not find enough cooperative workers to clean up the mountain, so he turned to Amma. Within days, a crew of Amma's 4000 workers accomplished the task. We have laws in all countries designed to keep order and protect the people, yet the laws are not obeyed, governments are overwhelmed with corruption and inefficiency, and millions of children starve annually. Why do people do what you ask them to do?
My way is to lead by example. Back in the old days, we had just one small septic tank in the ashram. As such, it had to be emptied for the collectors and cleaned quite regularly. No one was interested in doing this work. So, I would go down into the tank myself and begin scooping out the waste. Soon, the others in the ashram would come to help.
I have many good children [devotees] throughout the world, and it is their wish to be of some service to society. They are my strength. Some of them will even dedicate the few weeks of vacation they have every year exclusively for doing service. I always remind my children: One day or another, everyone is going to die; therefore, isn't it better to wear out rather than to rust?
In the ashram, we are all working with one common mind, one common heart. As a result, when a project is taken up, everyone flows in one direction, striving to do their best. In essence, the secret is love.
4. The economic disparity between the haves and have-nots is growing not only in national percentages, but in our local communities as well, shrinking the middle class out of existence. With the enormous wealth of the 1% compounding greater interest and power by the second, how can this momentum be rebalanced?
Since the beginning, there have always been rich people and poor people. To think it will one day be otherwise is not productive. That said, people should understand that lop-sided growth is not beneficial. Cancer cells have limitless growth and it is for this very reason that they result in the death of the individual. Similarly, growth that excludes sections of society can never be called real growth. Such growth eventually becomes the cause for destruction for the entire community as well as for the individuals who seemed to initially benefit.
Compassion must awaken in society. This is the most important need of the hour. Compassion is the primary force sustaining this world. If compassionate people become extinct, this world will perish. If compassion awakens, this world will flourish because if people have compassion in their hearts, they won't be able to look at someone without food, clothing, shelter, education, medical care, etc., and not try to help them attain those things. Hence it is said that the heart is like a parachute; it should open to function.
5. Is it possible to live a spiritual life, a life of selfless service, outside the ashram setting? How can a person transcend ego when living with a demanding job, economic pressure and family responsibilities?
Of course it is possible. Spirituality and so-called "regular life" are not separate. Spirituality is the very manner in which one leads their so-called "regular life." It is performing all of our actions, with the resolve that all of our actions — both the so-called sacred and the so-called secular — are offerings to God and then, accordingly, accepting everything that comes to us in life — both the good and the bad — as God's will. At the heart of this way of life is the understanding that we only have control over our own actions; we have no control over their results. Leading life grounded in this understanding is spirituality.
Furthermore, if people really analyze, they will find that they have time to perform at least a little bit of selfless service. People with one child spend so much time trying to raise their child in the proper way. But when they have their second child, they don't reject it, saying, "Oh, I don't have time to look after this second child." Even if they have three or four children, they somehow find the time to look after them. Similarly, selfless service should become like one of our children. If we really want to, we can find time to help others and do some other spiritual practices as well. If we look at the world with eyes of wisdom and give solace to the suffering through compassionate hands, we will definitely reach the shore of peace and bliss.
In terms of "transcending the ego," living in the world is indeed difficult, but the secret is to not identify with the ego — to use it as one uses a mask. Just as when teacher is strict with a student, the ego expressed is just for the benefit of the student, not for the benefit of the teacher, so too we can use the ego to achieve certain goals without identifying with it as our true nature.
6. Can anyone tap into the divine love source that you do? How?
Of course. Love is not something outside of us; it is our true nature —the true nature of us all. At the present, the problem is most people's minds are clouded with the dirt of selfishness and attachment to their likes and dislikes. Effort needs to be made to remove those impurities. When these impurities are removed, the bliss of our true self — divine love — will shine forth and illumine our lives.
7. While you are called Mother to all, and refer to your devotees as your children, there are reports that you are very hard on your students in the ashram, requiring them to work very long hours alongside you with little sleep.
It is not like that. All the work that is done here is done with a spirit of love and selflessness. I never force anyone to do anything. The people in the ashram have come out of their own decision, and they have total freedom to choose another way of life if they ever want to do so. I will even assist them to do that. I never force anyone to do anything.
8. Mothers in today's world are often accused of being too indulgent with their children. What is a good balance for mothering?
Mothers need to create a balance of compassion and discipline. They also need to know where to allow their children freedom and where to impose limits. When a child is going to touch fire, no mother will say, "Oh, it is his freedom to do as he likes. Who am I to stop him?" Similarly, a mother needs to know when to step in to prevent her children from harming themselves in more subtle ways. At the same time, it is important to allow the child to cultivate self-confidence and the ability to be independent as well. In truth, a mother has to play so many different roles — she has to be a friend, a teacher, a disciplinarian. The trick is knowing when to play which role.
9. Can physical health be attended to purely through spiritual and mental disciplines or are other physical or dietary practices required to maintain a healthy body?
Spiritual practices such as meditation, selfless service and adherence to universal values such as patience and compassion are the nutrients that foster a healthy mind; proper food and exercise are the nutrients that foster a healthy body. It is important to take care of the body because without it, one will never be neither be able to perform the actions required for a prosperous material life nor for a prosperous spiritual life. It should also be remembered that the mind and the body are connected. Therefore the health of the mind can impact, both negatively and positively, the health of the body.
10. Facebook, Twitter and social media have fueled recent revolutions of political, social and cultural transformation around the globe. Yet virtual reality cuts us off from genuine communication with each other and the news media bathes us in an atmosphere of continuous propaganda and negativity. Is our communication age headed for better or for worse?
As with every invention, the Internet is a double-edged sword. It can be used to the great benefit of society, and it can be used to the detriment of society as well. A knife can be used by a surgeon to save someone's life or by a murderer to end someone's life. Similarly, technology by itself is neither good nor bad; it all depends upon the mind of the person who is using it. As with everything, it has to be used with awareness and with a mind established in dharma [righteousness]. Furthermore, just because we can do something does not mean we should. Parents should supervise their children's use of the Internet and other technology to make sure they are using it in the proper way. If parents do not — through their words and the example of their own life — teach their children values, this world is headed for destruction. Love, compassion, peace and selflessness — these must be at the heart of every child's education. Of course, the Internet is bringing people together in one way, but this type of interaction can never replace true human contact. We must help the coming generation to understand this through our example.
11. After so many millennia of global hatred, war, terror and genocide, we still finds ourselves unable to communicate or cooperate and fearful of each other. Is the animosity between races learned behavior, genetically programmed or something else? How can we all live harmoniously together?
A mere few harsh words can wound a heart for a lifetime — what then to say of the physical and mental wounds inflicted through war, terrorist attacks and genocide. They do not heal so easily. Time is the greatest healer. If we really want a solution, what is required is forgiveness. One person has to decide that he is going to change. If we wait for others to change first, nothing is going to happen. It becomes like two cars going opposite directions on a single-lane road. If both refuse to pull over, neither will be able to move forward. But if one of them pulls aside, they both can soon proceed on their journeys. Hatred is a viscous cycle — each side perpetually fueling the other. But when one side decides not to respond, the cycle is broken. We need to remember our true nature is love. We need to strive to become rooted in that love. It is essential for everyone to try to make at least a little space in our hearts for others.
12. I would love to be so enlightened that I choose only love. But sometimes I react in anger before I've had time to even consider how I'd like to respond. How can I think carefully when I cannot think? How can I respond lovingly without needing to think?
Anger, violence and other negative reactions have become strong habits. Initially we must put in conscious effort to respond differently. Therefore we must cultivate awareness and watch what is happening inside. We must become aware of every action, our every word, even our every thought. Initially we may fail, but as we keep putting in effort, we will find that we are gradually able to catch ourselves before we react. Just as there are security systems that alert us to intruders breaking into our homes, so too we need to cultivate a security system that alerts us to the presence of negative thinking arising in our minds. This security system is awareness. Only when we become aware of our negative thoughts, can we hope to catch them before they grow into negative words and actions. In this manner, we can gradually transform ourselves so that our negative impulses are replaced with positive ones. As the strength of the positive impulses grows, we find ourselves transforming.
The Mata Amritanandamayi Center of New England, located at 245 Linden Street in Boylston, MA, provides the community with a place to gather for spiritual practice and volunteer activities. Various classes, spiritual retreats with Amma's senior monks and prayer services are held as well. For more information or to subscribe to the e-mailing list, please visit www.ammanewengland.org/blog/satsangs/amma-center-of-new-england-satsang.
Amma will be here in New England for her 2015 tour July 9 and 10 at the Best Western Royal Plaza Hotel in Marlborough. Amma's public programs are free and open to the public, click here to learn more.
Carol Bedrosian is the publisher of Spirit of Change magazine.