Mom and the Cardinal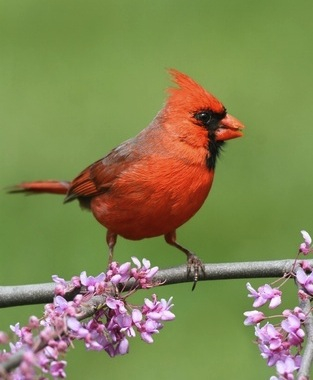 From my vantage point on the upper deck off the loft, I look down upon the spring birds. Doves, chickadees, juncos, grackles and sparrows dart to and from our feeders. But the most eye-catching of all is the bright red cardinal. One would think such a boldly colored creature with his pompous mitre would relish attention, like a flashy, self-obsessed Hollywood star, but the cardinal is shy — a cautious, nervous visitor.
It was my late mother's favorite bird. She had a beloved collection of cardinal items, and we buried her with one of her favorites. This bird, pecking about in the back yard, never fails to bring back memories of her.
When I was young, she was a traditional '50s stay-at-home mom; cooking, cleaning and caring for her family. She instilled a sense of right and wrong in three very different kids, and filled our journals, recollections and hearts with pleasant memories. But age was not kind to her. After dad's death and onward into her latter years she suffered from "hardening of the attitudes" and gradually became petulant and unhappy. Despite the care and attention my brother and I rightfully provided, she aged feeling unloved and responded bitterly to all those who loved her, both family and neighbors. When we could no longer tend to her mental and physical deterioration, it was with great guilt that we surrendered her to a nursing home, where strangers, unencumbered by emotional attachments, ignored her sad rages. In time, Alzheimer's forgivingly transmuted her mental state into one of a vague, unsettling confusion. At times she even laughed again and was comforted to imagine she was back in her home.
The cardinal, like my mother, has flown now — leaving abruptly on nervous wings, jittery and irritated by my presence. But I prefer to recall the bright and vibrant aspect of this little creature (and of my mother), as I select my memories from the earlier, positive end of the scale and let slide the occasional intrusions of the negative. This is not the "rose colored glasses" syndrome. Reality is not denied, but put into a bigger perspective. In my long time with her, her love and caring far outshone her latter year's descent into mistrust and anger. Recalling only the best in her is but a simple kindness, to both my mother and myself.
See also:
The Golden Age
Healthy Aging Stories