Need Some Space? Tips To Create Self-Care Spaces In Your Home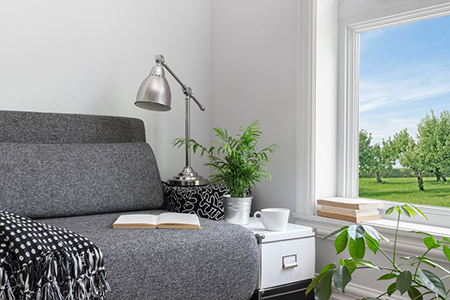 We can all have moments where we feel like the world doesn't have any room for us anymore. These helpless and startling realizations usually come when we're high stress at work or personal life, and we lose track of what's important to us. No year has fed this feeling more than 2020. To find some balance, consider these top tips for creating self-care spaces in your home.
You Don't Need a Full Room
It may be tempting to devote an entire room to self-care. This decision can feel like a good idea because it's somewhere to lock yourself away from the rest of the world and focus on yourself. Unfortunately, these spaces for closing the rest of the world out just as often go to waste with our brains making excuses to stay out as well. 
Instead, consider converting spaces in your regular living area to be self-care pockets and you'll be more likely to use them since they're out in the open. Create little spaces and special nooks anywhere you desire, and the synapses of your brain will automatically flip to healing mode the moment you occupy the space. 
Here's some ideas for each room of the house. 
Kitchen 
Carving out a space for yourself in your kitchen is easier than you think by creating a station with just a little counter space. On this station, include a candle in a scent you love and other favorite trinkets or photos that make you happy on a special tray. If you're having a stressful day and are rushing around cooking, just glancing at this space can slow you down and make you more comfortable as you go. Make sure others know not to mess with these items. 
Office
An in-home office is a blessing and a curse. We all want to wear pajamas to work, but most of us aren't prepared for the amount of stress and nerves it can bring into our homes. Use furniture to create a space for yourself where you can step away from your desk and breathe.  You can make your sofa the center of the room, put some magazines or books you love on a side table with it, and create an area akin to a break room. When work is stressful, and you can't be too far away from your desk, this area will help you unwind and get your stress levels under control. Try to incorporate a window into your office space to give your eyes and mind a place to wander and rest during the work day.
Living Room
Everyone shares the living room in a home, so creating a special space in these rooms may feel challenging, however you can make a space that focuses on you even in the presence of others. Set a comfortable armchair in the room, not facing the television. Lay your softest blanket over top of it and put some of your favorite books, journals, sketchbooks, crafts or other favorite activities in a basket on a small side table beside it. Try out some noise cancelling headphones if you'd like more quiet. Treat yourself to things you love without having to leave a room just because others are in there, too.
Bedroom 
Since bedrooms are already our personal space, it's easy to create a unique space just for you in this room. Consider creating a seating area just for personal reflection, hobbies and relaxing, like in the living room. This area could be an excellent location to journal about your day and plans for the rest of your week. You could also make your bed the place you enjoy, instead, and gear it more towards naps or self-healing treatments. Plan to have plenty of pillows nearby to support any body parts with total comfort and relaxation, some soft blankets you'll only use in these moments, and an eye mask to darken out the sunlight.
Outdoor
If your weather permits it, and you have an outdoor space, use it! In warmer months, you can surround a seating area with plenty of plants and green life; plants are a known mood enhancer. Fresh air can help you relax, and if you bring out a good book or project, you'll feel more fulfilled.
Bathroom 
Make your own personal kit of all of the self-pampering and grooming items you love to use. Take the time to make a list and collect your items, and keep them stocked. When you have a particularly bad day or need some self-love, whip out this kit and use it. It should feel like you're treating yourself because you are!
Kristina Marshall is a stay-at-home blogger. After having kids, she began sharing some tips and tricks with people in the community. Now she writes full articles on tips for lifestyle and family all over the internet.