Obamacare Is Already Forcing Private Insurers to Lower Their Premiums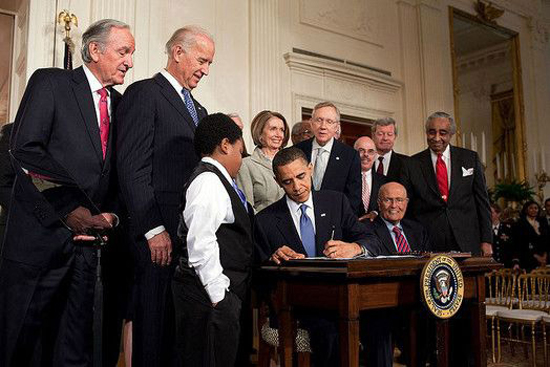 Looks like Obamacare is more "on track" than "train wreck."
In a striking illustration of the promise that the health law holds for consumers, two Oregon private insurers vying to sell coverage on the state's Obamacare insurance marketplace this October are reevaluating their opening bids for the plans' monthly premiums. The reason? A side-by-side regional comparison of all proposed 2014 premiums for Oregon marketplace plans became public on Oregon's marketplace website Thursday, and showed that the two insurers' planned monthly premiums were far higher than other proposals. That raised fears among the companies' officials that their plans wouldn't be competitive on the market later this year, leading them to proactively request a rate reduction — and as more of Obamacare is implemented, state insurance commissioners expect that trend to continue:
"Posting rate comparisons company-by-company is a taste of what is to come," says Cheryl Martinis of the Oregon Insurance Division.
Judging by the reaction, there's already an impact.
Providence Health Plan on Wednesday asked to lower its requested rates by 15 percent. Gary Walker, a Providence spokesman, says the "primary driver" was a realization that the plan's cost projections were incorrect. But he conceded a desire to be competitive was part of it.
A Family Care Health Plans official on Thursday said the insurer will ask the state for even greater decrease in requested rates. CEO Jeff Heatherington says the company realized its analysts were too pessimistic after seeing online that its proposed premiums were the highest.
"That was my question when I saw the rates was, 'Can we go in and refile these?'" he said. "We're going to try to get these to a competitive range."
Although some insurers have been using Obamacare as an excuse to hike premiums despite record profits, such rate hikes have been rarer — and less extreme — since the law's passage. And to emphasize, this is all happening before the state has had a chance to review and approve initial plan rates — much less launch the actual marketplace. After the exchange opens up, consumers will have even more detailed information about marketplace plans, including the ability to compare — not just rates — but actual benefits offered on the plans side-by-side.
That's particularly significant because much of the current variation in health plan premiums stems from rampant health care price opacity and wildly divergent benefits offered on different health plans — a status quo that won't last in the Obamacare era since the law requires qualifying insurance plans to offer a base level of ten "essential health benefits," including prescription drug, mental health, and maternity services. That means that Americans will be able to go online and figure out whether a plan costs more because it actually provides more robust benefits, or because an insurance company is just trying to gouge prices and maximize profits. Insurance offered on the marketplaces will be separated into Bronze, Silver, and Gold plans based on how generous their offered coverage is, making consumer comparisons between similar health plans simple.
As Thursday's development shows, that public information empowers consumers by forcing insurers to compete with one another to attract customers. Or to put it another way — and contrary to conservative fear-mongering about the law — Obamacare is working exactly as it was intended to. And with 24 million Americans expected to gain coverage through the marketplaces by 2016, that's great news for Americans' pocketbooks — as well as their health.
Sy Mukherjee is a Health Reporter/Blogger for ThinkProgress.org.
Related Articles
Andrew Weil Predicts Healthcare System Collapse
Explore the Alternative Health Directory