Preserving Our Herbal Traditions, Defending Our Health Freedom Rights And Saving Our Plants
An interview with herbalist Rosemary Gladstar by Spirit of Change publisher Carol Bedrosian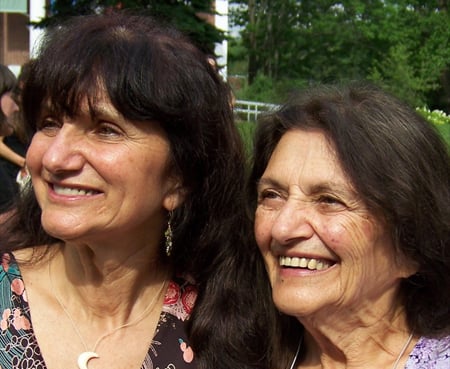 Fresh off a rejuvenating weekend at the International Herb Symposium in June, I was fortunate a few days later to interview Symposium founder and grandmother herbalist Rosemary Gladstar. This year marked the 13th such gathering, which is held every other year at Wheaton College, in Norton, MA, and features herbal traditions, teachers, healers and plant lovers from all around the U.S. and abroad.
Rosemary defines an herbalist simply as anyone who works with plants. That must be why the gathering draws such a rich and enthusiastic crowd — everyone has at least some affinity for the green stuff all around us that provides food, shade, medicine, beauty and, of course, oxygen for us to breathe. Notably, many of the two hundred workshops, weed walks, healing and art activities over the weekend featured themes of at-risk plant conservation and sustainable harvesting, but first and foremost, awareness and appreciation of the plant kingdom we live within.
Rosemary says the first thing she does when she lands in any new location is to look around for friends growing from the ground to help orient herself. A plant lover, herbal healer and visionary teacher embracing all of the planet through its greenery, Rosemary's learning and love of plants sprouted early in childhood from her Armenian grandmother, Mary Egithanoff, whom she spent countless hours with in the garden and kitchen. She still uses most frequently those perennial favorites of her grandmother's — chickweed, dandelion, purslane — abundantly available, sustainable, and useful in so many ways.
From her profound plant intelligence and sensitivity, it's plain to see that Rosemary listens to and speaks the language of plants. Her herbal enthusiasm and green reverence is simply contagious. A dedicated translator and bountiful provider, Rosemary has opened the magical door of herbal wisdom to thousands through decades of teaching, planting, event leadership and writing. She is the founder/director of Sage Mountain Herbal Retreat Center in Vermont, founding president of the medicinal plant conservation organization United Plant Savers, and former director of the International Herb Symposium and The New England Women's Herbal Conference (now in its 30th year). She is also the co-founder of Traditional Medicinal Tea Company, for which she did all the original formulations, and the founder of the California School of Herbal Studies, the oldest running herb school in the country. Rosemary is the author of eleven books, including the classic text The Science and Art of Herbalism, an extensive study course that can be used at home or with an apprentice group, and her most recent book, Herbal Healing for Men, Remedies & Recipes (reviewed this issue).
By "signing her name in service to the plants," Rosemary's passion for preserving plants and herbal traditions has not ended at the garden's edge. Recent efforts to secure health freedom rights not only for practicing herbalists, but for all American citizens, as well as protect herbal legacy products against trademark restrictions have required her time and courageous leadership. With the same thoughtful and patient attitude one takes in planting a seed and expecting a sprout, this grandmother of American herbalism has turned her efforts to securing legal protection for the tradition of herbalism. I have no doubt she would rather be out in her garden weeding, but grandmothers hear like no one else does: "We need you."
Carol Bedrosian: How did the International Herb Symposium get its start?
Rosemary Gladstar: We had been doing conferences and events since the mid 1970s. I think they had a very powerful influence on the growth of American herbalism. Through those conferences, when these young herbalists came together — and we were all around the same age, all learning together —we had special elders that we were sharing since there weren't a lot of people teaching at the time. We'd all go see Norma Meyers and Dr. Christopher and various elder people; we sort of grew up together. In sharing that kind of community and learning together, it created an open heartedness that we see today manifested in the herbal communities across the country. There's a friendship and a camaraderie, and in many ways a kind of humbleness with everybody, because when you all start together and none of you are experts, it changes the whole way that things evolve.
So while that had been going on really well for twenty-something years, I was thinking it would be wonderful to expand that same sense of sharing and learning together with our global herbal community and try to bring other ways of being and other people into the circle. It really had that conscious intent. Let's spread this community that we have created here that's so vibrant and so eclectic and bring in people from other countries to share their teachings and their wisdom to grow this community in a more global way. And it really has worked. The International Herb Sympoisum bring plant lovers and herbalists together from around the world to share knowledge and information.
Carol Bedrosian: What was happening with herbalism in America before your early conferences?
Rosemary Gladstar: The very first herb conferences, as far as we can tell, were these eclectic professional meetings in the 1800s and early 1900s. When herbalism became illegal to practice and went deeply underground, you didn't see gatherings or classes, so there really wasn't a lot happening as far as educational resources in communities.
Carol Bedrosian: When was herbalism illegal?
Rosemary Gladstar: In the late 1800s when the AMA [American Medical Association] was formed, they basically outlawed any other form of healing that wasn't sanctioned and approved by the US government. At that time, that meant just allopathic medicine, so even things like herbalism, homeopathy and acupuncture became illegal.
It still is illegal to practice herbal medicine because it's not a government-sanctioned healing profession. There's always that discussion that it should be legalized and while I absolutely agree it should be available, I'm not sure the "legal" route will give people the access they hope for. Americans, as free citizens, should have the choice to choose whatever systems of healing that we want to choose. But the way it's written in the law, in fact, that's not true. You get to choose what the government says is okay. Even within the licensed professions, like being a medical doctor, you only get to do what the government says is okay. Many of the alternative forms of cancer treatment that have excellent outcomes and reputations, that have been vigorously studied and have as much validation as government-approved treatments, they're not allowed. Some of the doctors who practice those have been arrested or have even left the country.
So we are trying to change that, but not necessarily by going through government standards. What we see happen when the government makes the standards for us is that so much red tape is created that it actually becomes more difficult to treat. That's clearly demonstrated in our modern system of healing, which is completely tied up by red tape and the dictates of insurance companies. So the glimmers of the great healing system that it could be are tied up by the very government restrictions that make it legal to practice.
We don't want to see that with American herbalism. I feel the way to go is through health freedom rights. There's a wonderful organization called the National Health Freedom Coalition that's been working since the late 1990s to bring health freedom to the American public so that you and I as citizens of a free country have the right to choose the kind of healing we want. How health freedom rights will benefit herbalists is it will allow us to practice our profession without fear of prosecution, so long as we practice within the realms of our herbal profession.
Sometimes people ask, "What happens if you have no standards of practice?" There definitely are standards of practice, but they come from within the community, not something that the government establishes for us. Called Safe Harbor Exemption Laws, these health freedom bills have the ethics written into them and require a certain amount of professionalism to be able to practice, but that comes from within the community and the professionals themselves.
Another very important part of health freedom is assuming that you and I are intelligent enough to make our own decisions about what we want to do for our bodies; that we don't need the government owning our bodies and telling us what we can and can't do.
People don't even realize they don't have health freedom rights. When this government was formed, Dr. Benjamin Rush, a medical doctor, was one of the first signers of the Constitution. He tried to get health freedom rights written into the Constitution because he said that if we leave that out, the time will come when medicine will restrict the art of healing to one class of men. And Thomas Jefferson said we will be like a tyrannical country where the government will decide what you can eat and what you can take and what you can use as medicine. And sadly, we've allowed that to happen without even knowing realizing it.
Carol Bedrosian: How many states have Safe Harbor Laws now?
Rosemary Gladstar: There are nine states that have passed Safe Harbor Exemption Laws and there's nineteen states pending. That's exciting because it takes a lot of lobbying and a lot of coming together to create these laws. The National Health Freedom Coalition has been very active. They advocate for the freedom of choice for vaccinations. They are neither for nor against vaccinations, necessarily, but they do advocate that it is an individual right and a parental right. The government does not have the right to tell people they have to be vaccinated, especially in light of all the vaccination controversy on both sides.
They also advocate for citizens to have the right to use raw products, like raw milk products. They advocate for citizens to be able to choose alternative health care if they want it, both from licensed and non-licensed practitioners. They advocate for the non-licensing of people like herbalists and massage therapists. In other words you don't have to have a license from the government that says that you are a professional massage therapist, but it is required that every non-licensed practitioner clearly display where you studied, who you studied with and how long you studied, along with your personal statement of purpose.
When the law licensing midwives was passed, some of the best and most experienced midwives in this country — which is one of the oldest health professions around — couldn't practice anymore because they weren't licensed nurses. It created a huge rift in the midwifery community. And the same thing happened with massage. It's wonderful to go to school, be professionally trained and get certified, but there are really good massage practitioners who've learned from apprenticeship situations that aren't necessarily certified by a school. And these individuals aren't allowed to practice in our country as a result of current laws.
The National Health Freedom Coalition's main focus is to promote access to all health care services and treatments that people deem beneficial for their own health care, and to promote the right for citizens to choose the kind of healing one wants. They organize an annual conference that brings different health freedom groups together, and they actively work to promote legislative reform of the laws that restrict our health access. They've been very active with the supplement issue, standing up for DSHEA [Dietary Supplement Health and Education Act of 1994], which is the law that protects our supplement industry that is always under attack by the pharmaceutical industry.
Two women, Diane Miller and Jerry Johnson, formed the Health Freedom Coalition in the late 90s. They were both lawyers who worked pro bono on a case in Minnesota for a farmer who was giving colostrum to his neighbors for health purposes. He was arrested for practicing medicine without a license and sentenced to jail. They won the case and because of the attention focused on that case, people in Minnesota decided they wanted to pass a health freedom law. Gerry and Diane worked really hard to pass that first health freedom law in the United States, and because of growing interest from other states, decided to form The National Health Freedom Coalition. I am very proud to say that the Minnesota herbal community, including Matthew Wood and the Minnesota Herbal Guild, worked very hard to help pass that first health freedom bill.
Carol Bedrosian: Do you know if any of the New England states are involved in these efforts?
Rosemary Gladstar: Rhode Island is the only one that has a health freedom bill that was passed. I look at Vermont and I'm thinking, if Oklahoma can pass one and Rhode Island, then why not Vermont? We tried and had meetings but we just couldn't get enough people in Vermont interested. It takes a lot of time and a huge amount of commitment to passs these bills, so I'm sorry to say we have not moved forward. I think it's because we're not in crisis mode. It's like preventative medicine; most people don't think about preventative medicine until they are sick. But we need to pass health freedom bills now before a critical situation arises, before somebody does get arrested for practicing herbalism.
Carol Bedrosian: So along with this effort for health freedom, self care and using herbalism comes the issue of preserving these herbs and the herbal tradition.
Rosemary Gladstar: Yes, preserving our traditions. I love that word "traditions." I looked it up in Webster's because I sometimes hear it referring to modern or allopathic medicine, which is based on an ancient Greek tradition that credits Hippocrates as being the father of modern medicine. In fact, when you graduate from some medical schools, one is still required to recite the Hippocratic oath to "Do no harm."
But Hippocrates was an herbalist; he was actually a simpler, an old-fashioned word used to describe an herbalist. He primarily used vinegar, honey, water and herbs — the most basic form of medicine. He believed in true health practices — sunbathing, swimming in the ocean, eating simple foods and using herbs. Unfortunately, most of these traditional practices are no longer followed by our modern conventional system of healing. Though it's a powreful system of healing that has saved millions of lives, allopathic or conventional medicine is not really a traditional system of healing, at least as defined by Webster.
Webster's says "traditional" is generally an oral tradition that's passed down through generations, either through the family or through communities. This really speaks to herbalism because herbalism is the oldest system of healing and is used by people around the world, and generally is passed down from one generation to the next. When I go into my herbal apothecary and mix up an herbal formula, I am participating in this ancient tradition that my grandmother did and her grandmother and you could track that forever back through time.
Even the ways that we prepare medicine is based on the old ways. Every once in awhile there's a "new method" that starts circling around, but ususally it's based on an old alchemical way of preparing herbs. We just continue to rediscover what we already knew, which is all part of our ancient tradition of practice. Of course, traditions are always changing and evolving. The best of what we learn today we pass down as a living tradition.
There is a large responsibility that comes with being part of a living herbal tradition with how and what we carry forward. There's a lot of honoring in the herbal community of our elders and their teachings. There's a real reverence for the spiritual nature of plants that has matured in the herbal communities, and a deep sense of respect for the different ways that people practice their healing arts.
One of the biggest ways we can help preserve our herbal traditions is by preserving the plants that the traditions are based on. I would venture to say that up until 1994 there was very little consciousness about where all these plants were coming from that we were using in our products and plant medicines. But as our herbal community matured we began to think of these matters. Many of our amazing medicinal plants have become threatened in their native environments, in part due to the growth of herbalism in this country, but mostly because of habitat destruction and urban sprawl. In 1994 a small group of herbalists came together to form formed United Plant Savers (UpS), which has become the voice for medicinal plant conservation and cultivation in the US.
For most of us, when we first discover medicinal plants, there's just this sense of overwhelming gratitude that they can help us with our illnesses and somehow, magically, make us feel more joyful. When you're out working with plants there is a wonderful, joyful feeling that starts to grow in you from the exchange.
Yes, plants make us feel wonderful, but quite honestly, I think the biggest reason we see this growth in herbalism and plant medicine is because plants help us; we need them. But I think it has as much to do with the plants needing our help. They are in danger; wild gardens are disappearing and who better to protect them than the people who love them. We need them for health and healing. They need us to turn towards them and help protect them by replanting the wild medicinals into our gardens so that the native pollinators are being fed again. We're part of that movement — the herbalists — because we recognize that we are stewards as well as users of plants.
It's really about having that reverence for the plants. From what we know about the native teachings and the native people who lived here, and because they still demonstrate such incredible reverence for the plants, we know that they really saw the plants as relatives to themselves. Their responsibility was to use them and to care for them and to love them like we do one another. That's one of the great teachings that the native people offered us — how to be in sacred relationship with all living beings — but most of those teachings we lost shortly after the early settlers arrived.
We still have remnants of those teachings available to us if we learn to listen. Some people call it a lost language, what the plants have to say to us, but I think it's a forgotten language and we just need to learn to listen again. The plants are the best teachers of that language. It's really about just being with them, being present with them, and singing to them. That's one of the ways the plants really hear us because there's a difference in our octave when we sing. The voice changes, the vibration changes and the plants know that vibrational sound.
We lost so much of our North American traditions when we destroyed the native communities here — the two legged communities — but that tradition lives on in the plants. The plants hold the traditions and the teachings of the plant, and once we go directly to them in reverence and in that spirit of relationship, they begin to teach us. That's what I see has happened to so many herbalists. They work with the plants directly. They may not use the language about sacred plant medicine or communicating with plants, but that's what is happening. Just by being with the plants that reverence grows in us, and that perhaps is the biggest healing they offer us. They offer us that pure connection again.
That soul loneliness that so many people have because we are so disconnected from nature, from our mother, from our source of life, when we don't have that connection, we become spiritually ill. We do the horrible things that people do today to one another because we are not fully being human anymore when we are not functioning in relationship to all of our relations.
Carol Bedrosian: What is an herbalist?
Rosemary Gladstar: I have a very broad definition of an herbalist because I don't want it to get narrowed down to mean just a medical or clinical practitioner. To me, herbalists are people who work with plants on many levels. When I looked it up in Webster, it just said "people who work with plants," and then more specifically "healing plants." All plants are healing plants, and healing itself can take so many forms. It's really good for us to think of ourselves as herbalists, plant lovers, people who work with plants, and people who work with healing. I like to keep the term "healing" very broad. It's the same with things that makes us sick. It's not just the unhealthy things we put into our body, it's the news we listen to and the horrible energy on the freeways when everybody is honking and beeping at each other. All of that can make people really disconnected and make their nervous systems agitated; then they become ill.
So to me, herbalists are people who work with plants in all the very many capacities available. Herbalists can be farmers who are healing Earth by healing the soil organically and putting healing plants into the soil. Thre are clinical or medical practitioners of herbs, the village or community herbalist.
Carol Bedrosian: Do you see a vision for herbal healing working with western medicine?
Rosemary Gladstar: Holistic medicine includes the best of everything that works. I don't necessarily think there is one system better than the other. There are systems better for situations at different times. While it may be true that native people used pine pitch and made specials casts using natural things, they didn't have the same success that our modern medicine has in setting bones and dealing with serious life threatening situations or terrible accidents. No matter how good our burn salve and aloe might be, for someone with a broken leg or burns all over their body, modern medicine is amazing.
I definitely would use the gifts of modern medicine when it's the best choice and you need it, but the majority of situations that occur are things that we're very adept at treating with non-invasive, non-polluting, non-expensive medicines at home. The majority of non-emergency health issues, such as colds, coughs, first and second degree burns, rashes, upset stomachs, headaches, these have all been successfully treated with home remedies that people have cultivated, grown and made into products for literally thousands and thousands of years. To not recognize the value of herbal medicine and its effectiveness is ridiculous. It would be as ridiculous as not recognizing modern conventional medicine for the wonders that it does. We have different systems of healing because they work for different situations, however they can and should be used harmoniously together to create the best healing system possible.
Modern medicine is not so good at prevention and it's not about self care. It's crisis medicine that is really good for life saving and threatening situations like accidents, battlegrounds and symptom suppression. It's very good at taking care of symptoms, but that's not as good as treating the underlying causes. We know how to stitch people up and put in new hearts and realign arteries, but how do we keep people from having heart attacks in the first place?
Do I see them working together? Absolutely. I just think that they both need to get out of each other's way and recognize the main thing we want to do is to help people feel well, be well, and be vital again.
I'll give you an example. When I was in my early twenties and the herbal movement was just starting, the basic thought among us was that we weren't going to use modern medicine for anything. We wanted to use our herbs, which we believed can do everything. So I was run over by a motorcycle and I got really clear that though my beloved comfry might help heal my torn tissue and bones, it wasn't going to knit my bones together. It wasn't going to do what that very competent surgeon could do. I noticed that when some of my herbal friends would be seriously ill and the herbs weren't working for them and they went to see a doctor, they didn't want anybody to know. That's when I began to realize there's really something wrong with this picture, you know? It's our egos that are preventing us from recognizing that many different healing systems were needed to work together for the greatest healing.
The conventional doctors probably had the same thought. They were trained at the university for 12 or 6 or 8 years that their system of healing would do everything and the rest was just quackery. So they have also had to mature and recognize that their medical system is very excellent for certain things, but it doesn't touch other things. In order to be a great service to humankind we don't have to be experts in all of the systems. We can't be. We just have to know what we know, but also be humble enough and wise enough to know when others know more.
So the glorious day will come when we really truly have healing temples again, hospitals that are painted bright, beautiful colors that make people feel well, where wholesome, organic food is served. That's starting to happen. They're starting to actually have organic gardens in hospitals now, and you have herbal tea instead of just coffee and cheap black tea — I mean, my goodness.
The American public is being educated. They're not afraid to take their supplements and their herbs with them when they go to the doctor's anymore, and the doctors are asking to see what they are taking. The citizens of this country are making that change. It's really our responsibility to demand it.
Carol Bedrosian: How would you recommend somebody start the herbal journey?
Rosemary Gladstar: It's not so difficult anymore because in almost every area there's going to be herb classes. Start by taking an evening class, or even better, a four or six-week beginner course. To actually sit in with people when they're teaching is just great because there's so much magic that happens when learning about herbs with other people. There's also wonderful books geared towards beginners, and several online programs geared towards beginners. But really, nothing beats learning with an herbal teacher and with the plants themselves.
So online programs are good, but books are better and taking classes and going on herb walks even better. See who's doing herb walks in your community, because there's no better way to learn about the plants than to actually learn from the plants and to see them. If you want to become a professional clinical practitioner there are several schools that are now offering in-depth clinical programs.
But learning to be a family or community herbalist, it's in our genes. It's almost as easy as learning to walk and talk, because from the very beginning of time humans have been practicing and working with plants. I have taught literally thousands of people in my 45 years of being an herbal educator and what amazes me is how easy it is for people to grasp herbalism once they open their hearts to it. To me, the joy is you start talking a little bit, and you see people recognizing something. They think they might be recognizing something that their grandparents taught them but it's much older than that. It's in their bodies. All I am doing is opening a door a little bit and that genetic information comes forth. It's so awesom, this relationship that we have in knowing plants. If you live and work and love plants, it's really like being in service to them. They work through us, and seem to delight in teaching us.
Carol Bedrosian: As herbalism is becoming more popular, some of these plants are being over harvested. What's the solution there?
Rosemary Gladstar: The answer is organic cultivation actually, because you're not only protecting at-risk plants, but also another endangered species: the American farmer. The herb industry is growing and the price paid for organic herbs is more than the price for oats or corn. It can be a viable alternative for farmers. I'm talking about organic cultivation because that's also restoration for the soil. It's also ensuring that we are getting good medicine, especially with any of the at-risk plants that are listed with United Plant Savers. Plants on the UpS At-Risk list should not be harvested from the wild, but should be coming from organically cultivated sources. We have to steward these plants that are in the wild and cultivate them organically by our American farmers. We also have to be willing to pay more for those plants. Though herbs may seem expensive, they are far less than the cost of pharmaceuticals and/or vitamins.
I'm talking here about our at-risk native plants, not necessarily about our abundant weedy plants like nettle, burdock and dandelion that grow all around us. They grow in disturbed soils, seed with thousands of seeds and are very hardy. Those are our wonderful, everyday nourishing plants. We need to use those and we can still wildcraft those plants, for sure.
But as people are becoming interested in eating wild food, they like to go to grocery stores and purchase wild fiddlehead ferns and ramps and wild mushrooms. It concerns me to see the amount of wild mushrooms and other wild plants that are being sold in grocery stores. There's just not enough of it to supply the American public. If we're going to be selling ramps and fiddlehead ferns, and wild mushrooms to the masses, we have to make sure they are coming from cultivated sources. Ramps are already beiing protected in most of the Southern states where they've been harvested for decades, and I'm sure we're going to see the same with mushrooms. Unfortunately, we are loving these plants to death. With a little care and responsibility we can ensure that we will have these wild species to pass down to our grandchildren.
Carol Bedrosian: You can even plant them in your own yard.
Rosemary Gladstar: You can absolutely plant them in your own yard. One of our biggest messages through United Plant Savers is to restore wilderness by bringing in a few of the native plants and putting them amongst your cultivated plants and your lawn; plant some areas that are just your native plants. Create a little wildness in your back yard. It's so incredible to witness what happens. In one or two seasons, you're going to have more migrating butterflies and birds and insects — the natives ones — native species stopping over and feeding on the nectar that's growing because it's their indigenous food. They need it. Being an herbalist is not something that you have to graduate from school for because then we'll lose what herbalism is. Herbalism really is about people who are practicing using herbs at home and using plants in their garden.
I also wanted to mention that when we talk about preserving our traditions, we are also talking about preserving our herbal legacy products — products that have a long history of being made and shared by herbalists. We need to ensure that these traditional herbal products do not become trademarked, because otherwise, products that have been made and sold for decades, sometimes centuries, will no longer be available for herbalists to make and sell.
Unfortunately that's already begun to happen in the herbal community where several products with a long history of being made and sold have been trademarked. Why should this matter? Within the herbal community there has always been an open sharing of recipes and formulas. This will change if people can trademark and claim ownership of well known products, such as four thieves vinegar, which has been around for over 500 years, and fire cider, which has been around and marketed for almost four decades.
Carol Bedrosian: Are four thieves and fire cider trademarked? Can other people make them?
Rosemary Gladstar: People can make the products but you can't sell them, not even at your local co-op, farmer's market or Etsy shop. We are currently petitioning to get the trademark dropped on fire cider, a very popular and widely shared recipe. We've been involved in this process for over four years now, since the company that claimed the name and took on the trademark filed a lawsuit in federal court against three herbalists who were making fire cider years before it was ever trademarked. We tried other means of resolving this such as mediation, but since the trademark company will only accept terms that everyone give up the name, we felt the battle was worth it.
There has been no fight yet to reclaim the four thieves names. But what we plan to once the court case is over with fire cider [scheduled for 2018], is to create an Herbal Dictionary of commonly used herbal products and names so there will be a reference that trademark lawyers can refer to  when searching to find if products have a history of being made and sold. We could use help with this if anyone is interested.
Carol Bedrosian: So an herbal dictionary could become a part of our culture then.
Rosemary Gladstar: Yes, it actually almost has to be, otherwise we're going to continue to see many of our traditional herbal products trademarked. But I'm cheering the younger herbalists on to take on this work. I feel like that's my role right now as I get older and have less energy. There's a whole generation of new herbalists stepping up. You sign your name in service to the plants and they just work through you. As long as you stay aligned with them, you're taken care of, you're fed, you're nurtured, you are blessed and blissed out. So that is really place I want to be at now in my life, in service to those who are stepping up for the Green Nations.
For more information about Rosemary Gladstar visit https://scienceandartofherbalism.com/about-rosemary-gladstar/
See also:
A Kitchen Ecology Of Health Resilience
Letter from Rosemary Gladstar: United Plant Savers 20th Anniversary
Find local holistic Homeopathy practitioners in the Spirit of Change online directory.