Save The Date For MAKE SMTHNG Week 2018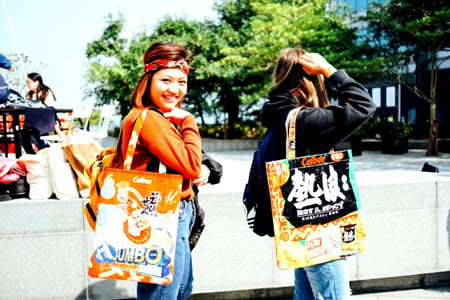 Greenpeace international, in partnership with Shareable and others, is gearing up for the 2nd annual MAKE SMTHNG week. This exciting campaign, which runs from November 23rd (Black Friday) through December 2nd, will support local organizers from around the world in creating events and experiences that invite people to celebrate the holiday season in more sustainable ways. It will also draw attention away from Black Friday, one of the biggest shopping days of the year, while fighting overconsumption and waste. During the week, the public is invited to replace buying holiday gifts with creative reuse, repair, or upcycling of used items for gifts. Other partners include Fashion Revolution, #breakfreefromplastic, Fab Labs/Fab City Global Initiative, and Arts Thread.
Last year's inaugural MAKE SMTHNG Week engaged 15,000 participants in 33 countries and this year's goal is to reach even more people. If you are a maker and want to participate, sign up to host an event in your neighborhood.
Potential event ideas for projects can range from teaching others to create something new from old clothing, make toys or board games, hosting a cooking class, gathering your community to make a "Stone Soup," or even hosting a MapJam to create a public map of your city's sharing, making, and other community resources. Get creative and share your ideas!
"We have been tricked into thinking happiness comes from what we buy, when we know that true happiness comes from what we can create," says Kirsten Brodde, global project leader of MAKE SMTHNG Week. "Making fantastic creations out of things that we already own is much more fun, creative and social than buying stuff."
Makers worldwide are invited to sign up for the MAKE SMTHNG challenge for tips and ideas. New to the schedule this year, MAKE SMTHNG week is hosting the "Disrupt Black Friday" competition. Makers worldwide can submit an idea for a disruptive piece of public artivism, installation or community action and the winner's idea will be implemented on Black Friday.
"We are excited to participate in MAKE SMTHNG Week for a second year in a row to do our part to uplift makers everywhere and empower people to share," says Shareable's Tom Llewellyn. It "is not only fun and engaging, but [it] plays an important role in developing new sustainable means of production and consumption."
Interested in hosting an event, but aren't sure where to start? Follow #MakeSmthng and #MakeChangeNow on social media for inspiration or drop Shareable a line: info@shareable.net. We'd be happy to answer your questions by email or schedule a quick call to help you get going.
Courtney is the editorial and communications coordinator at Shareable. She also works as a freelance writer and is currently based out of Denver, Colorado. Her work has appeared in Shareable, Civil Eats, Denver's 5280, Sliced by Fed, Edible Aspen, Denver & Silicon Valley and more.
This article was republished from Shareable.
See also:
15 Tips For Commercial-Free, Fun-Filled Family Holidays
How I Gave Up Christmas and Found Serenity