Spring 2014: The Food Issue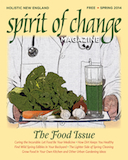 Table of Contents
We love to hear from you! Select an article below, read and comment.
DEPARTMENTS
Can You Detect The Subtle Messages Your Body Is Sending You?
Northeastern States Pursue Regional GMO Labeling
Urban Farm School Visionary Food Growers
Astrology Forecast for Spring 2014
Healthy Eating: Backyard Wild Spring Greens
EarthTalk: Is Human Overpopulation On the Decline?
Feng Shui Tips for Basement Home Office and Living In A Snout House
Book Review: The Dude and the Zen Master
Book Review: Love Letter to the Earth
Book Review: Mixing Essential Oils for Magic: Aromatic Alchemy for Personal Blends
Book Review: The Truth About Food: the Good, the Bad and the Downright Dangerous
FEATURES
Halting Smart Meter Installation in Massachusetts and Beyond
Taking Action Fends Off Global Indifference
New Opportunities for Urban Gardeners
Healthy Bodies Need Healthy Soil
Let Food Heal Your Body — An interview with Dr. Brian Clement
10 Ways To Invite New Spring Energy Into Your Home
DIRECTORIES
Yoga Practitioners of New England
Holistic Specialties Directory