Stories Happen In Forests: Grow & Forage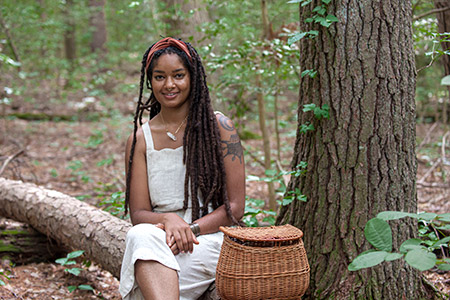 Human beings have a deep connection to forests that goes beyond the critically important clean water, clean air, and protection from climate change that they provide us. Forests hold our stories. In forests, we experience ourselves and interconnection in a profound way.
That's why North Carolina-based Southern US forest protection non-profit Dogwood Alliance created their ongoing video series Stories Happen in Forests. At the helm of these videos is queer Latinx writer and director, Amanda Rodriguez. The series features diverse stories and storytellers with unique and powerful relationships to the woods. The latest installment in this series is Grow & Forage highlighting Indy Srinath, a community garden manager, educator, and mushroom forager.
Indy is passionate about honoring the sacrifices of those who paved the way for her, permaculture, and mushroom cultivation. In the video, Indy shares her belief that urban gardening is one of the most radical things a person can do. She also shares her deep respect for our forests: from her drive to learn and understand what the forest is communicating, to her desire to exist in harmony with all life in the woods.
Stories like Indy's remind us of our own forest stories, our own connection to the woods. For more videos in the Stories Happen in Forests series, join the Dogwood Alliance community on Facebook, Twitter, or Instagram. You can also sign up to receive their emails and e-newsletters.
Dogwood Alliance mobilizes diverse voices to protect Southern forests and communities from destructive industrial logging. For over 20 years, Dogwood Alliance has worked with diverse communities, partner organizations, and decision-makers to protect Southern forests across 14 states. They do this through community and grassroots organizing, holding corporations and governments accountable, and working to conserve millions of acres of Southern forests.
See also:
Mushrooms: Mycological Marvels In Nature And Your Kitchen
A Healing From The Forest