The Fiery Furnace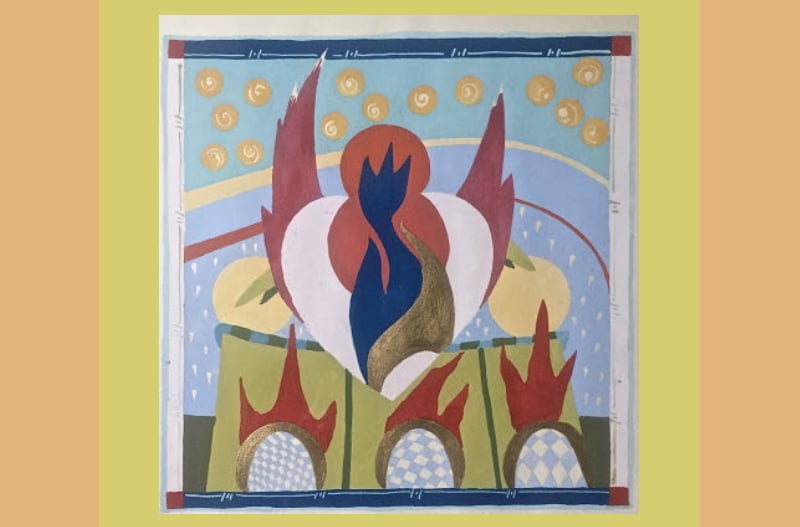 In each of us there is a fiery furnace. It is the place of transformation, the heart. The element of transformation is Fire. This Sagittarius full Moon (May 29, 10:19am) gives the gift of that fire. What may have been burning embers is now a roaring blaze. Alchemy, the ancient art and science of transformation was never without the action of fire. Sagittarius is a sign associated with the transformation of the spirit through fire and joy.
In the Tarot card Temperance, which corresponds to Sagittarius, the angel Michael, mixes essence of old and new to create an alchemical state, which has no further need for ego.
The story of the Fiery Furnace in the Book of Daniel tells a tale of the three Jewish 'children' who would not worship the Statue of Gold erected by the King of Babylon. The three, including the prophet Daniel, were flung into a fiery furnace and the heat turned up, yet they remained untouched by the flames and a fourth figure was seen in their midst.
All this suggests the nature of this moment of Full Moon, when Moon, Chiron and the North Node are arranged in a fiery triangle, a Wheel of Flame. Healing (Chiron) and evolution (the North Node) is the message of this configuration of the Fire Signs.
We are here to help each other with healing and transformation, which can bind up the wounds in the human condition and our relationship to Earth. Evolution into a new form of humanity can only be accomplished through group intention rather than the old way of attempting to progress one soul at a time.
In moonlight we see the world in a new way. Let this full Moon open your heart and mind to a new version of reality.
Sarah Fuhro is a practitioner of the Wisdom Tradition its many forms including astrology, tarot, flower essences and Druidry. In addition to personal consultations, Sarah teaches workshops and private classes, offering both clients and students knowledge powerfully rooted in the past, presented in the language of the present. To learn more, please visit www.sarahfuhro.com.