"The Power of Voice"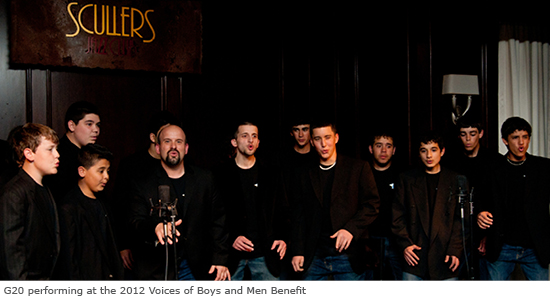 This year's concert theme is "The Power of Voice."
Event Date: Sunday, April 21, 2013
Tickets: $75 per person
All Tickets Need to Be Purchased in Advance: Send check for $75 payable to BTMNE to BTMNE c/o Linda Marks, 3 Central Avenue, Newton, MA 02460 or purchase them on-line at www.boystomennewengland.org/Fundraiser.html
Time: 5:00 – 7:30 pm
Location: Scullers Jazz Club, Doubletree Hotel, 400 Soldiers Field Road, Boston, MA 02134
Keynote Speakers: World Renowned Jazz Singer, Rebecca Parris and Williams Head Football Coach, Aaron Kelton
Performers: Rebecca Parris, Jack and Jesse Gauthier, the Kid Jazz Band, G20, Sounds of Concord, Tim McHale, Linda Marks and Lisa Wexler, Ed Martinez, Sara Hanahan, Alvin Terry, Joe Reid, Dan Fox
Female Keynote Speaker: Rebecca Parris
Rebecca is a world class singer and teacher who deeply knows and exemplifies "the Power of Voice." Rebecca has performed all over the world with her own groups and some of jazz's greatest legends, including Dizzy Gillespie, Buddy Rich, Woody Herman, Terry Gibbs, David "Fathead" Newman, Norman Simmons. Harold Jones, and many others. Rebecca's passion for teaching is not only a labor of love, it is about love; love for words, for soul, for conversation and communication with an audience. Like few other teachers, Rebecca is a master at helping a singer find their voice, craft their personal interpretation of any song and deliver their with intent and emotional finesse.
Male Keynote Speaker: Aaron Kelton
Aaron's dedication to the students he coaches as human beings rivals his gift of helping them succeed on the field. Kelton inherited a Williams College football team that had finished 6-2 in NESCAC for three consecutive seasons and turned it into the first perfect season by a rookie head coach at Williams in its 125-year history. Aaron's 19 year in coaching has included working with teams at MIT, Clarion University, Concord University, Virginia State and Columbia University prior to Williams. Aaron is the first African American head football coach in NESCAC and at Williams. He hs received three prized NFL Summer Internships working with the Indiana Colts, Jacksonville Jaguars and Arizona Cardinals.
Boys to Men New England is a mentoring program created to guide adolescent boys on their journey to manhood. We mentor boys ages 12 – 17 as they journey to become men of integrity, helping them to make conscious choices about the kind of man they want to become, supporting self-awareness and emotional growth in an environment that honors their adolescent energy.
Our mentors are carefully selected and serve as positive male role models.
Our mission is to help Boys become Good Men.
Boys to Men New England both offers community-based programs in Eastern MA, Western MA and CT and is now focusing on building partnerships with schools and other community organizations to create site-based mentoring programs.
Imagine Boy Scouts, Big Brothers and Outward Bound combined. We provide a complete program with community (Boys Scouts), mentoring (Big Brothers) and Rite of Passage adventure (Outward Bound) that serves both boys and men. We also provide mentor training.
Website: www.boystomennewengland.org
Ways to Support Boys to Men New England:
• Buy tickets for yourself, family, friends and colleagues
• Buy a ticket for a student from a Boston area Charter School (Codman Academy and Brooke Academy)
• Buy your own table (4, 6 or 8 tickets)
• Buy a business card sized ad in the program for $250
• Make a donation to Boys to Men New England of any amount
• Be a sponsor for the event (tax-deductible for donations $500 and greater)
• Donate or bid on items for our Raffle
Join the Boys to Men Mailing List!
Contact: Linda Marks (617)913-0683 or LSMHEART@aol.com
Directions: