The Response: Practicing Harm Reduction In A Climate Of Disasters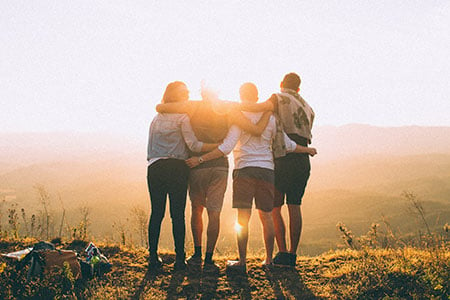 Harm reduction has multiple sides according to Christine Rodriguez, the executive director of Higher Ground Harm Reduction. On the surface, there are "practical strategies and interventions that [are] put in place for folks to stay safer when they're using drugs or trading sex." She further specified that they're "interventions that were created by people who use drugs and people who trade sex and were later researched and found to be effective."
But for Rodriguez, and other harm reduction practitioners, like Rafael Torruella, the executive director of Intercambios Puerto Rico, it's also a social movement.
Torrulella shared his belief that "harm reduction is not just service delivery, it's not just a set of techniques, it's not just a viewpoint of how to engage problematic drug use or sex or whatever have you it's also part of a social movement that looks for a more just world for drug users, sex workers — that population. It has a social critique saying, no [expletive], this is not right."
And that population is not small. According to the Substance Abuse and Mental Health Services Administration, in 2019 over 20 million people in the US experienced substance use disorder (alcohol use disorder, illicit drug use disorder, or both).
As we mentioned in an article last week, for the past 9 months, our team at Shareable has been working with Christine Rodriguez to research how community-based harm reduction programs (and people who use drugs) are responding to climate-related and other systems-disrupting emergencies.
In the spring, we conducted a series of interviews with practitioners as part of the development of a national needs assessment which surveyed community-based harm reduction programs to learn:
how their work has been impacted by disasters
what adaptations they've made
and what they need to be better prepared to respond in the future
Today, we're releasing a new episode of The Response podcast exploring what harm reduction looks like in a climate of disasters. The 40-min audio documentary features interviews with Rafael Torruella, Justin Kunzelman (executive director and co-founder of Rebel Recovery Florida), and Savannah O'Neill (associate director of capacity building at the National Harm Reduction Coalition).
Co-leading this research project has introduced harm reduction to our entire team and we hope this will serve as a window into this relatively unknown movement.
Click here to listen to the podcast episode or to read a transcript.
Our report on disasters and harm reduction will be found on Higher Ground Harm Reduction's website: www.hghr.org
"Practicing Harm Reduction in a climate of disasters" episode credits:
Tom Llewellyn is the Strategic Partnerships Director at Shareable.net, and a lifelong sharer, commoner, and storyteller. He manages organizational, editorial, and events partnerships and has coordinated the global Sharing Cities Network, #MapJam, and other community sharing campaigns, in addition to speaking internationally about real, equitable sharing. Tom is the co-editor of 2 books, "How to: Share, Save Money & Have Fun" (2016) and "Sharing Cities: Activating the Urban Commons" (2018). Previously, he was the Education and Activism Director for Sustainable Living Roadshow co-leading the touring organization across the U.S. for 5 years producing eco events and actions promoting environmental, social and economic sustainability. Tom has co-founded several community and sharing based initiatives including: A PLACE for Sustainable Living, Asheville Tool Library, REAL Cooperative (Regenerative Education, Action & Leadership) and the collectively run Critter Cafe.He has a self directed degree in Mind/Body Studies from San Francisco State University with an emphasis in holistic health and psychology, is a Certified Massage Therapist and has a Permaculture Design Certificate. Before becoming a full time community organizer Tom was the co-owner/director of Clever Scamp Summer Camp (arts and ecology) and the director of the Canyon After School Program.
This article was republished from Shareable.